Revivals and adaptations are proving startlingly relevant on and Off-Broadway. Alice Childress's Trouble in Mind premiered Off-Broadway in 1955. The play centering on an African-American actress' confrontation with racial stereotypes in the theater was all set to transfer to Broadway, but the playwright refused to tone down the controversial subject matter and the production was cancelled. Now, 66 years later, Trouble has finally made it to the Main Stem and Childress' fiery words are just as pertinent as the day they were written. Charles Randolph-Wright's production for Roundabout Theater Company is too broad in places, but still captures the author's unflinching portrait of race relations through the lens of the stage.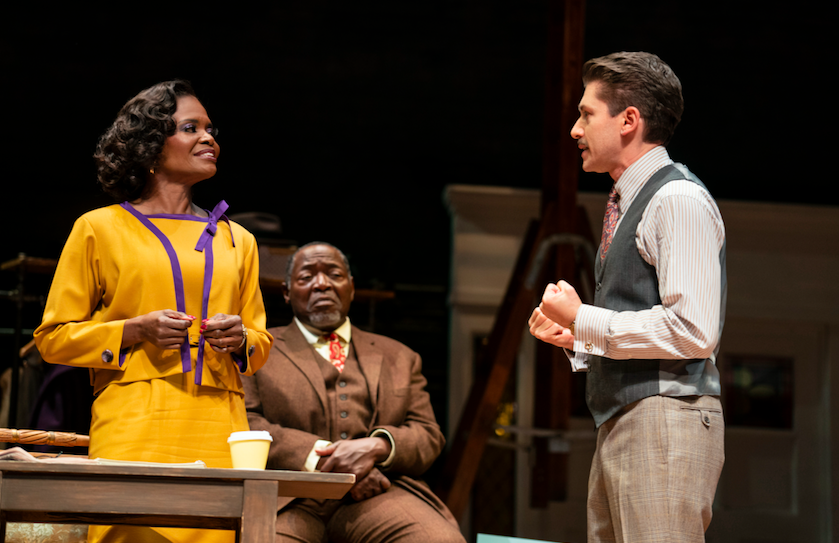 Like her protagonist Wiletta Mayer (a brilliant LaChanze), Childress was a performer unsatisfied with the roles available to black women. So she wrote her own and the play is chockful of juicy, multidimensional parts. Wiletta has just been cast in a new play with the cumbersome title of Chaos in Belleville, a work by a white writer that Childress uses as a parody of the well-intentioned melodramas that proliferated on Broadway and in Hollywood in the 1940s and '50s. Set in the Deep South, Chaos is an anti-lynching tract which treats its African-American characters with condescension. Cast as a noble, but unrealistic mother of a rebellious son, Wiletta must negotiate such obstacles as a martinet director (appropriately creepy Michael Zegen), the script's simplistic depictions, and the new-fangled "Method" acting.
Much of the humor is derived from rehearsals of Chaos which Randolph-Wright has staged like a SNL sketch. But the powerful moments of conflict and Wiletta's climactic showdown with her narcissistic director ring true. Another stirring sequence is delivered by Chuck Cooper as a cast member recounting a youthful and horrifying encounter with a real-life lynching. The monologue is staged so simply (Kathy A. Perkins' subtle lighting creates the perfect solemn atmosphere) and delivered with such understated vibrance by Cooper, it provided a shocking dose of reality in sharp contrast to the theatrical showiness of the play-within-a-play.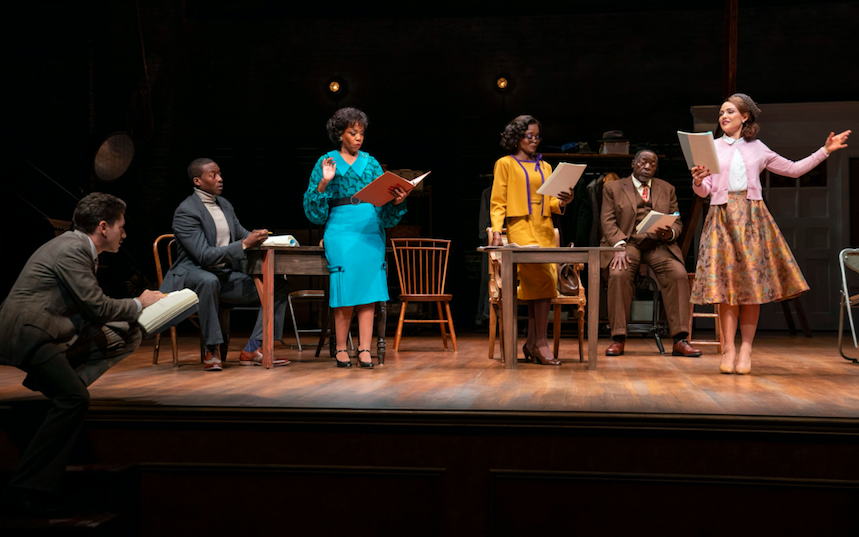 LaChanze skillfully conveys Wiletta's conflict between her convictions and hiding her true feelings from her white employers. When she finally rips off her mask of acquiescence, LaChanze sets the stage on dramatic fire. In addition to Zegen's nasty helmer and Cooper's pragmatic stage veteran, there are valuable contributions from Jessica Frances Dukes' flashy character actress, Brandon Micheal Hall and Danielle Campbell's eager newcomers, Don Stephenson's befuddled leading man, Simon Jones' lovable Irish doorman and Alex Mickiewicz's put-upon assistant director. Though set in the 1950s, Trouble's sharp insights still hold true for today's theater and society at large.
Stephen Sondheim and John Weidman's Assassins also remains shockingly fresh. This bizarre cult item has become even more dangerously accurate in its view of the dark side of the American dream. When it premiered Off-Broadway in 1990 and was revived by Roundabout on Broadway in 2004, its collection of desperate loners and oddballs who attempted or succeeded in killing the chief executive were a scary fringe element. Now in 2021, thanks to a certain ex-president, their rage and alienation have become a movement which has kidnapped one of the two major parties and threatens to destroy our democracy.
In director-designer John Doyle's arresting and intimate staging at Classic Stage Company, the connections from John Wilkes Booth's eruption of bigoted violence to the Trump-ist insurrection of last year are made shockingly clear. The two monologues from Samuel Byk who schemed to crash into an airplane into Richard Nixon's White House sound like MAGA outbursts.
Weidman's revue-like book and Sondheim's pastiche score get brilliant interpretations from a cast of Broadway and Off-Broadway vets and orchestrator and music director Greg Jarrett. Will Swenson's manic Charles Guiteau, Judy Kuhn's off-kilter Sara Jane Moore, Steve Pasquale's snide Booth, Andy Grotelueschen's self-pitying Byck are particularly haunting and scary. Adam Chanler-Berat is a devastating John Hinckley. Ethan Slater as the Balladeer, Eddie Cooper as the Proprietor, and Bianca Horn as Emma Goldman slyly act as hosts in this bizarre house of political horrors.
Doyle's design transforms the small CSC space into a star-spangled carnival, an ironic setting for a scathing satire which has become a more realistic portrait of our traumatized country.
The Visitor at the Public Theater, a new musical derived from Thomas McCarthy's 2007, Oscar-nominated indie film, wants to be relevant, but turns out to be a half-hearted effort. Kwame Kwei Armah and Brian Yorkey's book is like a watered-down, condensed version of McCarthy's original screenplay about Walter, a recently widowed economics professor who finds an undocumented couple staying in his pied-à-terre apartment. The film focuses on Walter's grief and his gradual, unlikely friendship with the couple who run into trouble with the authorities. The show seems to be embarrassed that the protagonist in a musical about the struggles of at-risk immigrants is an old white man.
As a result and in effort to build up the roles of the couple, Tarek and Zainab, Walter becomes almost a cipher and David Hyde Pierce plays him as emotionally numb, even in his big climactic "woke" number. There have been reports in the press of conflicts among the cast and creative team with the opening delayed and Tony winner Ari'el Stachel, who played Tarek, leaving the show before previews began. The original running time of two hours and 20 minutes has been cut down to an intermissionless 90 minutes. That's never an encouraging omen.
Daniel Sullivan's direction is efficient, but passionless and the score by Yorkey (lyrics) and Tom Kitt (music) does contain a few high spots (such as a joyous group percussion circle for Tarek to teach Walter to drum). But the songs aren't particularly memorable and occasionally border on the cliche. Despite the best efforts of Hyde-Pierce, Ahmoud Maksoud (Tarek), Alysha Deslorieux (Zainab), Jacqueline Antaramian (Mouna, Tarek's desperate mother) and a versatile ensemble, The Visitor is well-intentioned but slight. The characters are so slender, it's difficult to work up an investment in them.
Some might consider Paul Osborn's tender 1939 Morning's at Seven totally dated and irrelevant for this moment of social upheaval and re-examination. The warmhearted comedy about four elderly sisters was rescued from obscurity by a smash-hit 1980 Broadway revival starring such beloved actresses as Teresa Wright, Elizabeth Wilson, Nancy Marchand and Maureen O'Sullivan. A 2002 production also proved popular and featured Estelle Parsons, Frances Sternhagen, Piper Laurie and Elizabeth Franz. Now in a charming, intimate staging Off-Broadway directed with a light and loving touch by Dan Wackerman, another generation gives sweet life to this quartet and their menfolk.
Set in 1922 and concerned with the seemingly mundane living arrangements of the quartet of siblings, their spouses, a bachelor nephew and his long-time fiancee, Morning's is a gentle and insightful look at long-buried secrets, new beginnings, questioning life choices and all the hurts and joys families can give each other. That makes it as relevant as any more obviously political or socially conscious work.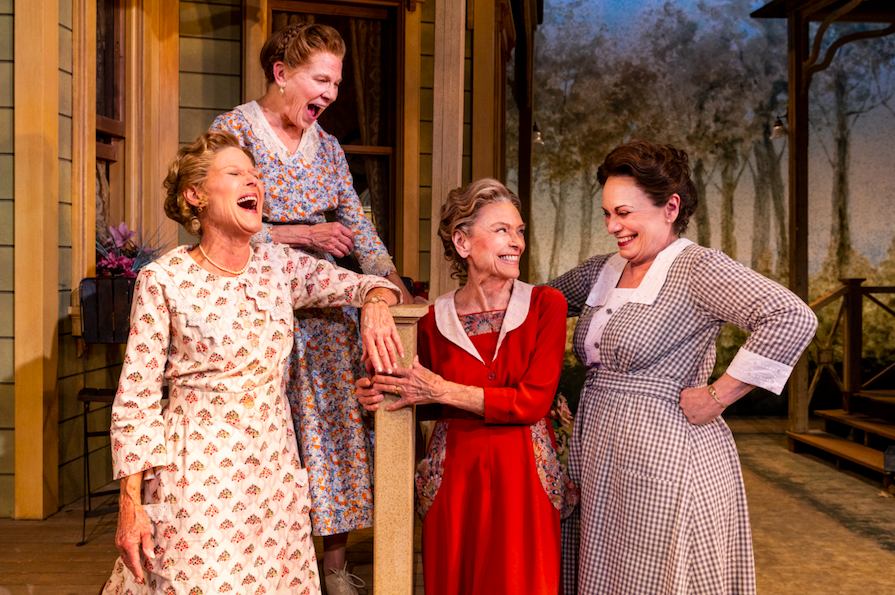 Patty McCormack brings a sage serenity to Esther, the eldest and wisest of the sisters with Tony Roberts pompously hilarious as her intellectual husband. Lindsey Crouse and Alley Mills provide chuckles and pathos as Cora and Arry, who share a house and a suppressed rivalry over Cora's spouse Thor, played with subtle warmth by Dan Lauria. Alma Cuervo feelingly illuminates the conflicted emotions of Ida who wants to see her 40-ish son Homer married, but also can't picture him leaving home. John Rubinstein perfectly captures the angst of Ida's husband Carl who is going through a late-life crisis of identity. Jonathan Spivey's Homer is touchingly shy as is Keri Safran as his long-suffering girlfriend, Myrtle.
Harry Feiner's beautifully detailed set of the backyard of two neighboring houses is the perfect environment for this slice of Americana which is just as vital a piece of theater and accurate a portrait of a portion of our country as the challenging Trouble in Mind or dark vision of Assassins.
Trouble in Mind: Nov. 18—Jan. 9. Roundabout Theater Company at the American Airlines Theater, 227 W. 42nd St., NYC. Tue 7pm; Wed 2pm & 8pm, Thu 7pm, Fri 8pm, Sat 2pm & 8pm, Sun 3pm & 7pm. Running time: two hours and 20 mins. with one intermission. $49—$250. www.roundabouttheater.org.
Assassins: Nov. 14—Jan. 29. Classic Stage Company at the Lynn F. Angelson Theater, 136 E. 13th St., NYC. Running time: one hour and 40 mins. with no intermission. $87. www.ovationtix.com.
The Visitor: Nov. 4—Dec. 5. The Public Theater, 425 Lafayette St., NYC. Tue—Fri 7pm; Sat 1pm & 7pm; Sun 1pm & 7pm. Running time: 90 mins. with no intermission. $90. www.publictheater.org.
Morning's at Seven: Nov. 15—Jan. 9. Theater at St. Clements, 423 W. 46th St., NYC. Schedule varies. Running time: two hours and 20 mins. with one intermission. $44—$139. www.telecharge.com.