How does an art museum pay tribute to a musician? In the case of Experience Leonard Cohen, a new exhibition at the Contemporary Jewish Museum in San Francisco, the answer is it's trickier than you might think.
Cohen (1934-2016) wasn't your typical folk-rock star of the 1960s and beyond. Born to a prosperous Orthodox Jewish family in suburban Montreal, he studied literature at McGill University and initially tried to be a poet and fiction writer, publishing his first book of poetry in 1956 and his first novel in 1963.
While Cohen had been interested in music since childhood, dabbling in folk guitar and songwriting, he didn't release his first album until he was 33. His often mournful songs, such as "Suzanne," "So Long Marianne," and "Hallelujah," explored "religion, politics, isolation, depression, sexuality, loss, death, and romantic relationships," as Wikipedia puts it.
The exhibition at the CJM doesn't attempt to present a biography of Cohen. Instead, it offers works by four separate artists who were inspired by Cohen and his music. The star of the show is a one-hour video tribute by George Fok, Passing Through (top image), featuring short clips of Cohen's performances and interviews throughout his career.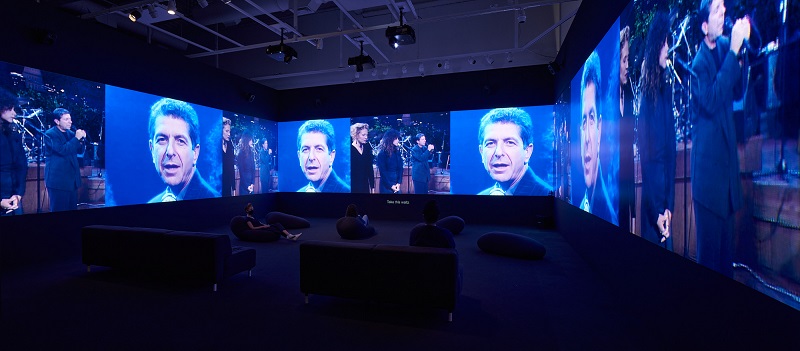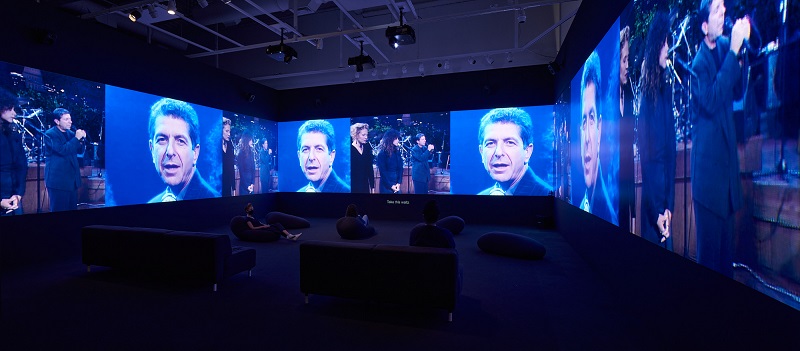 The video, projected on three walls of a darkened gallery space, is cleverly edited. It intercuts multiple performances of a single song across decades, showing how the young Leonard and the old Leonard interpreted a given phrase (sometimes identically, sometimes quite differently). There's a revealing interview clip in which Cohen explains how he was tricked into signing away the ownership of his early hit "Suzanne." The video isn't a biography, but it gives you a sense of the man and his music, and it's not to be missed.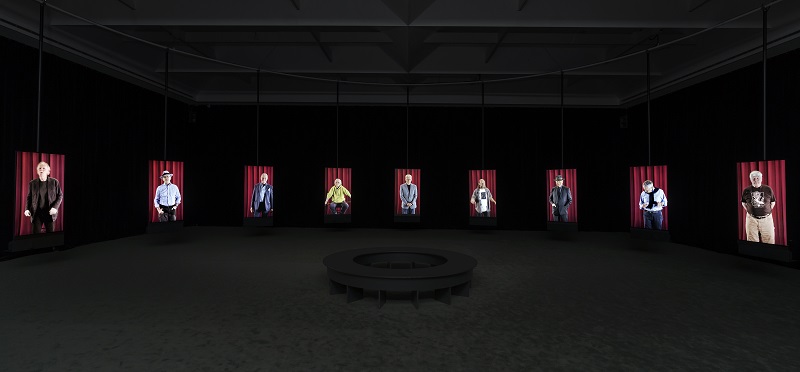 Another installation in the show, Candice Breitz's I'm Your Man, features videos of an 18-member group of schlumpy old men — Cohen fans all, a couple of them wearing fedoras — who sing their interpretations of Cohen's songs in the 1988 album I'm Your Man. The older guys were recorded individually, though the video edits them together into an approximation of a chorus. And they're backed up by a separate video of a group of younger men who are actually singing the same songs together. It's both amusing and a bit baffling.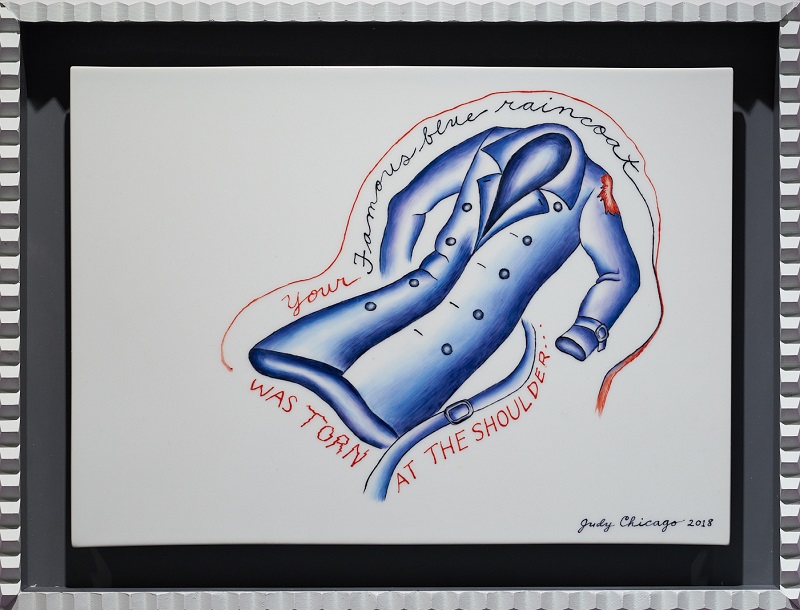 A third show, Judy Chicago: Cohanim, presents a dozen small paintings on porcelain by the well-known feminist artist, who created them as a tribute to her late friend Cohen and his songs. (Before changing her name as an adult, Judy Chicago was born Judith Sylvia Cohen and, like Leonard, was part of a family with a long history of rabbis, or cohanim.)
Each of the 12 paintings uses the direct, figurative style of her recent work, with handwritten phrases that quote from the lyrics of Cohen's songs. (She used the same style in her series on endangered species, The End: A Meditation on Death and Extinction, now on view across town in a major retrospective at the de Young Museum.) In Famous Blue Raincoat at the CJM, the blue coat in question almost glows and is surrounded by the lyric, "Your famous blue raincoat was torn at the shoulder." It's a sweet, if sorrowful, salute to her friend.
The fourth show, Marshall Trammell in Residence, is "a progressive, participatory residency that offers abstract reflections inspired by Leonard Cohen's life, spirituality, and musical practice," according to a museum statement. Trammel, an "experimental archivist, percussionist, conductor, and composer" will "periodically inhabit" one of the museum's galleries "in moments that include improvisation, performance, and collaborative re-contextualization of diverse facets of Cohen's legacy." Got that?
In any case, Trammell wasn't inhabiting the gallery during the exhibition's recent press preview, though he was introduced in opening statements. A brief visit to his installation's gallery revealed a virtually empty white room with several audio speakers placed around the space and occasionally emitting a beep or two.
The George Fok and Judy Chicago installations in Experience Leonard Cohen run through January 2, 2022, while the other two continue through February 13, 2022, at the Contemporary Jewish Museum, 736 Mission Street, San Francisco. The Fok and Breitz works were part of a 2017 exhibition organized by the Contemporary Art Museum of Montreal. The Chicago and Trammell installations were organized by the CJM.
Top image: George Fok, Passing Through, 2017, multi-channel video, black and white and color, sound, 56 minutes; installation view at Contemporary Jewish Museum; photo by Impart Photography.