Flamenco invades Disney Hall, Irish dance helps tell Christmas tales in Irvine, a jukebox musical with a GoGo's dance party in Pasadena, and the first live Nutcrackers return, more SoCal dance this week and a peek at what's coming next.
Live This Week
The feet have it
Irish dancers, singers, musicians, and a storyteller evoke Irish Christmas traditions in Christmas from a Celtic Table at Irvine Barclay Theatre, 4242 Campus Dr., Irvine; Mon., Nov. 29, 8 pm, $30-$80. Info, tickets, and Covid protocols at OvationTix.
More feet have it!
Led by Maria Bermudez, a roster of 15 flamenco dancers, musicians and singers import new sounds to this acoustically celebrated venue. Under the banner Flamenco de la Buleria Jerez, this marks the debut of flamenco voices, music and footwork on this stage. Performers for this celebratory event include Remedios Amaya, Joaquin Grilo, Pelé de los Reyes, Antonio Malena, Jesus Mendez, Antonio Rey, Diego del Morao, Manuel Parrilla, Maria del Mar Moreno, Carmen Grilo, Ana de los Reyes, Bernardo Parrilla, and Bermudez. At Disney Hall, 111 S. Grand Ave., downtown; Sat., Nov. 27, 8 pm, $48. Info, tickets, and Covid protocols at LA Phil.
It Go-Go-Gos
Music of the 1980's LA band The Go Gos fuels Head over Heels, a jukebox musical loosely based on The Arcadia by Sir Philip Sidney. The venue reopens with its first live performance filled with dancing on more than just the stage. The theater has been reconfigured to afford the audience a choice of onstage or theater seating as well as a general admission ticket to an open floor area inviting an audience-fueled dance party as part of the performance.  Live at Pasadena Playhouse, 39 S. El Molino, Pasadena. Tues.-Sat., 8 pm, Sun., 7 pm, Sat. & Sun., 2 pm, thru Sun., Dec. 12, $30-$106. Info, tickets, and Covid protocols at Pasadena Playhouse.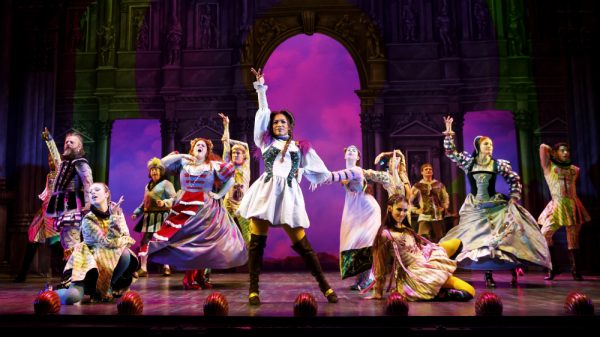 Post-modern rituals
The first-ever retrospective of the work of choreographer and video artist Blondell Cummings: Dance as Moving Pictures includes videos, interviews, and photographs. At Art+Practice, 3401 W. 43rd Pl., Leimert Park; Wed.-Sat., noon-6 pm, to Feb. 19, 2022, free. Research guide at Getty Research Institute, Exhibition at Art+Practice.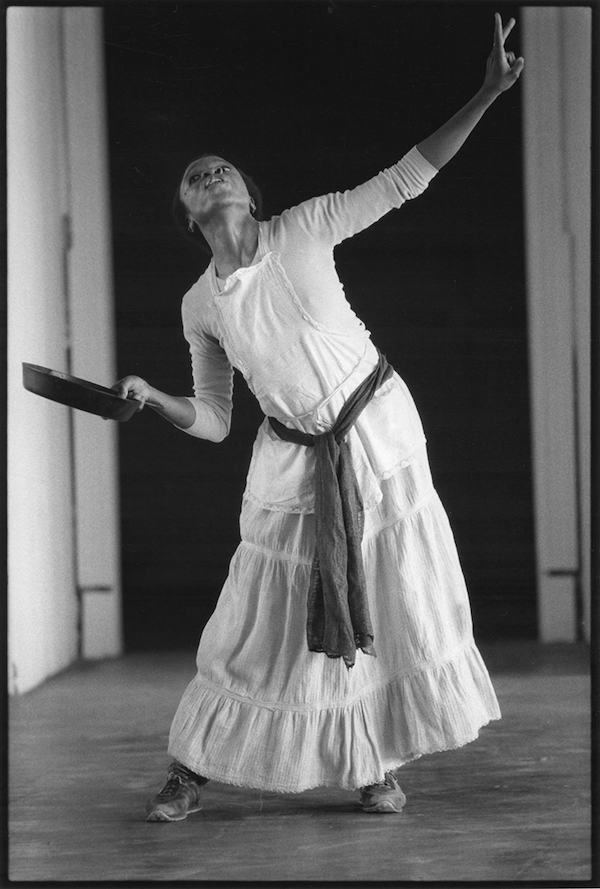 Museum moves
Performance and dance are the metier of several artists in both of this museum's big fall exhibits, Witch Hunt and No Humans Involved at UCLA Hammer Museum, 10899 Wilshire Blvd., Westwood; Tues.-Sun., 11 am-6 pm to Jan. 22, 2022, free no reservation required. Details and Covid protocols at Hammer Museum.
First Nuts Out of the Shell
(See separate article for full list of 2021 Nutcrackers)
Westside Ballet – The Broad Stage, 1310 11th St., Santa Monica; Sat., Nov. 27 & Dec. 4, 1 & 5 pm, Sun., Nov. 28 & Dec. 5, 1 pm, $50. Details, tickets & Covid protocols at Tix.
American Contemporary Ballet – ACB Studios, 926 Sycamore Ave., 6th Flr., Hollywood; Fri., Nov. 26, 8 pm, Sat.-Sun., Nov. 27-28, 2 & 8 pm, then Thur. & Fri., 8 pm, Sat.-Sun., 2 & 5 pm, thru Thurs., Dec. 23, 8 pm, Fri., Dec. 24, 1 pm, $35-$140. Details, tickets & Covid protocols at American Contemporary Ballet.
Anaheim Ballet – City National Grove, 2200 E. Katella Ave., Anaheim; Sat., Nov. 27, 2 & 7 pm, $25-$45. https//Anaheim Ballet, City National Grove.
A Peek at Next Week
Los Angeles Dance Festival/International – LA and international choreographers on Vimeo Dec. 3-5, Luckman Arts and Los Angeles Dance Festival.
Versa-Style Dance Company Next Generation – The Mob HQ, 1126 San Fernando Rd., San Fernando; Sun. Dec. 5, 1:30 pm, free, Versa Style Dance.
Max 10 – Electric Lodge, 1416 Electric Ave., Venice; Mon., Dec. 6, 7:30 pm, $10.
First Spark – Electric Lodge parking lot, 1416 Electric Ave., Venice; Fri., Dec. 3, 8 pm, $10 Open Temple.
DanzArts Sabor México Dance Company Merry-Achi Christmas – Cerritos Center for the Performing Arts, 18000 Park Plaza Dr., Cerritos; Sat., Dec. 4, 7 pm, Sun., Dec. 5, 2 pm, $35-$86. Cerritos Center for the Performing Arts.
Chapman College Fall Dance Concert – Musco Center for the Arts, Chapman College, 415 N. Glassell, Orange;  Fri.-Sat., Dec 3-4, 7:30 pm, $20, $15 students. Chapman College.
New Dance Films: Live & Online
Last chance on a myth
Drawing a contemporary perspective on ancient Persian mythology, The Scarlet Stone (Moher-ye Sorkh) combines traditional and contemporary Persian dance, music and animation to find parallels between the ancient legend and the 1979 Iranian Revolution along with its aftermath. The 80-minute film in Persian with English subtitles has been extended online thru Nov. 30. Free, online at Tirgan.
Back for more
In January 2021, LA choreographer Jacob Jonas and his Jacob Jonas/The Company began a weekly roll out of 15 short dance films with artists from around the world under the banner Films.Dance. The project earned boasting rights with many of the films later winning film festival awards. Now comes Films.Dance/Round Two, again with dance, dancers, and filmmakers from around the world. The original films, a preview, and e-mail sign up for free weekly film delivery at Films.Dance.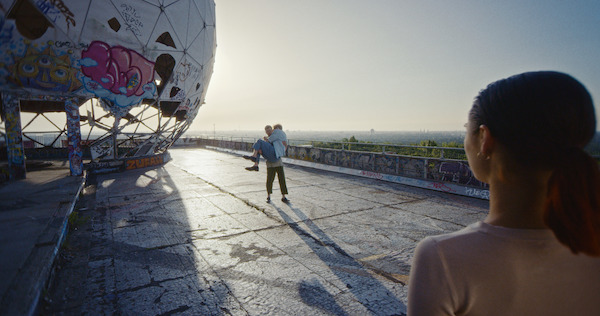 this is an ad space