Indigenous and Latinx showcase in El Sereno, ballet blooms in Pasadena, audience participation in Westwood, male examination downtown, cirque shenanigans in Long Beach, more SoCal dance this week and a peek at next week.
Live This Week
On their toes
One of the vibrant contemporary ballet companies that have sprung up over recent years, Freaks With Lines Dance Company has been building its reputation for its work in performance and on film (its Nilus Cogus was a prize-winner at a recent dance film festival). Led by Susan Vishmid and populated by some of LA's best freelance ballet dancers along with some former and current Los Angeles Ballet members, this inaugural gala event showcases the chamber company's expanding repertoire and will benefit future company performances. Details at the website: Freaks With Lines. Performance at ARC (A Room to Create), 1158 E. Colorado Blvd., Pasadena; Sat., Oct. 1, 6pm, $75. Eventbrite.
Points of view
The two dozen participating artists assembled for Voices: Latinx & Indigenous Artists Showcase include dancers and choreographers along with other performers, visual artists and filmmakers. The art installations and film screening start at 7pm with performances at 8pm. The scheduled line-up includes Sara Celaya, Julietta Magana Perez, Fabiola Garcia, David Bernal Fuentes/Mary Leopo, Natalie Aronno, Edgar Aguirre, Caitlin Javech, Gwen Benitez, William Miller Jr, Sam Chavez, Erika Soto, Rivka Villanueva, Marlene Garcia, Tiffany Martinez Delgado, Catalina Jackson Urena/Victoria Roman. All ticket proceeds go to the artists. Stomping Ground, 5453 Alhambra Ave., El Sereno; Sat., Oct. 1, installation & films at 7pm, performance at 8pm, $15-$20. Stomping Ground.
It's a re-run
The popular, itinerant ensemble Monica Bill Barnes & Company returns after a several year absence with its fun-filled, signature The Running Show. The company is known for collaborating with local artists from age 12 to 80 who perform with a play-by-play commentary delivered live. This edition involves students from the USC Kaufman School of Dance, a young ballet student, and a 77-year old. USC Bovard Auditorium, 3551 Trousdale Prkwy., downtown; Thurs., Sept. 29, 7pm, free with ticketed reservation. Visions and Voices.
Tilt at a windmill
Making their third appearance at this venue, Cirque Mechanics returns with Zephyr—A Whirlwind of Circus. The new edition finds the acrobatic performers executing their moves atop a rotating 20-foot windmill. Carpenter Center, Cal State Long Beach, 6200 E. Atherton Street, Long Beach; Sat., Oct. 1, 8pm, $40. Carpenter Center.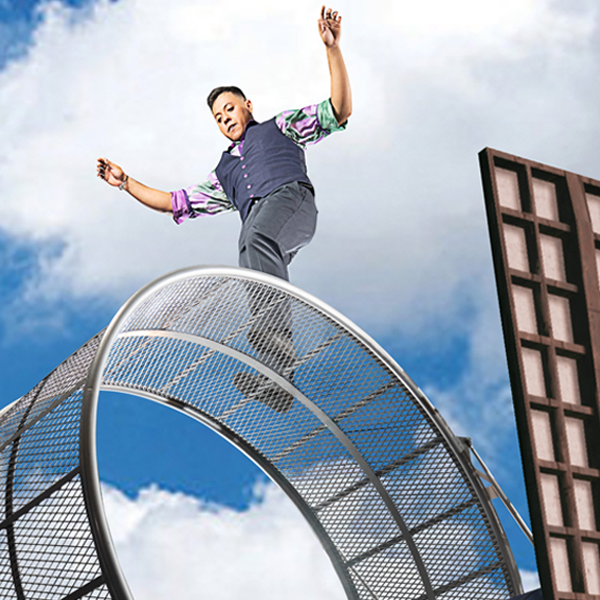 MEN-toring
Among the line up of 16 performance, musical, and visual artists announced by LA Freewaves for X-aMEN-ing Masculinities, look for LA-based choreographer d. Sabela Grimes, Cassils taking time before his REDCAT opening, and the L.A. Parmelettes Drumline. The participating artists present installations and performances "X-aMEN-ing" masculinity from different perspectives. The website has details on all of the participants and the full range of scheduled events, including  the finale, a House Ball for male identifying performers. LA State Historical Park, 1245 N. Spring St., downtown; Thurs., Oct. 6, 7:30 to 10:30pm, free w/registration at Freewaves.
What's on the card?
The Obie award-winning duo Abigail Browde and Michael Silverstone aka 600 Highwaymen arrive for several weekends of immersive performance under the distinctively unwieldy title A Thousand Ways (Part Three): An Assembly. Described as  experimental theater creations, each roughly one hour event draws on elements of dance, performance, and civic engagement as each audience of 16 people read from assigned cards before being drawn in further, becoming part of each singular performance. UCLA Royce Hall Rehearsal Room, Royce Hall, Sat.-Sun., Oct. 1-2 & 22-23, Feb. 4-5 & 11-12, noon, 1:30, 3pm, 4:30, 6 & 7:30pm. $29.97. CAP Ucla.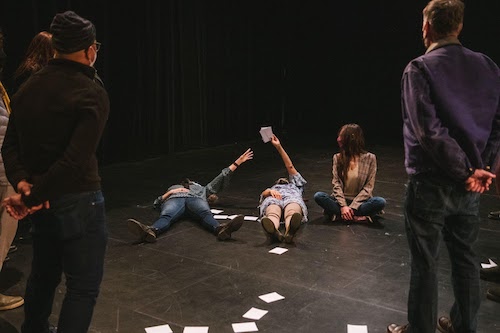 Dance at the opera
In addition to having helmed her own company and multiple dance films, choreographer Kitty McNamee is a frequent name at the LA Opera and is back, providing choreography to the new production of Lucia di Lammermoor. McNamee has done a prior Lucia, one of almost a dozen LA Opera shows she's contributed to. In this version, the director also includes a considerable video presence of the title character that involved McNamee's movement skills. Music Center, Dorothy Chandler Pavilion, 135 N. Grand Ave., downtown; two more performances Sun., Oct. 2 & 9, 2pm. $20-$330. LA Opera.
A Peek at Next Week
CSULB Dance Concert – Variance at Martha B Knoebel Dance Theater, Cal State University Long Beach, 6200 E. Atherton St., Long Beack, Live: Thurs.-Fri., Oct. 13-14, 8pm, Sat., Oct. 15, 2 & 8 pm, $25, Livestream: Thurs., Oct. 13, 8pm, $25. Tix.
Ballet Hispánico – Noche de Oro at The Wallis, 9390 N. Santa Monica Blvd., Beverly Hills; Fri, Oct. 7, 7:30pm, Sat., Oct. 8, 2 & 7:30pm, $39-$125. The Wallis.
Cassils – Human Measure at REDCAT, Disney Hall, 631 W. 2nd St., downtown; Thurs.-Sat., Oct. 13-15, 8:30pm, $25. REDCAT.
Acosta Danza – Cuban Landscape at The Ford Theater, 2850 Cahuenga Blvd. East, Hollywood; Sat., Oct. 8 10, 8pm, $29-$44. The Ford Theater.
American Contemporary Ballet – Inferno & Burlesque at ACB Studios, Two California Plaza, 350 S. Grand Ave., Suite 2850, downtown;  Fri.-Sat., Oct. 7-8, 14-15, 21-22 & 28, 8pm, $60-$140. ACB Dances.