Two over-the-top comedies illuminate the differing styles of their respective decades of origin. They also offer pointed observations on serious subjects such as the struggle for civilization amidst natural and man-made disaster and the absurdity of our political system in a sexist, social-media-driven world. Thornton Wilder's 1942 Pulitzer Prize-winning allegorical fantasy The Skin of Our Teeth receives a gigantic, somewhat overblown, but still effective production at Lincoln Center's huge Vivian Beaumont stage while a raucous new satire with a bizarre title, POTUS or Behind Every Great Dumbass Are Seven Women Trying to Keep Him Alive, explodes the Shubert Theater like a landmine of hilarity.
When it premiered in 1942, Skin was a radical rule breaker. The whimsical extravaganza imagines mankind's eternal battle for survival represented by a contemporary suburban family called the Antrobuses. Wilder combines eras and epochs with ease. Papa George Antrobus works hard at the office inventing the wheel and the alphabet. Mama Maggie raises the children and keeps the fire and the family going as the maid Sabina, the eternal seductress, flirts and pouts, representing the childish, selfish side of humanity. Eldest son Henry is really Cain, the bad seed the family must accommodate. Well-behaved daughter Gladys symbolizes the hopeful future. Sabina, originally played by the incomparable Tallulah Bankhead, often breaks character and directly addresses the audience, claiming she doesn't understand a word of this bizarre play, adding another layer of meaning to the text and making Sabina a surrogate for the audience.
Since the 1940s, Wilder's wildness has become tame and expected on stages. Does Skin still hold up 80 years later? Yes and no. Lileana Blain-Cruz's gargantuan production of this rarely-seen work happily goes overboard with highly stylized staging and acting. It works quite well in the first act when a wall of ice menaces the Antrobus clan. The clash between sitcom normalcy and apocalyptic destruction produces laughs as does Gabby Beans' captivating turn as Sabina, who gives a marvelous Eartha Kitt-like growl to her lines and then drops it when she speaks directly to us. As she knocks down the fourth wall metaphorically, Adam Rigg's inventive set falls apart literally as the ice advances. There are also delightful appearances by a huge puppet dinosaur and mammoth, ingeniously designed by James Ortiz. Kudos also to Montano Levi Blanco's century-spanning costumes and Yi Zhao's evocative lighting.
But in the second act, which parodies Noah's flood as the Antrobuses vacation in Atlantic City for a convention of mammals, Blain-Cruz's staging gets cluttered and confused. Transgender showgirls, conventioneers and actors with giraffe heads crowd the stage. The third act, attacking the question of war, works better due to the direct, focused action (Father and son Antrobuses in conflict, and father struggling to regain his belief in mankind).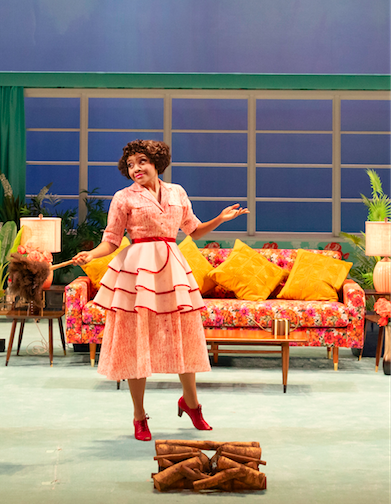 There has been some updating of the script, but not much. The brilliant playwright Branden Jacobs-Jenkins is credited with "additional material" which consists of switching outdated allusions to references to August Wilson, Maya Angelou and Bell Hooks. The huge cast is ethnically diverse, emphasizing the effect of disaster on communities of color. In addition to Beans' enchanting Sabina, there is sturdy portraiture James Vincent Meredith's fatherly Mr. Antrobus, Rosyln Ruff's indestructible Mrs. Antrobus, Julian Robertson's fiery Henry, Paige Gilbert's girlish but mature Gladys, and Priscilla Lopez's enigmatic and all-wise Fortune Teller. At nearly three hours, there are both exciting and head-scratching moments in this enormous show, but it still has plenty of humorous and piercing insights into the human condition.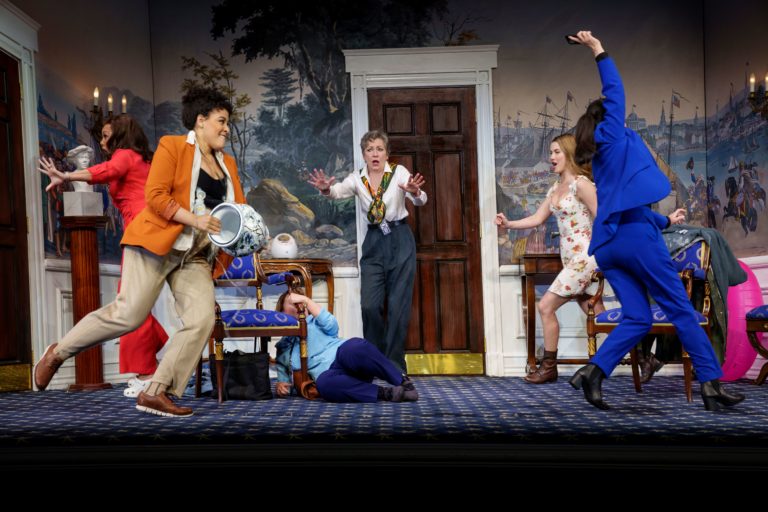 While Skin of Our Teeth wants you to think, POTUS just wants you to laugh out loud and it succeeds. Playwright Selina Fillinger creates a zany White House where a nuclear proliferation treaty can be scotched because the goofball president describes his wife with an obscene adjective. Even more crazy antics follow in a stream-lined farce which whizzes by in less than two hours under the expert, rapid-fire direction of Susan Stroman.
The subtitle sums up the plot neatly. A reckless Chief Executive causes one international calamity after another while his female staff maniacally attempts to clean up his messes and save the world. The seven women of the title are not all in his entourage, but their common objective is to keep a lid on his male insanity. "Why isn't she president," is often uttered as more than one of the behind-the-scenes ladies shows her mettle in the deepening madness.
Chief of Staff Harriet (marvelously intense Julie White) and press secretary Jean (delightfully stern Suzy Nakamura) juggle crises as Bernadette, the president's lesbian, drug-dealing sister (riotously no-nonsesne Lea DeLaria) and Dusty, a relentlessly chipper farmer's daughter (Julianne Hough, surprisingly funny as a character with secrets) crash the Executive Mansion. First Lady Margaret (frosty and biting Vanessa Williams) battles her husband's indiscretions and uncomfortable footwear. Reporter Chris (determined Lilli Cooper) strives to uncover a big story as struggles with an obnoxious ex-husband and expressing breast milk (a riotous visual gag). Rachel Dratch nearly steals the show as the prez's demure private secretary who accidentally ingests some of Bernadette's hallucinogenics and runs amok.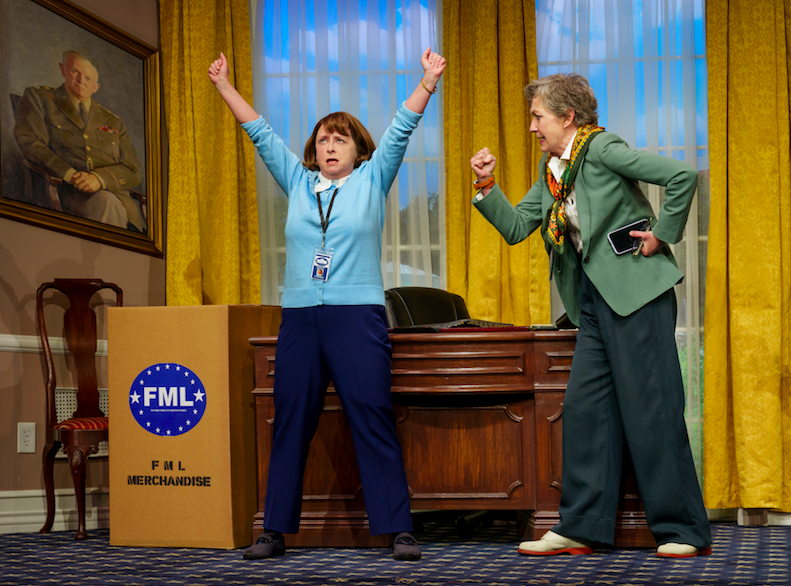 Fillinger's scenes are quick takes resembling SNL sketches, but they adhere together, are chockfull of hilarious lines and build towards a dizzying climax. Stroman displays her directing prowess, pacing the action like a musical on Beowulf Boritt's attractive revolving set and sometimes spilling the mayhem into the aisles of the theater. Linda Cho's costumes are just as witty, especially a hilariously awful gown for the First Lady with matching high-heeled Crocs. POTUS is the perfect temporary solution for forgetting our current polarized political climate and laughing yourself silly. The only problem is when it ends, you have to face an even-crazier reality.
The Skin of Our Teeth: April 25—May 29. Lincoln Center Theater at the Vivian Beaumont Theatre, 150 W. 65th St., NYC. Tue 7pm, Wed 2pm & 8pm, Thu 7pm, Fri 8pm, Sat 2pm & 8pm, Sun 3pm. Running time: two hours and 55 mins. including intermission. $39—$225. www.telecharge.com.
POTUS or Behind Every Great Dumbass Are Seven Women Trying to Keep Him Alive: April 27—Aug. 14. Shubert Theater, 225 W. 44th St., NYC. Tue 8pm, Wed 2pm & 8pm, Thu—Fri 8pm, Sat 2pm & 8pm, Sun 3pm. Running time: one hour and 50 mins. including intermission. $49—$250. www.telecharge.com.
Feature picture: Roslyn Ruff, Julian Robertson, Paige Gilbert and James Vincent Meredith in The Skin of Our Teeth. Credit: Julieta Cervantes