For those lucky enough to have attended the star-studded lineup at the Hollywood Bowl celebrating the work of Stephen Sondheim on July 30th, it was a master class in performing the work of one of Broadway's most gifted composer/lyricists. The lineup featured a veritable Sondheim dream team comprised of Sutton Foster, Brian Stokes Mitchell, Norm Lewis, Skylar Astin, Sierra Bogges and the grande dame herself, Ms. Patti LuPone.
The evening's program was masterfully curated by conductor Kevin Stites and Robert Longbottom featuring some of Sondheim's greatest hits along with a handful of lesser known tunes, pairing the six performers like fine wines of a certain vintage with a gourmet feast, allowing the performers to work their magic in unexpected ways. Brian Stokes Mitchell brought the requisite gravitas as a chilling Sweeney Todd in several numbers including "Epiphany" as well as a menacing duet with Norm Lewis for "Pretty Women." Norm Lewis and Sierra Bogges turned up the romance in a tender duet of "Too Many Mornings" (Follies). The duet featured some sensual chemistry between the two with lots of caressing and a steamy kiss.
Another standout duet was Patti LuPone as Mrs. Lovett and Brian Stokes Mitchell as Sweeney Todd in "A Little Priest" which was equal parts delicious and devious. The first act ended with a pitch perfect rendition of "A Weekend in the Country" from A Little Night Music which brilliantly showcased the unique strengths of all 6 members of this star-studded ensemble.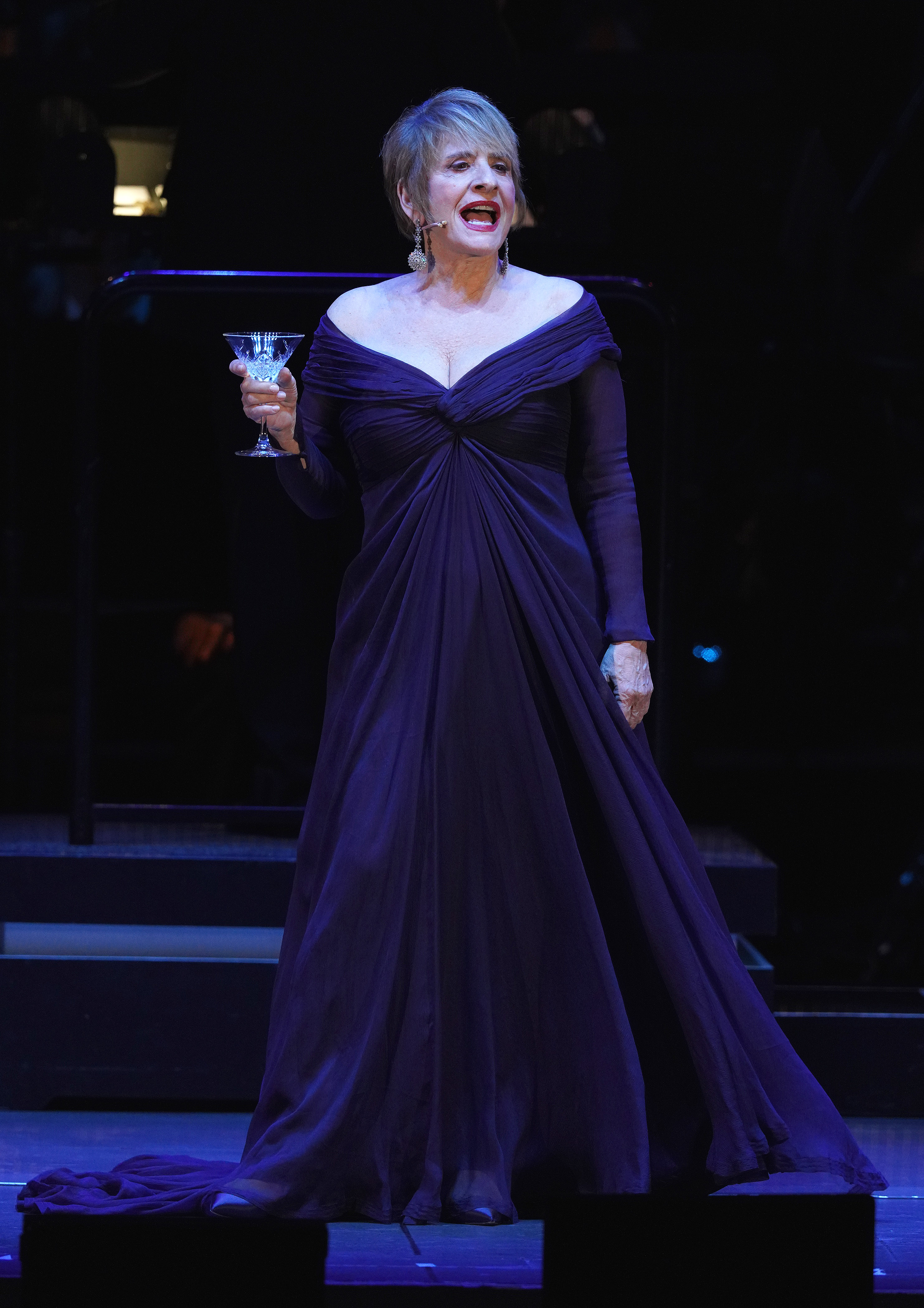 In a set list that included 22 songs spread out over two acts, there was a good mix of comedic levity amidst the more serious songs with Brian Stokes Mitchell hamming it up in a tour de force (if a bit frenetic) performance of "Getting Married Today" (Company) manically taking on all three roles and eliciting big laughs from the crowd. Skylar Astin, who was thoroughly convincing as George in several songs from Sunday in the Park with George, turned up the funny with an energetic and at times breathless performance of "The God-Why-Don't-You-Love-Me Blues" from Follies. Sutton Foster displayed her comedic chops in "Moments in the Woods" which started off with a steamy kiss between her and Brian Stokes Mitchell as a nod to her tryst in the woods with the Prince.
But it was Patti LuPone who showed up in full diva mode, flexing her signature wry humor which seems tailor made for Sondheim's work. LuPone says so much with a glance or a sneer or the inflection of her voice. It's that unmistakable alchemy that exists between LuPone and Sondheim that makes her performances so memorable and vivid. The moment LuPone walks on stage with martini in hand, the audience knew what was coming as she launched into an iconic performance of "The Ladies Who Lunch." LuPone rounded out the evening with two more iconic solo performances: "Send in the Clowns" and "Being Alive," solidifying her place as one of the great interpreters of Sondheim's work.
Sierra Bogges shone brightly throughout, radiant and luminous alongside Sutton Foster in a duet of "Losing My Mind" and "Not a Day Goes By." The finale was an understated but emotionally resonant rendition of "Sunday" from Sunday in the Park with George which served as a fitting homage to the maestro and his pursuit of creating art which left behind such a rich and lasting legacy. With a full camera crew in evidence, my guess (and fervent hope) is that this magical evening will wind up on PBS' Great Performances for all to savor and enjoy.
*
(Photographs taken by Mathew Imaging/Vince Bucci at the Hollywood Bowl, provided courtesy of the Los Angeles Philharmonic Association)