At the 1988 Tony Awards, the big battle was between shows composed by the two respective behemoths of the American and British musical theater: Stephen Sondheim's twist on fairy tales Into the Woods and Andrew Lloyd Webber's take on a horror classic Phantom of the Opera. Despite winning Best Book for James Lapine and Best Score for Sondheim, Woods lost the Best Musical prize to Lloyd Webber's more popular Phantom which is finally closing soon after a 35-year run. In an act of theatrical symmetry, Sondheim and Lloyd Webber are rematched with shows opening within days of each other. Only this time, Sondheim is the purveyor of ghoulish thrills with a revival of one of his greatest works, Sweeney Todd: The Demon Barber of Fleet Street while Lloyd Webber is peddling updated folk tales with Bad Cinderella. This new Sweeney is probably the most perfect production of a Sondheim musical (well, maybe excluding the exquisite Into the Woods revival seen earlier this season) while Bad Cinderella is too aptly named.
This Sweeney is truly frightening and funny while Bad Cinderella wants to be a campy hoot, but isn't even mildly amusing. Derived from a Victorian penny dreadful and stage melodrama about a murderous barber and a cannibalistic cook, Sweeney contains Sondheim's arguably finest score with rich, varied music and incredibly intricate lyrics.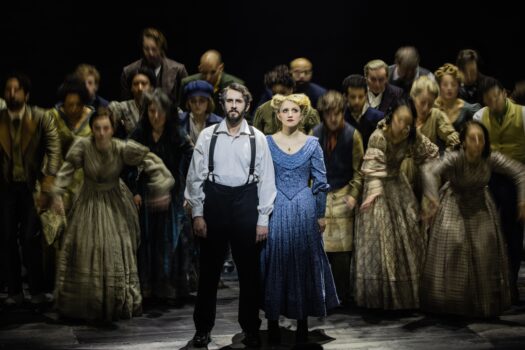 The 1979 production was the apex of the legendary songwriter's collaboration with super-director Harold Prince (who also staged Phantom). It was a gargantuan production, recreating the entire Industrial Revolution on the vast Gershwin Theater stage (then known as the Uris). This is the fourth Broadway Sweeney, in addition to numerous operatic and concerts versions as well as an Off-Broadway immersive production with the entire small theater transformed into Mrs. Lovett's Pie Shop. While Thomas Kail's direction does not imitate Prince's, it does offer the same intense power and size. The staging is as fluid and seamless as the excellent job Kail did for Hamilton. Steven Hoggett's imaginative, frenetic choreography keeps the action moving in between the brilliant main scenes enacted by a dynamite ensemble including the most individualist chorus of any Broadway show now playing. Natasha Katz's noir-ish lighting makes Mimi Lein's spooky, drainage ditch of a set into a nightmare of murder and suspense.
In the title role, Josh Groban, making only his second Broadway appearance after an admirable debut in Natasha, Pierre and the Great Comet of 1812, is much more than a pop heartthrob providing Broadway box-office bait. Bearded and looking like a bedraggled, menacing Abraham Lincoln, Groban captures Sweeney's devastated sorrow, creating a more relatable cutthroat than Len Cariou or Michael Cerveris who emphasized the character's maniacal blood-lust. Annaleigh Ashford is as funny as Angela Lansbury and as seductive as Patti LuPone, but in a different way. She wisely underplays the demonic practicality of Mrs. Lovett, surprisingly earning huge laughs for an amoral murderess's justification for popping more than pussycats into pies. She finds a small gesture, indicative of character, and subtly adds layers to book-writer Hugh Wheeler's heavily ironic dialogue (which is exactly the opposite of Bad Cinderella where everybody overplays every line). Watch as Ashford attempts an elegant genuflection when introduced to the vile Judge Turpin (fantastically evil Jamie Jackson). She curtsies terribly low on a staircase, but does not wish to rise and make herself higher than the socially elevated Turpin. So she slinks down the steps, nearly ending in a servile muddle at the bottom. That's only one of Ashford's many hilarious moments.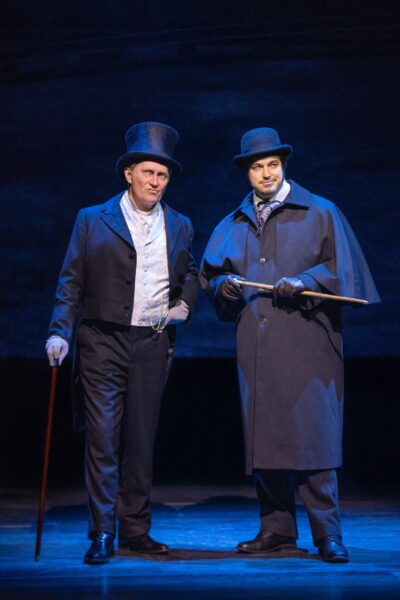 The supporting players are just as vivid. As mentioned above, Jamie Jackson is a hissbable Turpin. Maria Bilbao conveys the neurotic fear of Johanna, Sweeney's long-lost daughter and the adoptive offspring and potential bride of Turpin (eeeww!). From her slight tics and twitches, it's believable this girl was raised by a predator. Gates Matarazzo of Stranger Things fame, is a tender, gullible, quick-witted Tobias. Ruthie Ann Miles has the perfect desperation and the crudeness for the Beggar Woman and John Rapson is a properly pompous Beadle Bamford. Jordan Fisher has a lovely voice for Anthony, the sailor who rescues Johanna, and Nicholas Christopher is a farcical Pirelli, a street mountebank challenging Sweeney's dominance as a barber. A terrifyingly terrific cast for a horrifyingly great Sweeney Todd.
Unfortunately, Bad Cinderella is as disappointing as Sweeney is exciting. Originally billed as plain old Cinderella during its London run (which was interrupted by the COVID pandemic), this lowbrow parody of the beloved story purports to criticize a looks-based kingdom, but winds up being just as shallow as the society it critiques. The premise and the grade-school humor is thunderingly announced in the opening number, "Buns and Roses/Beauty Is Our Duty" (get it?) as the chorus struts about praising their loveliness. The women are teen goddesses out of Legally Blonde, while the men are shirtless hunks with bulging pecs (They are even referred to as The Hunks).
Appearance is the highest currency in this burg and Cinderella is an outcast because she rejects these superficial values. But Linedy Genao is as much of a knockout as any of her castmates, even when dressed in punk fashion by Gabriela Tylesova whose imaginative, Disney-esque designs for the costumes and sets are the show's strongest elements. In addition, the prince of this tale, Sebastian, is supposed to be a plain milksop (this prince's older brother, a super-hunk, is missing after departing to slay a dragon.) Sebastian is a match for the allegedly dowdy Cinderella, but Jordan Dobson is as fetching as Genao. So the idea of an average pair triumphing over their brainless, gorgeous community is crushed by the casting.
As previously noted, Laurence Connor has directed everyone to play book writers Emerald Fennell and Alexis Scheer's lame jokes and David Zippel's simplistic lyrics way over the top from the opening. The actors have nowhere to go but further up as the evening progresses, belaboring the single joke of the show (everybody in the kingdom is a loud, good-looking jerk except the two leads). The sophomoric level of the script is something of a surprise since Fennell wrote the smart and sharp screenplay for the feminist revenge comedy Promising Young Woman. (Fennell is credited with Original Story and Book, while Scheer is listed as doing the "Book Adaptation.")  As for Lloyd Webber's music, his signature swelling ballads are there (with Zippel supplying generic lyrics) reprised ad naseum, as well as some bouncy fun tunes, which are also repeated throughout the evening.
Genao and Dobson display great pipes and have a sparkling chemistry. They make this tedious exercise bearable. Carolee Carmello and Grace McLean are wasted in what could have been hilarious Grand Diva roles as the Wicked Stepmother and the even more Wicked Queen. But their one-note roles wear thin after a scene or two. Ironically, the only character that really changes or grows is one of the Wicked Stepsisters, Marie. After being rejected at the ball, Marie sympathizes with Cinderella and advises her to battle for Sebastian. Morgan Higgins tales advantage of this development and creates a fully-rounded though still comically exaggerated creation. If only the rest of the show had followed suit, the audience could have had a happy ending.
Sweeney Todd: The Demon Barber of Fleet Street: Opened March 26 for an open run. Lunt-Fontanne Theater, 205 W. 46th St., NYC. Running time: two hours and 45 mins. including intermission. ticketmaster.com.
Bad Cinderella: Opened March 23 for an open run. Imperial Theater, 249 W. 45th St., NYC. Running time: two hours and 25 mins. telecharge.com.