The opening moments of Rebecca Gilman's moving new play Swing State, now at the Minetta Lane Theater after an acclaimed run at Chicago's Goodman Theatre, searingly combine the ordinary with the depths of angst. In a lived-in Wisconsin farmhouse, a woman in her 60s is performing the most routine of tasks, mixing eggs and flour. The audience laughs as she forgets the next step in the recipe and then suddenly gasps as she takes the kitchen knife and almost slashes her wrists with it, then contemplates plunging it in her eye, while muttering "There's no down side." What follows is a terse, heart-rending chronicle of the conflict between despair and hope in contemporary America.
The lady contemplating self-harm is Peg (the brilliant Mary Beth Fisher), a widow of one year battling loneliness and the devastating impact of climate change on the beloved prairie she owns. She's also concerned about her close friend and almost son Ryan (tense and wiry Bubba Weiler), a 20-ish ex-con and recovering alcoholic barely holding onto to his sobriety and a grinding job. Ryan soon enters after Peg has returned to her baking. Their dialogue and actions are achingly redolent of difficulties they face. Peg poetically bemoans the dearth of bats, birds, seeds and other markers of the natural world which will negatively impact her land. She does not work it. She preserves it with an environmental non-profit organization, but invasive chemicals from neighboring farms   are doing damage. Ryan complains about his dead-end job: delivering bread with a faulty truck that won't allow him to go over 40 miles an hour. Both drink water from an office-style cooler since the tap liquid is full of toxins.
The play's action is set in motion when Peg discovers a box of antique tools and a Winchester rifle are missing from her barn and reports the theft to the bullying local sheriff, Kris (blustering but believable Kirsten Fitzgerald) who has her own complex connections with both Peg and Ryan. Kris' novice deputy Dani (earnest Anne E. Thompson), who happens to be her niece and a former schoolmate of Ryan's, wants to do her new job right but also wants to show compassion and consideration for the community.
No spoliers here, but the case of the missing property leads to a shattering tragedy involving gun rights, opioids, police violence and, to quote a famous line from Cool Hand Luke, "failure to communicate." But Swing State is no political polemic. Gillman doesn't check off boxes on a list of hot-button topics. (Trump is mentioned, but only once in passing.) She subtly documents how large issues impact "regular" people and draws layered insightful portraits. Robert Falls' direction also eschews histrionics and melodrama in favor of vital verisimilitude.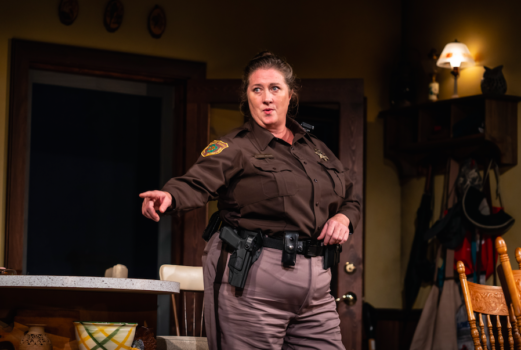 Fisher gives full vent to Peg's deep pain as well as her passionate embrace of the vanishing flora and fauna. She makes Peg's arias on the white-nose syndrome of bats, the habits of birds, and the beauty of flowers into memorable moments. Weiler is like a coiled spring as Ryan, barely containing his anxiety and inability to cope in an adult world and desperately suppressing his rage and frustration. He also feelingly conveys Ryan's humor and boyishness. Fitzgerald captures Kris' anger and righteousness as well as her conviction that she believes she is doing the right thing, even when the results are unjust. Thompson subtly delivers Dani's conflicted emotions about her duty as a law officer and her empathy for her fellow man.
Todd Rosenthal designed the detailed set which speaks volumes about Peg, her place in the world and her values. Evelyn Danner's costumes and Eric Southern's lighting are equally evocative of the time and place of Swing State. The title suggests a dry political play, but it's so much more.
Swing State: Sept. 17—Oct. 28. Audible Theater at Minetta Lane Theatre, 18 Minetta Lane, NYC. Running time: one hour and 45 mins. with no intermission. Ticketmaster.