Second Stage is currently offering a fascinating dual perspective on the gay experience in America. On Broadway at the the company's Hayes Theater, there is a powerful revival of Richard Greenberg's 2002 Take Me Out which focuses on a major league baseball player coming out of the closet. Off-Broadway at the Tony Kiser Theater, a totally different view of the gay scene is presented with J.C. Lee's To My Girls, a comedy about a group of friends sharing a Palms Springs AirBnB after the devastating COVID crisis and sexual betrayal. The former is a complex chronicle of our attitude towards gayness, sports, masculinity, and even religion. The latter is a silly sitcom about trivial stereotypes.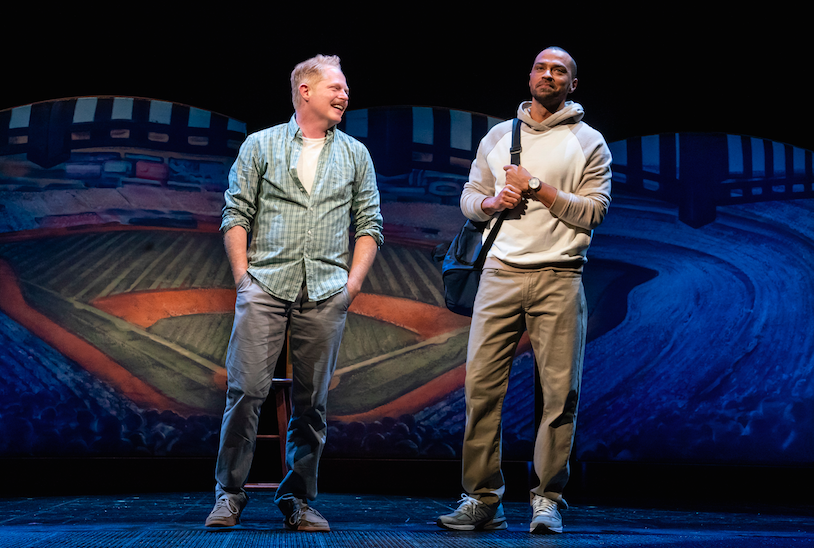 It's 20 years since Take Me Out premiered at London's Donmar Warehouse, played the Public Theater Off-Broadway and then transferred to Broadway where it won the Tony Award for Best Play. But the issues it raises are still sadly relevant. In the two decades since its debut, there have been no openly gay major sports figures and though acceptance is on the rise, there are still homophobic voices raised and laws passed to stop gay topics from being raised in the classroom. There has also been legislation in many states to prevent trans athletes from participating in school sports.
The fictional Darren Lemming of Take remains an outlier. When the stellar player comes out, it causes discomfort in the locker room and questions about masculinity and tolerance among the general public. The public viewpoint and that of the gay community is provided by Darren's money manager, Mason Marzac. When racist pitching phenom Shane Mungitt joins the team, the discomfort erupts into a firestorm as a deadly series of events disrupts the unflappable Darren's world.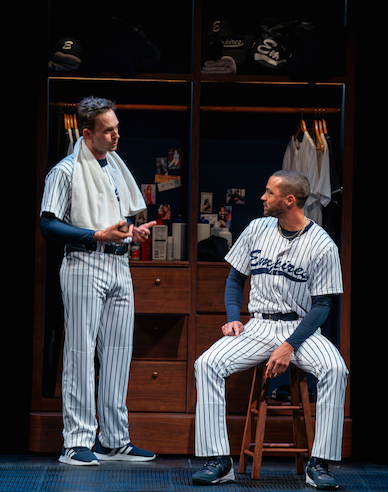 Scott Ellis' muscular production maintains Greenberg's sharp take on attitudes about manliness and the vital role of baseball in American life. Mason's monologues on his growing love of the game are beautifully delivered by Jesse Tyler Ferguson. Jesse Williams brilliantly delineates Darren's journey from smug self-assurance to self-doubt. You can see the cracks begin to appear in his seemingly invulnerable facade. Michael Oberholtzer is intense and believable as the hillbilly pitcher, not just settling for a cliche of ignorance. Patrick J. Adams ably serves at the narrator Kippy, Darren's intellectual teammate. Brandon J. Dirden delivers a layered performance as Davey, Darren's religious friend and baseball rival. An all-star team for a home run of a play.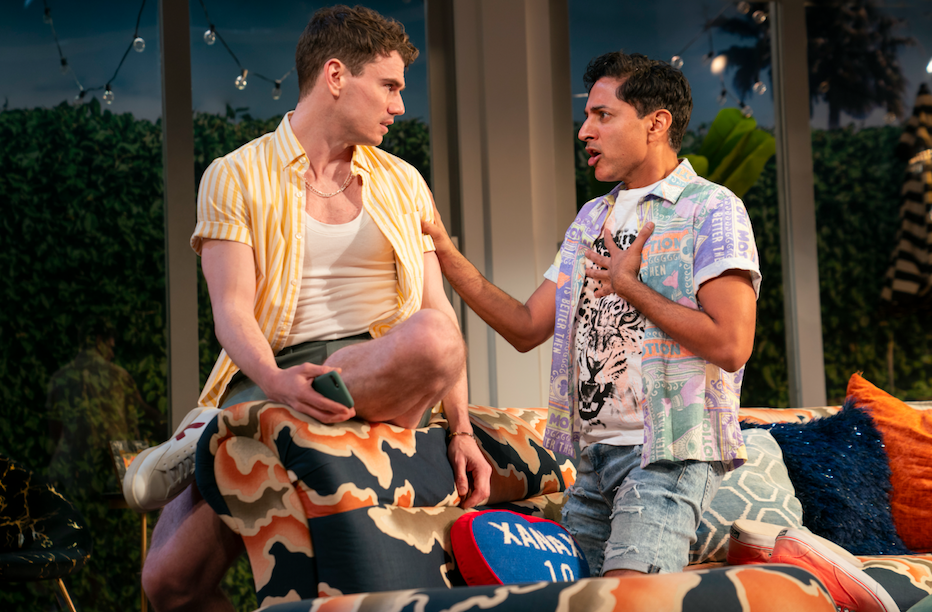 While Take Me Out is a rich, deep canvas of the American scene and not just about being gay, To My Girls has all the depth of an Instagram post. J.C. Lee's basic plot is familiar from similar iterations such as Mart Crowley's The Boys in the Band and Terrence McNally's Love! Valour! Compassion! A group of gay friends gather for a weekend celebration and to trade gossip, quips, and bitchy insults as they wrestle with the difficult questions of body image, promiscuity, wokeness, and which Britney Spears album is the greatest.
Curtis (seductive and self-pitying Jay Armstrong Johnson) is worried that he's losing his looks as he approaches 40. Castor (funny Maulik Pancholy) masks his inferiority complex with non-stop queen-y gags as he pines for Curtis. Leo (solid Britton Smith) deals with low self-esteem by living his life on social media. Pick-up Omar (attractive and intelligent Noah J. Ricketts) romps in his underwear, providing eye candy and a source of conflict among the friends. Host Bernie (amusing Bryan Batt) who is a Trump supporter drops by to provide a different perspective. Jeff (a nice cameo by Carman Lacivita) pops in near the final curtain for a last-minute plot complication.
Director Stephen Brackett and the cast gamely attempt to inject subtext and pacing into Lee's shallow script, but the characters all talk as if they were reading magazine articles out loud and their characterizations don't go beyond stereotyping. There are some funny moments here and there, but even the ridiculous drag dance the housemates put on for a goof fails to raise more than a mild smile. Arnulfo Maldonando's set is gorgeous, though.
Take Me Out: April 4—June 11. Second Stage at the Hayes Theater, 240 W. 44th St., NYC. Tue 7pm; Wed 2pm & 7pm; Thu 7pm, Fri 8pm, Sat 2pm & 8pm; Sun 3pm. Running time: two hours and 20 mins. including intermission. $79—$199. (212) 541-4516. www.2st.com.
To My Girls: April 12—24. Second Stage at the Tony Kiser Theater, 305 W. 43rd St., NYC. Tue 7pm; Wed 2pm & 7pm; Thu 7pm, Fri 8pm, Sat 2pm & 8pm; Sun 3pm. Running time: 95 minutes with no intermission.$69—$125. (212) 541-4516. www.2st.com.

this is an ad space