How the body forgives considered in Atwater Village, Covid-postponed flamenco at UCLA, week two of a West LA dance festival, contemporary companies on tour to USC, Malibu, and Irvine, the Trocks bourée into Glendora, an important post-modern moment recreated downtown, a peek at next week, and more SoCal dance this week.
Live This Week
To tell myself a story
Week two of this year's Odyssey Dance Festival showcases choreographer/dancer Roya Carreras and New York-based Assaf Salhov in Stories We Tell Ourselves. Part one of the work was set on New York's Peridance Contemporary Dance Company. A preview is on YouTube. That's just part one. The entire three part work receives its world premiere in these performances. The festival runs through mid-February with a different line-up each week. Odyssey Dance Festival (Week 2)-Odyssey Theatre Ensemble, 2055 S. Sepulveda Blvd., West LA; Fri.-Sat., Jan. 20-21, 8 pm, Sun., Jan. 22, 2 pm, $25, $15 student. Note: because of the stage configuration there is no late seating. Details and complete list of festival performances at Odyssey Theatre.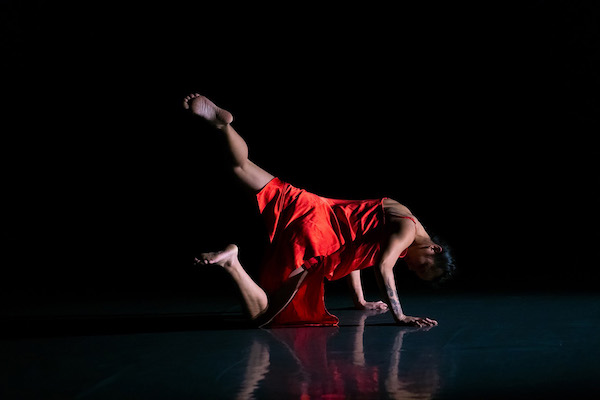 Flamenco on the edge
Covid travel impediments repeatedly postponed this anticipated visit by flamenco's Israel Galván. With an idiosyncratic approach that simultaneously draws on the classical and the experimental, Galván is sometimes described as a polarizing figure in flamenco. Here he is paired with guitarist/singer Niño de Elche in Mellizo Doble which is described as "exploring performance as a cyborg experience." UCLA Royce Hall, 10745 Dickson Ct., Westwood; Sat., Jan. 21, 8 pm, $39-$59. CAP UCLA.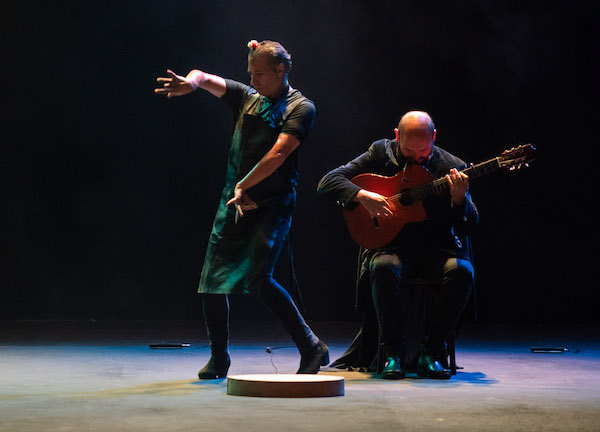 A mind-body connection
With six dancers and three musicians performing live, Leah Zeiger's full-length work You Live in My Spine blends her movement philosophy with choreographic and somatic practices. The work considers how forgiveness affects our memories as well as our bodies. G-Son Studios, 3218 Glendale Blvd., Atwater Village; Fri.-Sat., Jan. 20-21, 8 pm, Sun., Jan. 22, 2 pm, $10-$25. Brown Paper Tickets.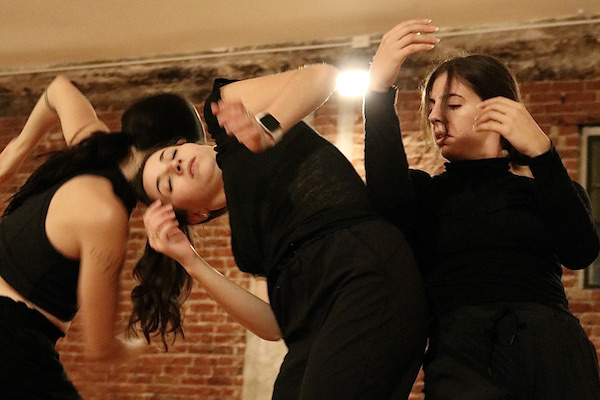 "X" marks the spot
Philadelphia's exciting, innovative Ballet X made a splash last year with performances at Orange County's Segerstrom and Malibu's Smothers Theater. The contemporary ballet company returns for performances at two SoCal venues. Irvine Barclay Theater, 4242 Campus Dr., Irvine; Tues., Jan. 24, 8 pm, $30-$130. OvationTix. Also at Thousand Oaks Civic Arts Plaza, 2100 E. Thousand Oaks Blvd, Thousand Oaks, Thurs., Jan. 26, 7:30 pm, $35-$65. Ticketmaster.
From the big apple to the big orange
The New York-based Gibney Company brings its brand of contemporary dance with two works. Yag 2022 is described as a "reimagining" of choreographer Ohad Naharin's 1996 work for his Batsheva Dance Company. The second work is choreographer Yin Yue's A Measurable Existence. USC Board Auditorium, 3551 Trousdale Pkwy, University Park; Fri., Jan 20, 7:30 pm, free w/reservation at Visions and Voices USC.
They keep on "trocking"
Men in pointe shoes are no longer as unexpected as when Les Ballets Trockadero de Monte Carlo began decades ago. Their performances, sending up ballet classics and sending audiences into paroxysms of laughter, remain all the more effective because the dancers really can dance and really know how to work a pointe shoe. The Trocks, as they are affectionately known, arrive at Haugh Performing Arts Center, Citrus College, 1000 W. Foothill Dr., Glendora; Sat., Jan. 21, 7 pm, $28-$56. Haugh Performing Arts Center.
Those bendiest of people 
When a handful of dancer/gymnasts created started an innovative dance troupe 50 years ago, who knew Pilobolus would not only expand the definition of what was modern dance, it would be taking a victory lap, a national tour celebrating 50 years and multiple generations of dancers succeeding that original troupe. The current company tour stops off at two local venues. Pepperdine University, Smothers Theater, 24255 Pacific Coast Hwy., Malibu; Wed., Jan. 25, 8 pm, $25-$55. Pepperdine. Also at Musco Center for the Arts, Chapman University, 415 N. Glassell St., Orange; Thurs., Feb. 23, 7:30 pm, $25-$58. Musco Center for the Arts.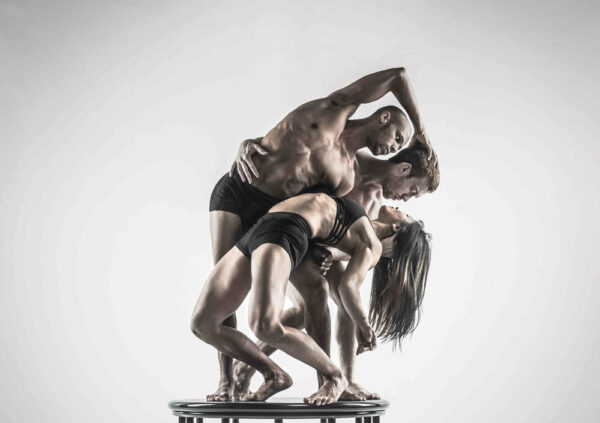 Once more, this time with an audience
Welcoming a line-up of short dances or works in progress, MashUp Choreography Open Mic Night regularly offers audiences a preview of what is to come and provides choreographers with valuable audience reaction to their creative efforts. This evening, in cooperation with Geometry Dance Company, includes a chance for audience/choreographer conversations. Genesis Studios, 2861 W Avenue 35, Glassell, Park; Sat., Jan. 21, 7 pm, free w/reservation at Eventbrite.
Post-Modern History, Live
Several of the notable figures who emerged from the Post Modern dance era centered at New York City's Judson Church in the 1960's left and came to SoCal. Rudy Perez and Simone Forti are among those NY transfers who became forces on the LA dance scene and now have éminence grise status here. Forti's oeuvre and the materials that fueled them are the focus of Simone Forti, the first museum exhibit to survey what she produced. The three-month exhibit includes live performances of Dance Constructions, one of her landmark works from 1961. Sarah Swenson, a known LA choreographer and long-time associate of Forti, acted as Performance Coordinator for this project and Forti's Dance Constructions presented throughout the exhibition, were staged by Carmela Hermann Dietrich. Hermann Dietrich and Forti have a relationship dating back to 1989 that includes improvised duets, the most recent of which, in 2017, was at Highways Performance Space.The exhibit also includes Forti's sculptures, videos, drawings, and notebooks. Dance Constructions at MOCA Grand Avenue (Museum of Contemporary Art), 250 S. Grand Ave., downtown; Exhibit runs Sun., Jan. 15 to Sun., April 2. Performances of Dance Constructions performed Thurs., 3:30, 4:45, 6:00, & 7:15 pm, Sat. & Sun., 12:30, 1:45, 3:00, & 4:15 pm, throughout the exhibit run, free with timed museum admission. MOCA.
A Peek at Next Week
JA Collective – Odyssey Dance Festival (Week 3) Odyssey Theatre Ensemble, 2055 S. Sepulveda Blvd., West LA; Fri.-Sat., Jan. 27-28, 8 pm, Sun., Jan. 29, 2 pm, $25, $15 student. Complete list of festival performances and tickets at Odyssey Theatre.
Benita Bike's DanceArt at Culver City Senior Center, 4095 Overland Ave., Culvery City; Sat., Jan. 28, 1:30 pm, free. DanceArt.
Cirque FLIP Fabrique at Smothers Theatre, Pepperdine University, 24255 Pacific Coast Hwy., Malibu; Wed., Feb. 1, 7:30 pm, $25-$50. Pepperdine. Also at Haugh Performing Arts Center, Fri., Feb. 3, 7:30 pm, $23-$46. Haugh Performing Arts Center. Also at Carpenter Performing Arts Center, Cal State University Long Beach, 6200 Atherton St., Long Beach; Sat., Feb. 4, 8 pm, $40. Carpenter Performing Arts Center Tickets. Also at Granada Theatre, 1214 State St., Santa Barbara; Sun., Feb., 5, 7 pm, $20-$61. Granada Theatre.
SoCal Dance Notes
Military vets on the move 
If not viewed in person or online, description of the power unleashed by choreographer Jacques Heim and the Veterans Project launched by Diavolo Architecture in Motion may seem like hyperbole. It's not. Initiated to physicalize the re-entry struggles of military veterans with the highly physical, gymnastic Diavolo movement world, the resulting Veterans Project live events proved physically breathtaking, artistically stunning, and healing. During the pandemic, a shift to film produced two powerful movement essays, particularly one that focused on military veterans now on the Covid front lines as nurses, doctors, EMTs, and medical techs. Gearing up for the next project, Diavolo is reaching out to veterans and their families to join the newest endeavor S.O.S. Breaking the Wall. Participation is free and online. The program involves an 8-day online movement workshop at no cost to military veterans and one civilian family member of their choice. Since it is online, participation is open to vets across the country. Physical exercises, engaging discussions, story sharing and creative movement sessions will culminate with  a virtual presentation of recorded movement with text sequences created by each pair of participants. The scheduled session extends from Sun.-Sun., Feb 19-26, 2-5 pm (the project offers to set a special schedule if a participant can't participate the full scheduled sessions). Showing Sun., March 5, 2 pm. Information, prior Veterans Project films, and registration for the upcoming workshop at Diavolo.
Bend it at the Bendix
Sometimes there's dance, other times not, but always something to start an interesting conversation at the curated, transdisciplinary salon Come As You Are. Presented by Heidi Duckler Dance, the series launches a new year with pianist/composer Tomoko Ozawa, projection/multimedia designer Lamyi Lee, and from the Seoul Institute of Arts, spacial design/photographers Yejin An and Seoyoon Choi. Bendix Building, 1206 Maple Ave., Downtown Arts District; Sun., Jan. 29, 5 pm, $20-$35. Eventbrite.

this is an ad space