Larissa Fasthorse satirizes current confusing attitudes in modern theater in her riotous comedy, The Thanksgiving Play, now presented by Second Stage at the Hayes Theater after an Off-Broadway run at Playwrights Horizons in 2018. Fasthorse, the first Native American female playwright to be produced on Broadway, mercilessly mocks the well-meaning but condescending attempts of good-hearted liberals to include the voices of oppressed minorities in the arts. Her brilliantly simple premise places four white theater artists in an elementary school classroom (Riccardo Hernandez created the detailed set) to create an historically accurate and inclusive show about Turkey Day for kids. Director Logan (riotously funny Katie Finneran), a failed actress who left LA after six weeks, and her romantic partner Jaxton (sturdy Scott Foley), a street performer, are joined by pretty, seemingly vacuous Alicia (D'Arcy Carden, hilarious at belying the dumb chick stereotype) and history teacher Caden who longs to be a playwright (deadly earnest Chris Sullivan).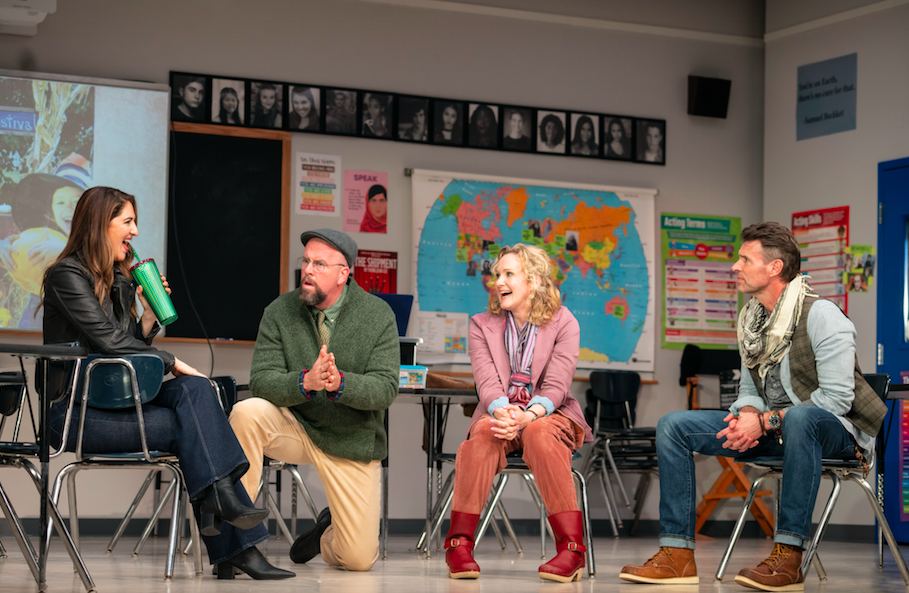 Director Rachel Chavkin and the quartet of farceurs hit all the right comic notes and time each punchline to land with guffaw-inducing accuracy. The main humor comes from the elaborate ways Logan, Jaxton, and Caden twist themselves into pretzels so as not to offend Native Americans, parents, gay people, women, Hispanics, or any other group. Alicia was hired by Logan who mistakenly took her for Native American because the actress submitted one of her "ethnic" headshots. She's just going with the flow and Carden hilariously conveys Alicia's empty-headed, laid-back style. Watch as she gets laughs just eating yogurt without a spoon. Chaos ensues as the group attempts to fashion a 45-minute piece that will entertain fourth graders and upset no adults. Scenes are intercut with videos of deadpan students singing horribly racist Thanksgiving songs. The kids in the videos with their construction-paper costumes are as funny as the live cast members. Eventually, the group is half-naked, smeared with fake blood, and stripped of their illusions and pretensions. This is an achingly funny social satire with sharp teeth.
For just plain endless belly laughs with no ideas or issues behind them, give yourself a treat and take in Peter Pan Goes Wrong from a theater company just called Mischief at the Ethel Barrymore. This follow-up to Mischief's The Play That Goes Wrong which had a long run on Broadway from 2017 to 2019 and is still playing Off-Broadway at New World Stages, follows the same basic template. An incompetent amateur troupe of British loonies mounts a familiar classic (in this case J.M. Barrie's fantasy of the boy who wouldn't grow up) and everything that can go wrong, does. Cues are missed, props are misplaced, the scenery falls apart, lines are forgotten, actors sustain multiple injuries. It's Noises Off with flying, pirate ships and just enough audience participation to be engaging and fun, but not so much to become annoying.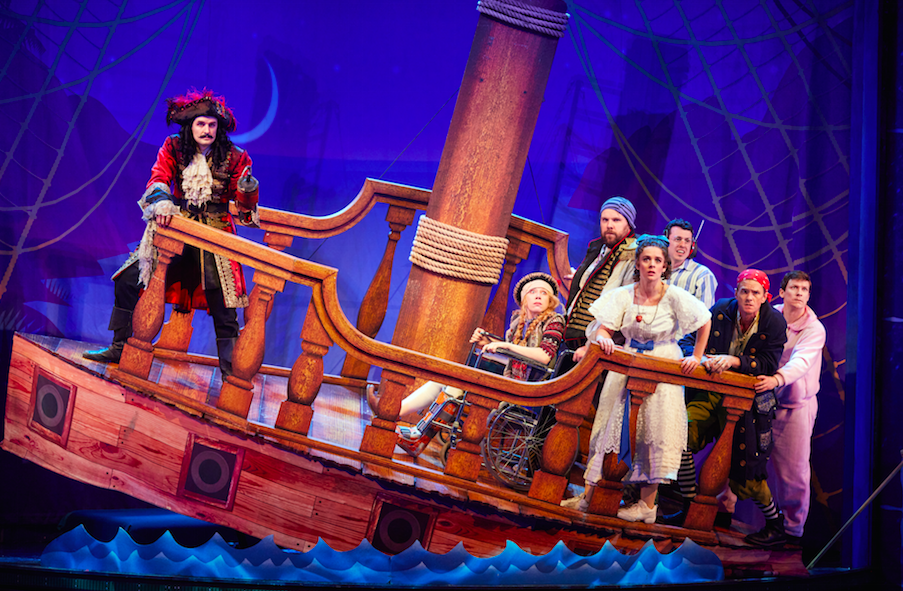 You would think the bits and jokes would become repetitive, but it somehow all works. That's because the characters all have been given believable motives to either make the play work or to find love with fellow cast members. Playwrights Henry Lewis, Jonathan Sayer and Henry Shields joyfully double as players. Lewis is a riot in a variety of roles including Peter's shadow not quite fitting into a black leotard and Nana the dog who gets stuck in a door for much of the first hilarious scene. Sayer is equally goofy as a performer who cannot remember his lines and must repeat whatever he hears through headphones with disastrous results. Shields makes for a marvelously frustrated Captain Hook, especially as he interacts with booing kiddies in the audience.
Matthew Cavendish is endearing as a performer who can't act but who puts his heart forward because of his crush on Wendy (wonderful Charlie Russell) and eventually triumphs. Nancy Zamit has fun with quick changes as she switches from Mrs. Darling to the maid Lisa in a matter of seconds (Roberto Surface designed the crazy costumes). Greg Tannahill crashes into scenery as Peter and causes mayhem by flirting with all the ladies in the cast. Ellie Morris draws laughs as an accident-prone Lost Boy, eventually winding up in a wheelchair. Chris Leask is blusteringly blunt as the crude stage manager with a beer bottle constantly in hand or stuck in a back pocket. Plus we get the added bonus of a gleefully fumbling Neil Patrick Harris in the narrator role. Simon Scullion designed the ingenious revolving set which transforms into a deathtrap for the actors and director Adam Meggido perfectly paces the pratfalls for maximum jollity. Thanksgiving Play and Peter Pan pack in enough laughs for an entire Broadway season.
The Thanksgiving Play: April 20—June 4. Second Stage at the Hayes Theater, 240 W. 44th St., NYC. Running time: 90 mins. with no intermission. Second Stage.
Peter Pan Goes Wrong: April 19—July 9. Ethel Barrymore Theatre, 243 W. 47th St., NYC. Running time: two hours and ten mins. including intermission. Telecharge.