The Lonely Few is an original musical commissioned by the Geffen Playhouse about a ragtag group of musicians who find a release through their music from their otherwise drab workaday lives in a rural Kentucky town. At the center of this drama is Lila, an unassuming clerk at the local supply store who cuts loose when on stage performing with her band at the local watering hole, Paul's Juke Joint. While honing her songwriting craft, Lila is getting by as best she can as a lesbian in a climate which isn't known for celebrating diversity. Lila has sublimated many of her own hopes and dreams, trying to make ends meet while saddled with the responsibility of keeping an eye on her troubled older sibling Adam who has a history of drug use. The other members of the band include Lila's uptight boss Dylan who transforms into a free-spirited head banger on stage, along with Paul (the owner of the juke joint) on the drums and JJ, a 17-year-old aspiring songwriter on keyboards.
The play kicks into gear with the arrival of Amy, a bona fide folk rocker who is signed to a record label and is about to launch a tour through the South, which poses a challenge as an openly queer Black woman. Lila is immediately smitten with Amy and it's evident the attraction is mutual. It turns out that Amy's visit is no random coincidence for she is Paul's daughter. It becomes apparent over the course of the story that Amy harbors resentment toward her father for skipping out on his marriage, leaving Amy to be raised by her mom, who Amy describes as intolerable and intolerant. When Amy asks Lila and her band to open for her on tour, the action shifts to the players hitting the road, touring together.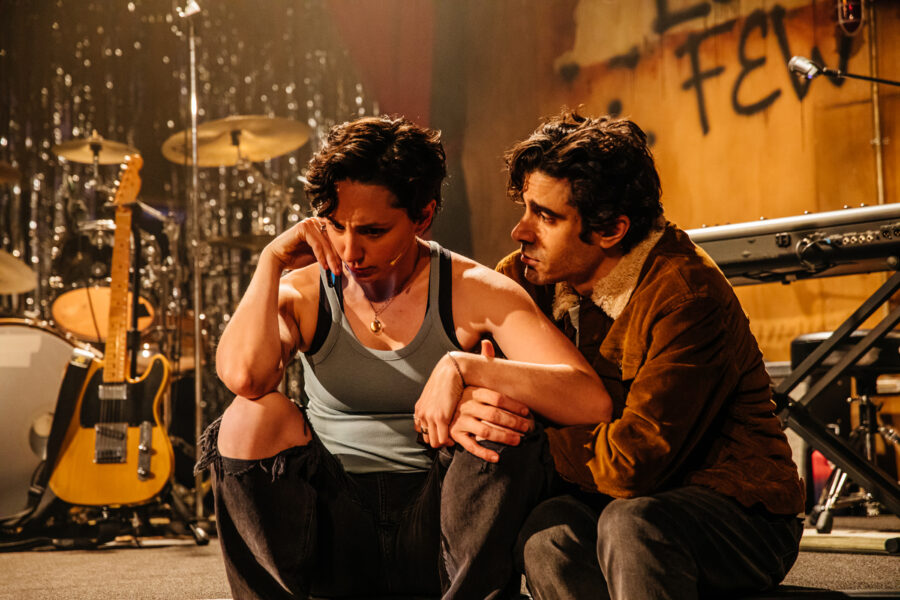 Running now through April 30th at the Geffen Playhouse, The Lonely Few is led by a first rate cast, more than capable of launching this little musical that could. The two women at the center of this love story are played by Tony winner Lauren Patten (as Lila) and Ciara Renée (as Amy) — two accomplished Broadway actresses whose vocal prowess is balanced with legit chemistry and fine acting. In a world where so many "new" musicals are merely pre-packaged vehicles (aka jukebox musicals) with a pre-existing song catalogue calculated to tap into a built-in audience in service of the almighty dollar, it's refreshing to see a show that's built from scratch with original songs and the moxie to put a lesbian love story front and center.
While I'm no expert on the history of lesbian characters in musicals, I can say that Fun Home, which made its Broadway debut in 2015 and went on to win 5 Tony's including Best Musical, seemed to go where few musicals had gone before with a novel way of introducing a fully realized lesbian character. The Lonely Few picks up the baton and makes an earnest effort to forge ahead. The Lonely Few benefits from a story that feels intimate and grounded, aided by the fact that there are only six characters. In keeping with this intimate feel, the set and production design for this musical are right on point, creating a cozy ambience which draws the audience into the emotional world of these characters. What's more, the size of the Geffen's Audrey Skirball-Kenis 117-seat theatre ensures that there is not a bad seat in the house.
While The Lonely Few has a lot going for it, as with most new musicals, there's room for improvement. Granted, the romance between Lila and Amy follows a familiar "girl meets girl, girl loses girl" trajectory. But given that lesbian musicals are fairly rare commodities, that wasn't a dealbreaker. Beyond the love story and the thematic forces of characters struggling with the daily trials and tribulations of life in rural Kentucky, the story struggles to give sufficient drive to the secondary characters. And for this reason, act two is a bit sluggish, save for the tension over whether Lila's responsibilities to her brother will forestall her relationship with Amy.
While Damon Daunno has a particularly engaging stage presence, as evidenced by his breakthrough role as Curly in the Tony winning revival of Oklahoma in 2019, the character of Dylan seems underdeveloped. We only hear about his pregnant girlfriend Katie peripherally since she is only referred to in absentia. What's more, the conflict that develops in the second act between Dylan and Lila when he tries to kiss her seems to come out of nowhere and seems engineered specifically to give a little more juice to a plot which is running out of steam.
These shortcomings aside, The Lonely Few is saved by the dynamic performances of its two leading ladies who deliver a romance that has equal parts romance and grit as well as a strong ensemble and solid songs performed with conviction.
The Lonely Few — March 2nd to April 30th @ Geffen Playhouse, 10886 Le Conte Avenue, Los Angeles, CA 90024. Tickets at geffenplayhouse.org