The Musical Theatre Guild pulled a proverbial rabbit out of its hat with a one-night-only revival of Stephen Sondheim's Follies at the Eli and Edythe Broad Stage in Santa Monica. Under the direction of Jason Graae, this gifted company of performers accomplished this feat with a scant 25 hours of rehearsal time over a matter of mere days.
As stated in the program, "the Musical Theatre Guild was founded twenty-seven years ago to explore and preserve works from the musical theatre repertoire that were either forgotten, neglected or unfairly dismissed." In the spirit of those classic Mickey Rooney/Judy Garland musicals, these dedicated professionals come together to "put on a show" lickety split, with sheer talent, pluck and determination, breathing new life into rarely produced gems like Follies.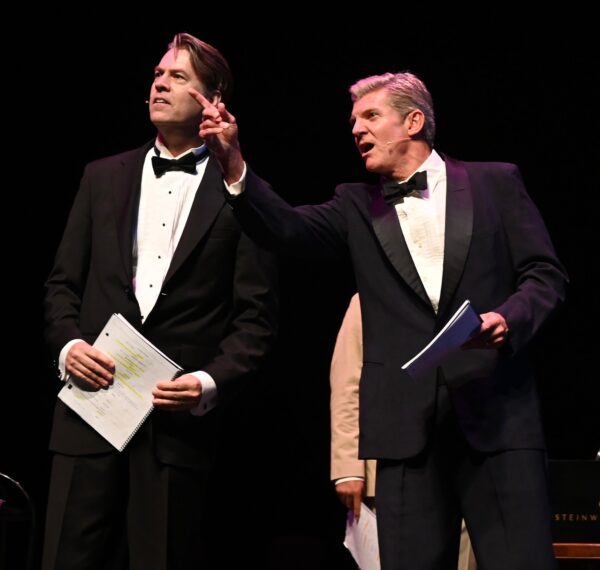 Technically, it was a staged reading, but with costumes, choreography and a four-piece concert band, this impeccably cast and executed performance was the next best thing to a fully realized production. The condensed rehearsal period has prompted comparisons among MTG members to "being shot out of a cannon." I try to avoid superlatives when possible, but when you see the complexity and depth that unfold on stage, it is a high-wire act of impressive proportions. This, mind you, was accomplished in the midst of the SAG/AFTRA strike.
For Sondheim aficionados, Follies occupies a special (some might say sacred) place in the Sondheim canon. Elaine Stritch's performance of "Broadway Baby" is the stuff of legend. There are other gems like "I'm Still Here," "Could I Leave You" and "Losing My Mind" which surface during Sondheim galas and tributes, but it's a rare treat to see Follies in its entirety from start to finish with all the theatrical complexity and connective tissue performed by an accomplished ensemble of performers.
Predating many of Sondheim's more well-known later works, one can hear many of the hallmarks, both musical and thematic, that would be revisited and refined over the course of his prolific and distinguished career. The story itself is relatively simple, focusing on the 30-year reunion of a troupe of showgirls upon news that the site of their once illustrious theatre being demolished to make way for a parking lot. The rather straightforward template allows the focus to be on the interrelationships among the characters and serve as a showcase for a dynamic variety of musical numbers
So without further ado, let's get to the highlights, of which there were many.
Top honors go to the four leads who comprised the two couples at the heart of this parable on life, love and regret. Teri Bibb gives a pitch-perfect performance as Phyllis whose marriage to Ben has been marred by infidelity on both sides. Blessed with an exacting comic timing, Bibb turned out a tour de force performance of "Could I Leave You" which pierced the stagnant decay of their marriage with unfettered zeal. Brent Schindele turns in a compelling and nuanced portrayal of Phyllis' straying husband Benjamin Stone. Besides delivering top-notch vocals, Schindele embodies the conflicted emotional world of a man whose infidelity is rooted in his own ambivalence about what he wants out of life and what he's got. The other couple is played winningly by Anastasia Barzee as Sally and Roger Befeler as her husband Buddy. Barzee strikes just the right tone as Sally of a woman who is trapped in the past, forever pining for a love (with Ben) she can never revive. Roger Befeler's Buddy provides a grounded counterpoint, aware of his wife's longings while drawn to his own extramarital dalliance with a much younger, more vacuous woman who replenishes his ego.
The entire ensemble really delivered for this one-night-only performance. Helen Geller brought the house down with a rousing performance of "Broadway Baby." She made her way across the stage using a walker for support as she delivered zingers with a deadpan panache. Other standout performances included Jennifer Leigh Warren as Carlotta Campion and the stirring duet "One More Kiss" featuring Mary VanArsdel and Bryce Charles. While many of us are still mourning the passing of Stephen Sondheim in 2021 at the age of 91, it's productions like this which remind us all of his brilliant legacy and whet our appetite for more revivals to come.