A poet and a choreographer collaborate downtown, hip hop in San Fernando, a folkloric Christmas in Cerritos, a reopening in Venice, contemporary dance in Orange, a jukebox musical with a Go-Go's dance party in Pasadena, Nutcrackers return live, more SoCal dance online this week, and a peek at what's coming next.
Live This Week
Day-long dance
While younger, the forceful dancers who comprise Versa-Style Dance Company Next Generation more than hold their own. They perform as part of this free, day-long community event. Performance at The Mob HQ, 1126 San Fernando Rd., San Fernando; Sun. Dec. 5, 1:30 pm, free. Details on Covid protocols and the surrounding events including workshops and a community celebration with food and music at Versa-Style Dance Company.
Watching the watchers
Inspired by the poetry of Claudia Rankine and in collaboration with the poet, choreographer Will Rawls and a quartet of performers explore Rankine's consideration of racial history and surveillance in What Remains. REDCAT at Disney Hall, 631 W. 2nd St., downtown; Thurs.-Sat., Dec. 9-11, 8:30 pm, $25, $20 students. Info, tickets & Covid protocols at REDCAT.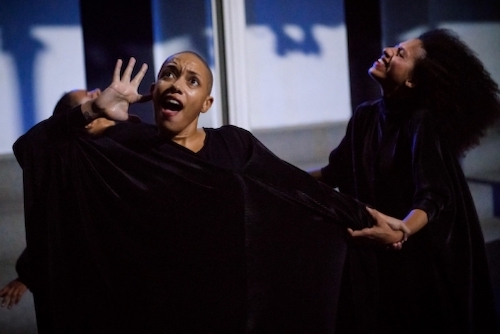 Electric eclectic
This inventive space has reopened two of its recurring series. First Spark is the new name of the High Voltage series that coincides with the "walkabout" on nearby Abott Kinney Blvd. on the first Friday of most months. Now held in the venue's parking lot, the space hosts Open Temple after the show. Also back on the first Monday of the month, Max 10 presents ten performers, each taking the stage for ten minutes. Both series offer an ever-changing, eclectic array of artists that often includes dancers and choreographers. At Electric Lodge, 1416 Electric Ave., Venice; First Spark – Fri., Dec. 3, 8 pm, $10.  The Open Temple. Also Max 10 – Mon., Dec. 6, 7:30 pm, $10. Eventbrite. Info, tickets, & Covid protocols at Electric Lodge.
México merry
Evoking the spirit of Christmas in Mexico, DanzArts Sabor México Dance Company joins Sol de México de José Hernández and Mariachi Reyna de Los Angeles in Merry-Achi Christmas at Cerritos Center for the Performing Arts, 18000 Park Plaza Dr., Cerritos; Sat., Dec. 4, 7 pm, Sun., Dec. 5, 2 pm, $35-$86. Cerritos Center for the Performing Arts.
College dance No. 1
Choreographers Alicia Guy and Jennifer Backhaus direct the Chapman College Fall Dance Concert at Musco Center for the Arts, Chapman College, 415 N. Glassell, Orange;  Fri.-Sat., Dec 3-4, 7:30 pm, $20, $15 students. Chapman College.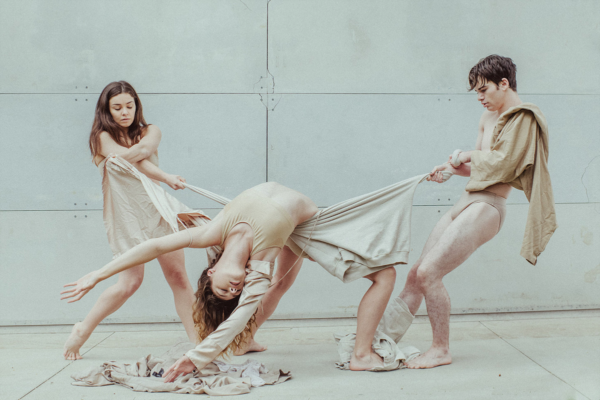 College dance No. 2
Under the banner Winter Dance IRL, CalArts presents choreography from Stephanie Zaletel, Rosanna Tavarez, Zoe Scofield, and Yusha-Marie Sorzano at REDCAT at Disney Hall, 631 W. 2nd St., downtown; Fri.-Sat., Dec. 3-4, 8:30 pm, $25, $20 students. Info, tickets & Covid protocols at REDCAT.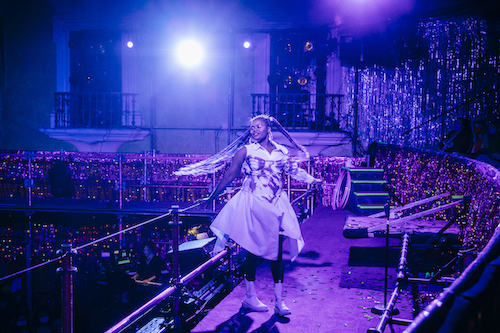 It is Go-Gos going 
Music of the 1980's LA band The Go-Gos fuels Head Over Heels, a jukebox musical loosely based on The Arcadia by Sir Philip Sidney. The venue reopens with its first live performance filled with dancing on more than just the stage.The theater has been reconfigured to afford the audience a choice of onstage or theater seating as well as a general admission ticket to an open floor area inviting an audience-fueled dance party as part of the performance.  Live at Pasadena Playhouse, 39 S. El Molino, Pasadena. Tues.-Sat., 8 pm, Sun., 7 pm, Sat. & Sun., 2 pm, thru Sun., Dec. 12, $30-$106. Info, tickets, and Covid protocols at Pasadena Playhouse.
Post-modern rituals
The first-ever retrospective of the work of choreographer and video artist Blondell Cummings: Dance as Moving Pictures includes videos, interviews, and photographs continue at Art+Practice, 3401 W. 43rd Pl., Leimert Park; Wed.-Sat., noon-6 pm, to Feb. 19, 2022, free. Research guide at Getty Research Institute, exhibition at Art+Practice.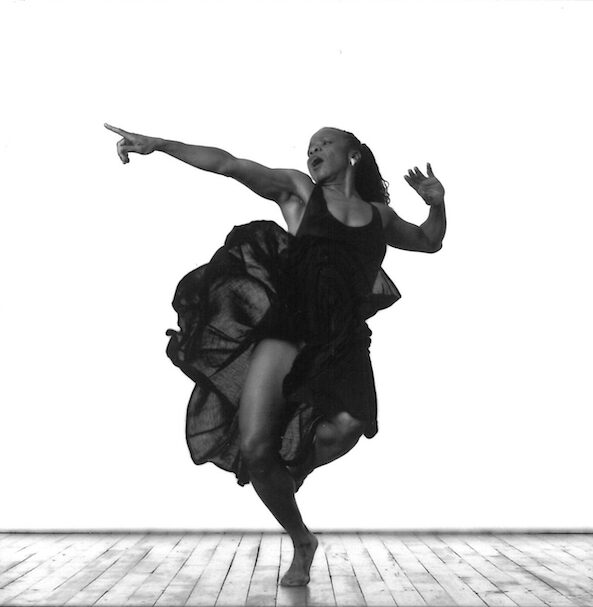 Museum moves
Performance and dance are the metier of several artists in both of this museum's big fall exhibits, Witch Hunt and No Humans Involved at UCLA Hammer Museum, 10899 Wilshire Blvd., Westwood; Tues.-Sun., 11 am-6 pm to Jan. 22, 2022, free no reservation required. Details and Covid protocols at Hammer Museum.
This Week's Nutcrackers
(See "The 'Nuts' Are Back" for full list of 2021 Nutcrackers)
A Peek at Next Week
The Beach Belles & Ballerina in a Snow Globe at Santa Monica Place, 395 Santa Monica Place, Santa Monica; Fri.-Sun., Dec. 10-12, 3 to 7:30 pm, then daily, Fri., Dec. 17-24, 3 to 7:30 pm, free. Santa Monica Place.
Ballet Folklórico de Los Ángeles in Noche Buena at The Soraya, 18111 Nordhoff St., Northridge; Sat., Dec. 11, 3 pm, free w/reservation at The Soraya. Also at The Musco, Chapman College, 415 Glassell, Orange; Sun., Dec. 12, 7 pm, $33-$78.
New Dance Films: Live & Online
A baker's dozen
Six SoCal choreographers and seven international dancemakers are showcased in this three day Los Angeles Dance Festival/ International Los Angeles Dance Festival/ International. LADF director Deborah Brockus recruited choreographers from Poland, Brazil, Turkey, Finland, Taiwan and South Korea who contributed video works for this festival. Local choreographers providing dance video include Rosanna Gamson (Rosanna Gamson/World Wide), Seda Abay (Kybele Dance Theater), Sam McReynolds (GREYaRea), Nanette Brodie (Nanette Brodie Dance Theater), Charlotte K Smith (Charlotte Katherine & Co), and Brockus (BrockusRED). The films stream  On Vimeo, Fri.-Sun., Dec. 3-5, links at Luckman Arts and LA Dance Fest.
Out of the box
Anyone not fortunate to enjoy a live performance of Versa-Style Dance Company's exuberant Box of Hope, have a chance for the next best thing as the troupe offers a one night only stream on YouTube, Thurs., Dec. 9, 7:30 pm, @versatylela, Versa-Style Dance Company.
Back for more
In January 2021, LA choreographer Jacob Jonas and his Jacob Jonas/The Company began a weekly roll out of 15 short dance films with artists from around the world under the banner Films.Dance. The project earned boasting rights with many of the films later winning film festival awards. Now comes Films.Dance Round Two, again with dance, dancers, and filmmakers from around the world. The original films, a preview, and e-mail sign up for free weekly film delivery at Films.Dance.