Hip hop, improv and truth at Week 3 of a Westside festival, dances for the Year of the Rabbit in Costa Mesa, contemporary companies on tour in Thousand Oaks, Malibu and Orange, dance demystified in Culver City, a rooftop salon in the arts district, an important post-modern recreation downtown, a peek at next week, and more SoCal dance this week.
Live This Week
Is an untrue story a lie?
Week three of this year's Odyssey Dance Festival showcases the JA Collective in 5 Stories about Stage that are Simply Untrue. Peeking in on four collaborators in the hour before their debut performance, the performers eclectically draw on hip hop, popping, conceptual improv, contemporary dance, ballet and theater. The festival runs through mid-February with a different line-up each week. Odyssey Theatre Ensemble, 2055 S. Sepulveda Blvd., West LA; Fri.-Sat., Jan. 27-28, 8 pm, Sun., Jan. 29, 2 pm, $25, $15 student. Complete list of festival performances and tickets at Odyssey Theatre.
No, it's not porn on pointe
Philadelphia's exciting, innovative Ballet X made a splash last year with performances at Orange County's Segerstrom and Malibu's Smothers Theater. The contemporary ballet company winds up performances this year at its final SoCal venue.  Thousand Oaks Civic Arts Plaza, 2100 E. Thousand Oaks Blvd, Thousand Oaks, Thurs., Jan. 26, 7:30 pm, $35-$65. Ticketmaster.
The world's their stage
Known for presenting dance in recreation centers, campuses, and other non-traditional venues, Benita Bike's DanceArt this week brings contemporary dance to a senior center. Scheduled are Griot's Songs and Plugged. A conversation with the artists follows. Culver City Senior Center, 4095 Overland Ave., Culver City; Sat., Jan. 28, 1:30 pm, free. Benita Bike's DanceArt.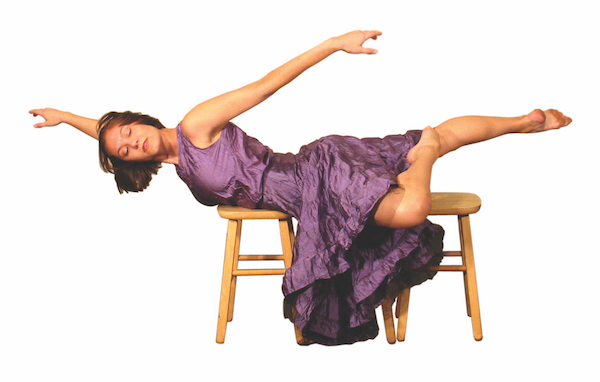 Bend it at the Bendix
Sometimes on the roof, sometimes in other nooks of this historic building, the curated, transdisciplinary salon Come As You Are invariably has plenty to start conversations. Presented by Heidi Duckler Dance, the series launches a new year with dance from HDD members Edgar Aguirre, Rebecca Lee, and Montay Romero, DJ William Jay YIvisaker, pianist/composer Tomoko Ozawa, projection/multimedia designer Lamyi Lee, and from the Seoul Institute of Arts, spacial design/photographers Yejin An and Seoyoon Choi. Bendix Building, 1206 Maple Ave., Downtown Arts District; Sun., Jan. 29, 5 pm, $20-$35. Eventbrite.
Part 7 of an 8-part quartet
This studio showing presents quartet number 7 in progress from Rosanna Gamson/World Wide. Gamson has been rolling out the sections of Quartet (eight quartets are planned) with this type of informal showing, giving the audience, the dancers, and the choreographer feedback on how what has been created in a studio translates when performed before a live audience. Brockus Project Studios, 618B Moulton Ave., Lincoln Heights; Sat., Jan. 28, 5:30 pm, $5 (additional donations welcome). Venmo: @rgwwdance.
Those bendiest of people
When a handful of dancer/gymnasts created started an innovative dance troupe 50 years ago, who knew Pilobolus would not only expand the definition of what was modern dance, it would be taking a victory lap, a national tour celebrating 50 years and multiple generations of dancers succeeding that original troupe. The current golden anniversary tour stops off at one more local venue. Musco Center for the Arts, Chapman University, 415 N. Glassell St., Orange; Thurs., Feb. 23, 7:30 pm, $25-$58. Musco Center for the Arts.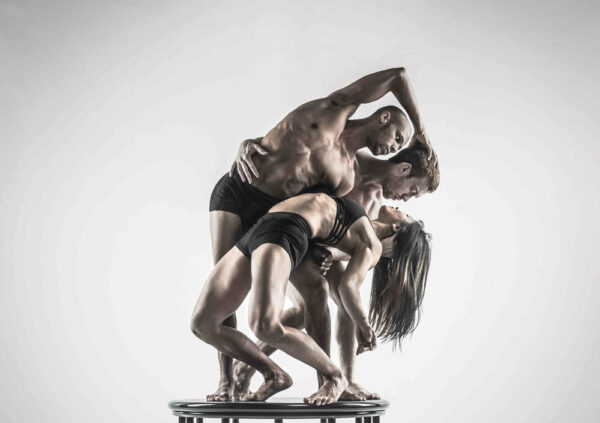 Flippling for cirque
Canada certainly has spawned its share of "cirque" companies. Cirque FLIP Fabrique launches a SoCal tour with its distinctive brand of athletic entertainment. Smothers Theatre, Pepperdine University, 24255 Pacific Coast Hwy., Malibu; Wed., Feb. 1, 7:30 pm, $25-$50. Pepperdine. Also at Haugh Performing Arts Center, Fri., Feb. 3, 7:30 pm, $23-$46. HPAC Tickets. Also at Carpenter Performing Arts Center, Cal State University Long Beach, 6200 Atherton St., Long Beach; Sat., Feb. 4, 8 pm, $40. Carpenter Center Tix. Also at Granada Theatre, 1214 State St., Santa Barbara; Sun., Feb., 5, 7 pm, $20-$61. Granda Theatre.
Dance like a Rabbit
Dancers from Yaya Dance Academy perform choreography by Yaya Zhang and Radhanath Thialan as part of this Lunar New Celebration for the Year of the Rabbit that includes the Pacific Symphony, Pacific Chorale and the American Feel Young Chorus. Segerstrom Concert Hall, 600 Town Center Dr., Costa Mesa; Sat., Jan. 28, 8 pm, $28-$198. Pacific Symphony.
Dancing the rehab
Toran X. Moore contributed considerable choreography to Dahlak Brathwaite: Try/Step/Trip, a spoken word musical that follows a individual's experience in a court-ordered drug rehab program. Brathwaite is joined by Jasmine T.R. Gatewood, Freddy Ramsey, Jr., and Max Udell, with special guest performer: Isaiah Lucas. Wallis Annenberg Center for the Performing Arts, 9390 N. Santa Monica Blvd., Beverly Hills; Thurs.-Sat., Feb. 2-4, 8 pm, Sun., Feb. 5, 2:30 pm, $40-$50. The Wallis.
Post-Modern History, Live
Several of the notable figures who emerged from the Post Modern dance era centered at New York City's Judson Church in the 1960's left and came to SoCal. Rudy Perez and Simone Forti are among those NY transfers who became forces on the LA dance scene and now have éminence grise status here. Forti's oeuvre and the materials that fueled them are the focus of Simone Forti, the first museum exhibit to survey what she produced. The three-month exhibit includes live performances of Dance Constructions, one of her landmark works from 1961. Sarah Swenson, a known LA choreographer and long-time associate of Forti, acted as Performance Coordinator for this project and Forti's Dance Constructions presented throughout the exhibition, were staged by Carmela Hermann Dietrich. Hermann Dietrich and Forti have a relationship dating back to 1989 that includes improvised duets, the most recent of which, in 2017, was at Highways Performance Space.The exhibit also includes Forti's sculptures, videos, drawings, and notebooks. Dance Constructions at MOCA Grand Avenue (Museum of Contemporary Art), 250 S. Grand Ave., downtown; Exhibit runs Sun., Jan. 15 to Sun., April 2. Performances of Dance Constructions performed Thurs., 3:30, 4:45, 6:00, & 7:15 pm, Sat. & Sun., 12:30, 1:45, 3:00, & 4:15 pm, throughout the exhibit run, free with timed museum admission. MOCA.
A Peek at Next Week
Jessie Lee Thorne's Poets in Motion at Odyssey Dance Festival (Week 4) Odyssey Theatre Ensemble, 2055 S. Sepulveda Blvd., West LA; Fri.-Sat., Feb. 3-4, 8 pm, $25, $15 student. Complete list of festival performances and tickets at Odyssey Theatre.
600 Highwaymen at UCLA Royce Hall Rehearsal Room, Royce Hall, Sat.-Sun., Feb. 4-5 & 11-12, noon, 1:30, 3pm, 4:30, 6 & 7:30pm. $29.97. CAP UCLA.
High Voltage at Electric Lodge, 1416 Electric Ave., Venice; Fri., Feb. 3, 8 pm, $10. Eventbrite.
Max 10 at Electric Lodge, 1416 Electric Ave., Venice; Mon., Feb. 6, 7:30 pm, $10. Electric Lodge.
SoCal Dance Notes
Military vets on the move 
If not viewed in person or online, description of the power unleashed by choreographer Jacques Heim and the Veterans Project launched by Diavolo Architecture in Motion may seem like hyperbole. It's not. Initiated to physicalize the re-entry struggles of military veterans with the highly physical, gymnastic Diavolo movement world, the resulting Veterans Project live events proved physically breathtaking, artistically stunning, and healing. During the pandemic, a shift to film produced two powerful movement essays, particularly one that focused on military veterans now on the Covid front lines as nurses, doctors, EMTs, and medical techs. Gearing up for the next project, Diavolo is reaching out to veterans and their families to join the newest endeavor S.O.S. Breaking the Wall. Participation is free and online. The program involves an 8-day online movement workshop at no cost to military veterans and one civilian family member of their choice. Since it is online, participation is open to vets across the country. Physical exercises, engaging discussions, story sharing and creative movement sessions will culminate with  a virtual presentation of recorded movement with text sequences created by each pair of participants. The scheduled session extends from Sun.-Sun., Feb 19-26, 2-5 pm (the project offers to set a special schedule if a participant can't participate the full scheduled sessions). Showing Sun., March 5, 2 pm. Information, prior Veterans Project films, and registration for the upcoming workshop at Diavolo.
Max the access
A new Music Center program, Dance Extension (DANCEx), offers dance students access to live performances that are part of the Glorya Kaufman Presents Dance at the Music Center.  The program includes discounted tickets to performances, invitations to dress rehearsals, and talks with dance professionals. Details at Music Center.
Eco-Dancing
Sponsored by the Jerome Robbins Dance Division, this year's annual Dance Symposium NY offers an online reprise of the live event at the Library for the Performing Arts. Not headed to New York but interested in this gathering of dance scholars and artists sharing their research on the theme of dance and ecology. Both the day-long live event and virtual event are free. Online event, Fri., Feb. 3, 7 am PST, free with reservation at Eventbrite.
Jazz dance gets some respect
The documentary Uprooted: The Journey of Jazz Dance gets a screening and chance to chat with the director Khadifa Wong and USC Kaufman professors Moncell Durden and Saleemah E Knight, two dance experts in the film. At the Ray Stark Family Theatre, USC School of Cinematic Arts, Ray Stark Family Theatre, 900 W. 34th St., #108, University Park.  Wed., Feb. 8, 7 pm, free with reservation at Visions and Voices USC.
Ready for the interested
Los Angeles Performance Practice announced a Feb. 10 11:59 pm deadline for interest forms for the latest round of Research + Development (R+D) providing support for new work by LA-based performance/dance artists. Details on program and applying at website Los Angeles Performance Practice.

this is an ad space