Two new Off-Broadway productions on the smaller stages of two major theater companies have large ambitions, but only offer tired tropes we've seen too many times before. Anna Ziegler's The Wanderers at Roundabout Theater Company's Laura Pels stage does have a modicum of genuine emotion and insight, but too much of the plot, acting and direction are stagey and stilted. Simon Stephens and Mark Eitzel's musical Cornelia Street about a struggling Greenwich Village eatery at Atlantic Theater Company's basement studio space wants to be hip and compassionate but winds up serving us a warmed-over, unsatisfying meal.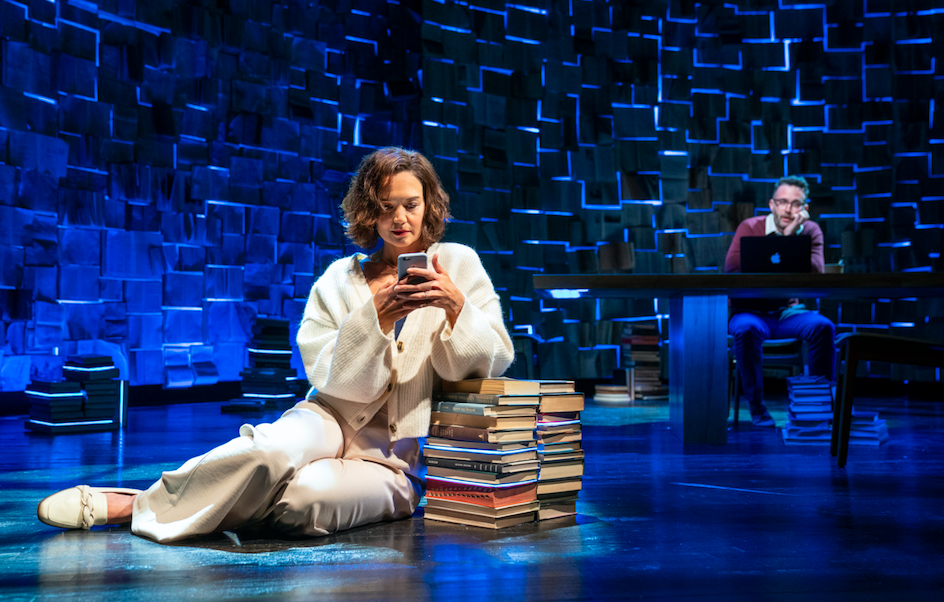 The Wanderers starts off with an intriguing premise. Ziegler follows the relationship vagaries of two disparate couples, seemingly only linked by their Jewish faith, crumbling unions and Brooklyn residence. Abe and Sophie are secular Jews, each an introspective writer and drifting apart. Abe, a Pulitzer Prize-winning novelist, is wracked with Philip Roth-like guilt over his lack of devoutness and feels alienated from his wife. So much so that he begins a clandestine Internet correspondence with Julia Cheever, a famous film actress, after she attends one of his readings. The biracial Sophie is equally angst-ridden. Filled with self-doubt after her first book vanished without a trace, she is blocked in her creative and romantic life. (Apart from a brief mention of bearing the twin painful legacies of the Holocaust and slavery, Sophie's racial identity is not explored.)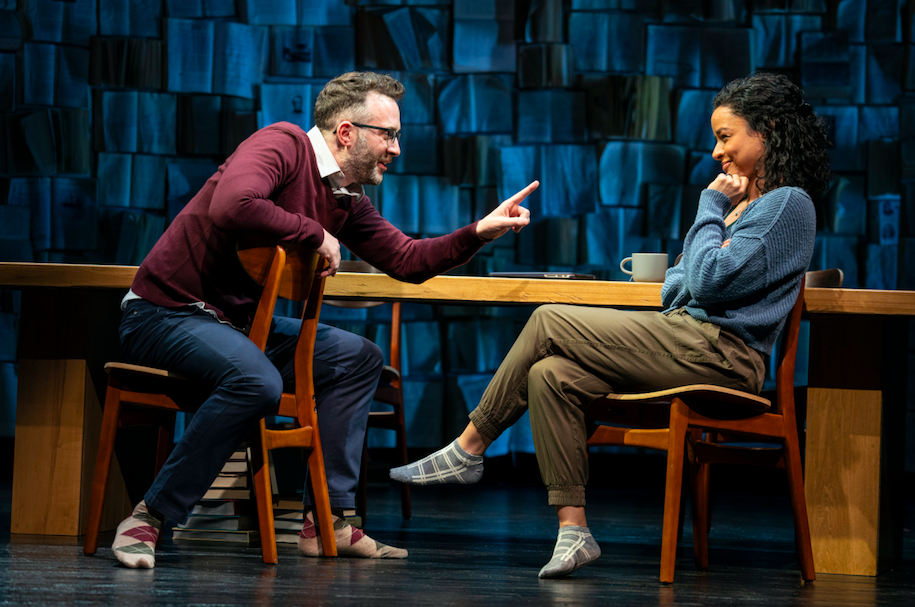 Abe and Sophie's scenes are alternated with those of Schmuli and Esther, who follow the ultra-conservative tenets of Orthodox Judaism. After the birth of three children, Esther is chafing under the constrains of the patriarchal system. Gradually Ziegler reveals the deeper connections between these two couples. To state any further details would spoil the evening, but suffice it to say that all is not as it appears. Ziegler tackles weighty issues such as the clash of fiction and reality, the place of faith in modern life, and how to balance community dictates with individual passions. She delivers some piercing insights, but the characterizations and plotlines feel forced.
While both story arcs have more than a touch of the melodramatic, the segments with the Orthodox couple come across as more honest. Lucy Freyer captures Esther's desperate yearning for a life of learning and diversity outside the narrow confines of her community's insular existence. As the traditional Schmuli, Dave Klasko wisely goes beyond the stereotype of the heritage-bound, domineering husband infuriated by a rebellious spouse. He intensely expresses Schmuli's conflict between his love for Esther and his deep respect for centuries of religious stability.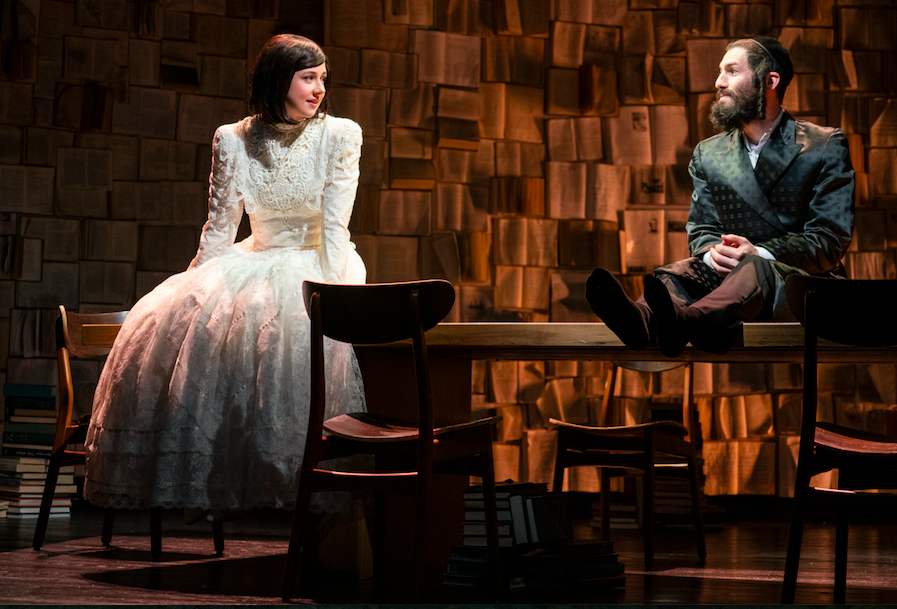 Both Eddie Kaye Thomas as Abe and Sarah Cooper as Sophie appear uncomfortable and artificial, as if they haven't found their characters' centers yet. This could be because Ziegler has given simple, direct dialogue to Esther and Schmuli and her lines for Abe and Sarah make them sound like they are narrating audiobooks, it's that mannered and writerly. Marion Williams' book-stuffed set accentuates the literary demeanor of the pair, as do the projected supertitles of chapter headings, as if the play were a novel. As the glamorous movie star, Katie Holmes is equally two-dimensional, though it's not entirely her fault since her character is an amalgam of cliches. Director Barry Edelstein fails to brings the two worlds together, though his staging is smoothly paced and Kenneth Posner's lighting aides in the many transitions.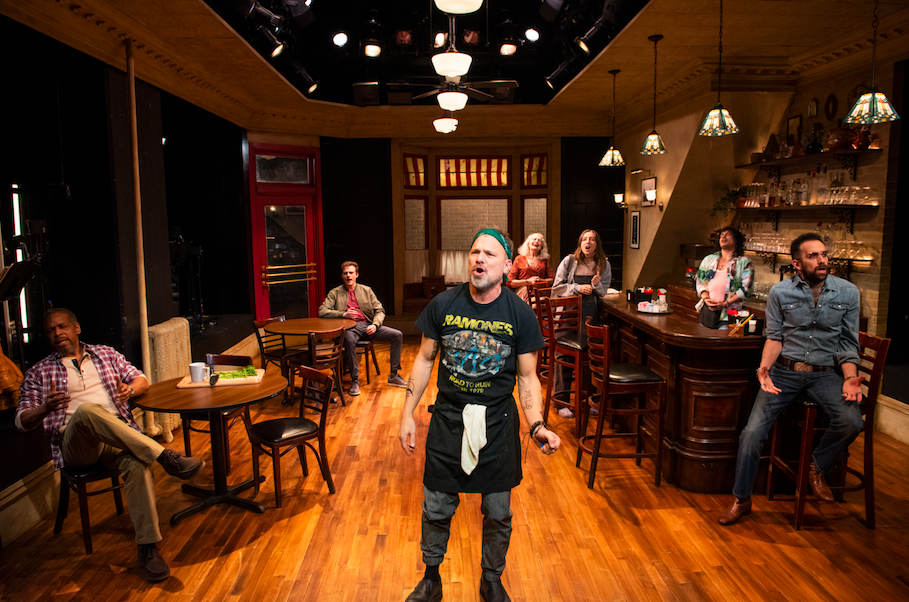 While The Wanderers renders half of its story in truthful fashion, Cornelia Street is entirely a retread of tired, familiar topics. Here we go again with the scrappy underdogs fighting the faceless forces of corporate greed. British playwright Simon Stephens mashes together Jonathan Larsen's Rent and Theresa Rebeck's Seared. The action is punctuated by tangential, simplistic songs loaded with off-rhymes by Mark Eitzel of the group American Music Club. (Sample lyrics: "In life you must act/There's no turning back" and "If there a chance/I'm gonna take it/If there's a chance/I'm gonna make it.") We're in Marty's Cafe, where struggling chef Jacob (the reliable, double Tony winner Norbert Leo Butz) strives to craft newsworthy meals to save the friendly neighborhood joint from encroaching gentrification. In addition to his employment woes, single dad Jacob is juggling parent duties with daughter Patti (played by director Neil Pepe's own offspring Lena Pepe) and step-daughter Misty (an impressive and expressive Gizel Jimenez) who just returned to Jacob's life after her mom passed away in upstate New York.
There's the usual group of lovable but troubled staff and patrons, each with their own hang-ups and conflicts including always harried owner Marty (Kevyn Morrow), wisecracking gay waiter-actor Philip (Esteban Andres Cruz), shy, nerdy tech guy John (Ben Rosenfield) who has a crush on Misty, wise but alcoholic Sarah (Mary Beth Peil doing the best she can), and sleazy cab driver-drug dealer William (George Abud, appropriately loathsome). The restaurant's only hope of salvation is a major investment from former party-loving patron Daniel (Jordan Lage vastly underplaying his one scene), now a real-estate big deal.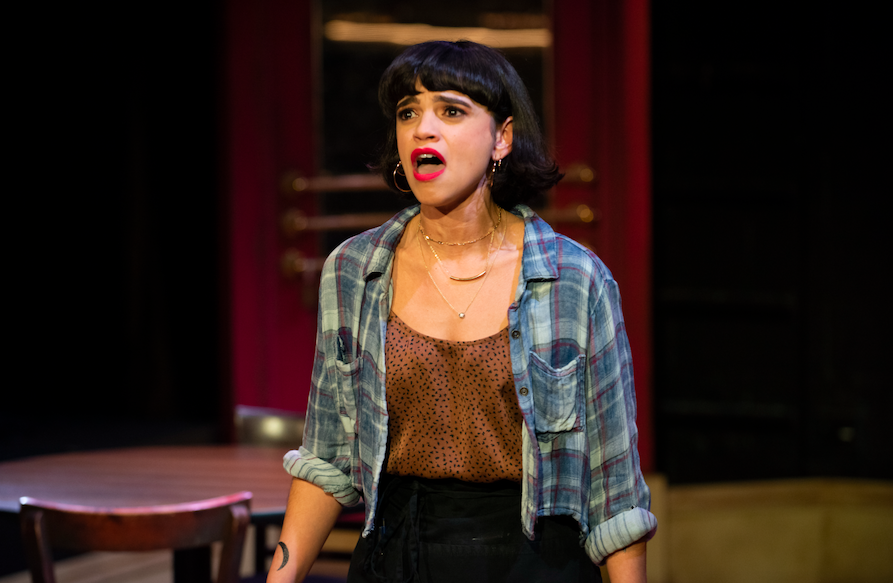 Stephens' book is shallow and predictable, Eitzel's songs fail to soar, and Pepe's direction is so slow and laid-back that nothing seems to be at stake for these people. Butz, Peil, and especially Jimenez strive to inject vitality into this tired material, but Cornelia Street is less than a four-star attraction. Scott Pask's detailed, warm and cozy barroom set is the most authentic element of the show.
The Wanderers: Feb.16—April 2. Roundabout Theater Company at the Laura Pels Theater in the Harold and Miriam Steinberg Center for Theatre, 111 W. 46th St., NYC. Running time: 105 mins. with no intermission. Roundabout Theater Company.
Cornelia Street: Feb. 14—March 5. Atlantic Theater Company at Atlantic Stage 2, 330 W. 16th St., NYC. Running time: two hours and 20 mins. including intermission. Atlantic Theater Company.