"I don't know" is the answer the characters in Richard Nelson's What Happened? The Michaels Abroad give when asked what they will do next after a year and a half of the COVID-19 pandemic. Gathered in an apartment in Angers, France for a dance festival, the Michaels and their friends ponder their future in an uncertain world. Just like the previous works in his Rhinebeck Panorama, there is very little plot or action and some may find the play dull or uninvolving, but this final work in Nelson's 12-play cycle offers an intimate and detailed account of the current frightening moment as we deal with the continuing pandemic. Like the previous plays, there are no dramatic fireworks, the acting and staging are low-key. It's like a visit to catch up with old friends, familiar and comforting after the rug has been pulled out from under you.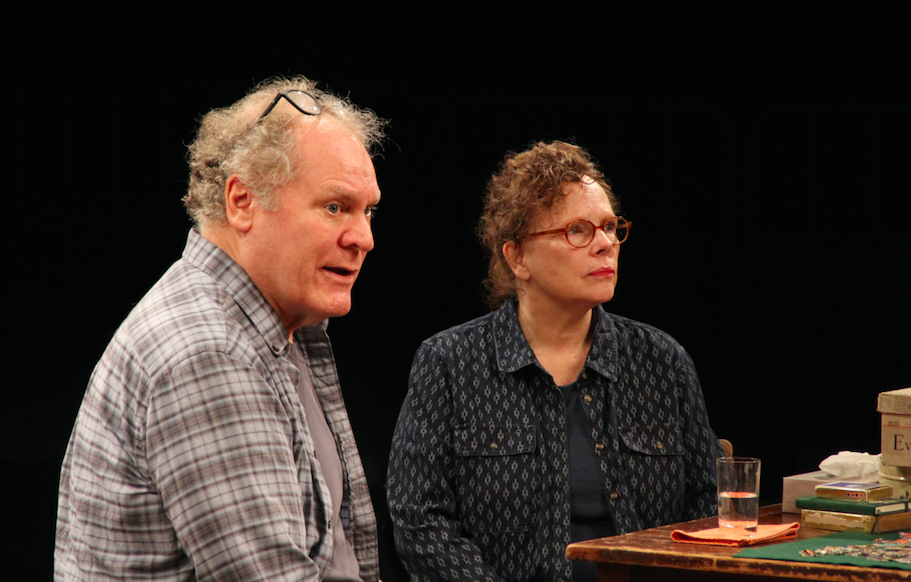 The plays chronicle the small moments and large issues confronting three different families from the upstate New York town of Rhinebeck. Beginning in 2010, the first four portrayed the Apple clan and were overtly political, each piece taking place on a day of national significance such as a debate or primary election. There followed three plays about the Gabriels, a more working-class family whose concerns reflected the shifting economic woes of the country. During the pandemic, the Apples returned in a trio of works performed on Zoom as they struggled with social distancing and quarantines. Just before the COVID shutdown, we met the Michaels, an arts-centered group coping with the cancer diagnosis of their matriarch Rose, a feisty life force of a dancer-choreographer.
The current work picks up their story after Rose's death from COVID. Her ex-husband David, his current wife Sally, Rose's widow Kate, and friend Irenie are visiting from America with Suzanne who is hosting Lucy, Rose and David's daughter and May, Rose' niece. Lucy and May are studying dance and performing in the festival. All, except Kate, a retired high-school teacher, have connections with Rose's dance company as performers or, in David's case, as manager.
As in the previous Michaels play and in the Gabriel works, the action takes place in the kitchen as a meal is prepared, and all the characters are at a crossroads. Nelson, who also directs with a light touch, subtly charts the course of their uncertainty. Rose's death is like the rupture caused by COVID. Their center is gone and it's confusing and difficult to figure out a new course. Lucy is still looking for her mother's approval, both as an artist and a daughter. David has lost his moorings as cultural diversity and inclusion dictate his career choices. Sally is also unsure of her direction. Suzanne is left adrift after her brother for whom she kept house, has married and moved out. Kate is bereft and Irenie is nervous about her future as a dancer just turning 60. The dislocation is reflected in Jason Ardizzone-West's comfy set which includes a table strewn with pieces of a jigsaw puzzle, a deck of cards, and scattered letters.
As in all of the previous plays in this cycle, the cast skillfully conveys the conflicted emotions of the characters without raising their voices in the intimate Frederick Loewe Theater at Hunter College. Jay O. Sanders and Maryann Plunkett, who have appeared in all of the Rhinebeck plays, beautifully endow David and Kate with a heartbreaking sorrow, each painfully real and subdued as they express their bewilderment and bereavement. Charlotte Bydwell and Matilda Nakamoto perform Lucy and May's dances with spark and texture as well as convey their yearning to be accepted by the late Rose. Rita Wolf, Havilland Morris and Yvonne Woods also give their roles depth and wit. At one point, Kate speaks of attending a play where the line between the audience and the actors is blurred, that is certainly true of What Happened?   
Nelson has stated this is the last of his Rhinebeck plays. He may not give us more about these specific families, but I hope he continues to chronicle the intimate interactions of everyday American life so truthfully.
Sept. 8—Oct. 8. Hunter Theatre Project/Independent Theater Production at Frederick Loewe Theatre, Hunter College, E. 68th St. and Lexington Ave., NYC. Tue—Fri 7:30pm, Sat 2pm & 7:30pm, Sun 3pm & 7:30pm. Running time: one hour, 50 mins. with no intermission. $17.50 (student)—$39.50. www.ovationtix.com. All audience member must show proof of vaccination and are required to wear masks at all times inside the venue.