Radical words return to Westwood, an unlikely pairing in Culver City, a "sugared" return in El Sereno, a rooftop salon downtown, gender bias confronted in the Arts District, beach adjacent explorations in Venice, all live, plus a peek at next week and more SoCal dance.
Live Dance
(Note: as of press time, these events are live, but as mask mandates ease while Omicron still does its thing, theaters may still pivot in response. Check with the venue for the latest Covid protocols.)
Consider the EVIDENCE
In 1969 and 1970, UCLA was roiled by ongoing public attacks on a UCLA philosophy professor as a "radical," followed by efforts to fire her. Not only did the effort to fire her ultimately fail, the attacks made Angela Davis a celebrity with enrollment for her class swelling to the point it was relocated from a small lecture hall to UCLA's 1700-seat Royce Hall theater. Appropriately, Royce Hall again is the venue for words from Davis' lectures and speeches that are woven into the score for The Equality of Night and Day: First Glimpse performed by Ronald K Brown/EVIDENCE. As a choreographer, Brown is known for tackling tough subjects through a blend of contemporary dance and African dance traditions. Jazz pianist Jason Moran provided the original score that includes Davis' words. The fear-mongering effort 50 years ago that preyed on racial fears and red-baiting to try to silence Davis unfortunately still echoes in current political efforts to ban discussions of racism and gender. Brown and his dancers are bringing the evidence to UCLA Royce Hall, 10745 Dickson Ct., Westwood; Sat., March 5, 8pm, $39-$59. CAP UCLA
What brought them together
He is Inksap, 24-year old street artist and the son of Vietnamese refugees. She is Linda Lack, a figure in L.A. dance scene since making a mark in the 1980s with her uncanny ability to morph into fantastical creatures and who, in her 70's, remains rubber band flexible. This unlikely pair share the celluloid in Stuart C. Paul's 70-minute documentary Ink & Linda, exploring their collaboration and friendship along with generational perspectives on being an artist in today's world. Under the banner The Chance to Paint Each Other Gold, the film, the accompanying art exhibition, and live performances by Lack throughout March operate as a prelude to Dance Camera West's 20th anniversary film festival which launches with the documentary's final screening. At Helms Design Center, Studio A, 8745 Washington Blvd., Culver City; Sat., March 5 & 12, Sun., March 6 & 13, Fri., March 11, Thurs., March  24, all day, free with ticket at Helms Bakery.
What's the question?
Provocatively asking what happens when the human body is stripped of all the digital input absorbed over time and "restored to its factory settings," performers Varinia Canto Vila from Chile and LA's own Meg Stuart offer a week-long performance of Confirm Humanity. Described as a "solo for two dancers," the duo move among the "folds" during the hour-long sequence in the current exhibit Lifes. The exhibit is a curatorial assemblage from more than 50 artistic contributors with a line-up of related events and gallery performances. Details and covid protocols at the website. At UCLA Hammer Museum, 10899 Wilshire Blvd., Westwood; Tues.-Sun., March 8-13, free. Hammer Museum.
Up on the Roof
On the rooftop of an historic downtown building, the site-specific dance company Heidi Duckler Dance hosts a new edition of Truth or Consequences-Illuminating at the Bendix. The announced performers include vocalist/choreographer Joan H.P. Fricke, multi-instrumentalist/composer Nailah Hunter, and multi-media installation artist Isabel Beavers. The series promises to explore environmental histories and climate futures through movement and music, plus some wine, snacks, and conversation. At Rooftop of The Bendix Building, 1206 Maple Ave., Suite 1100B, downtown; Sun., March 6, 6pm, $35, $25 seniors & students. Eventbrite.
Some sugar
This month has welcomed a significant return to live performance by LA dance companies including Rosanna Gamson/World Wide (RGWW) which opens with a gala performance of Gamson's highly praised Sugar Houses. The full-length work is served up with food, beverages and a promise of surprises. Gamson not only is among the most respected LA choreographers, she is among the elite who only ask dancers to work when they will be paid. Proceeds from the benefit will pay the dancers for future performances and help the dance company establish itself on a solid foundation to reopen as the pandemic eases. Stomping Ground LA, 5453 Alhambra Ave., El Sereno; Sat., March 5, 6 p.m., $50-$1,000. Brown Paper Tickets.
The women have it
Established and emerging dancemakers take center stage in Break the Bias: Choreographer Showcase. The two shows are part of this year's International Women's Day Dance Festival presented by MashUp Contemporary Dance Company. Announced choreographers include Amy Magasm, Anna Bauer, Ashley Tomaszewski, Azuki Umeda, Chloe Erlandson, Eli Dewitz, Gianna Burright, Haley Andrews, Haley Kostas, Hannah Huang, Kayla Aguila, Leah Hartley, Mackenzie Martin, Nicole Hagen, Stephanie Heckert, Stephanie Mizrahi, Taryn Vander Hoop, and Taylor Unwin. The evening show includes a pre-performance panel at 6pm discussing ways the arts can do more to address gender bias. At LA Dance Project, 2245 E. Washington Blvd., downtown Arts District; panel at Sat., March 5, 2 & 7pm, $30. Eventbrite.
Still kicking
Triple threat Maybin Hewes dancer (tap), singer, and comedienne takes the stage in This Joint Is Jumpin'. The 91 year old announced this will be her final "big" show, but there are a few more performances left to go. Details, tickets and Covid protocols at Theatre West, 3333 Cahuenga Blvd. West, Hollywood; Sat., March 5, 7pm, Sun., March 6, 2pm, $35. (323) 851-7977. Details & tickets at Theatre West.
Just don't call them "junior"
Many of the young dancers of Ailey II on this tour will go on to join the senior company, Alvin Ailey American Dance Theatre. Their youth, strong training, and stamina are showcased to the max by the energized demands of the repertoire. Smothers Theatre, Pepperdine University, 24255 Pacific Coast Hwy., Malibu; Thurs., March 3, 8pm, $22.50-$50. Details & tickets at Pepperdine University.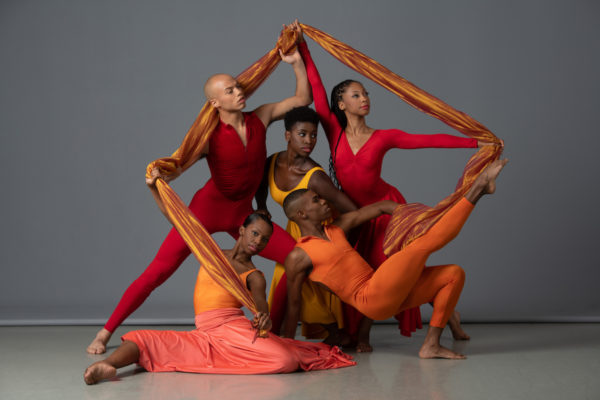 Grab a gun, take a shot
A motley band of presidential assassins dance across history in Stephen Sondheim and John Weidman's piercing musical Assassins. Choreographers Preston Mui and Jasmine Rafael aided director Snehal Desai with movement direction. East West Players, 1220 Judge John Also St., Little Tokyo; mostly Thurs.-Sat., 8pm, Sat., 2pm, Sun., 5pm, thru March 20, $25-$75. Details & tickets at East West Players.
All electric
Scheduled to coincide with First Fridays on trendy Abott Kinney Boulevard, High Voltage offers an eclectic line up of dance, music, comedy and other performances at the Electric Lodge, 1416 Electric Ave., Venice; Fri., March. 4, 8pm, $10. Info & tickets at Eventbrite.
It's a 10! 
Dance is often among the ten performances, each ten minutes that make up the monthly series Max 10 at the Electric Lodge, 1416 Electric Ave., Venice; Mon., March. 7, 7:30pm, $10. Info & tickets at Electric Lodge.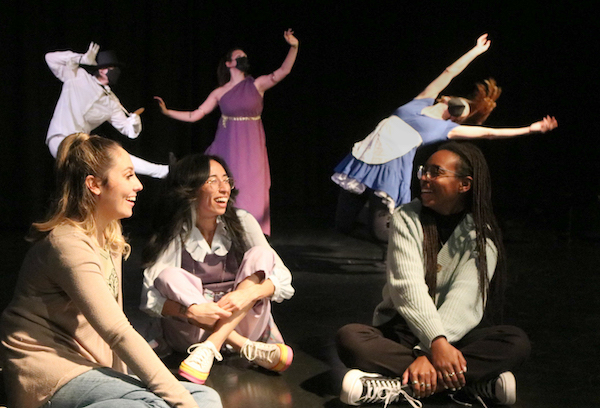 The stories resume
Dancers from the contemporary company Lineage Dance join actors in Curiosity Tales, a family-friendly retelling of familiar storybook characters and their adventures. At Lineage, 920 E. Mountain St., Glendale; March 6 & 13, 4 p.m., $40, $20 students & seniors. Info & tickets at Lineage Dance.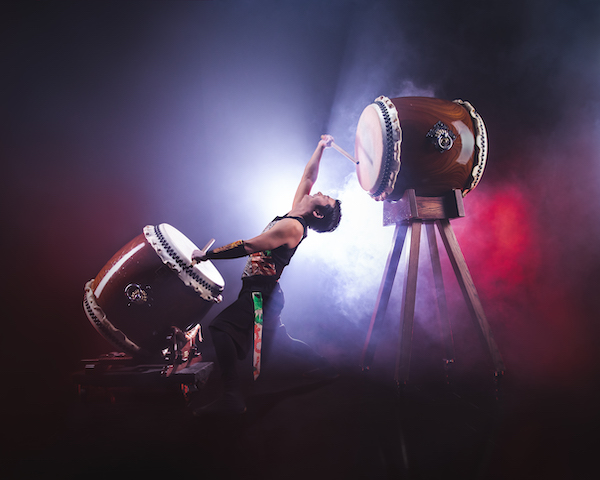 On the beat
They move, they drum, they're the Japanese drum ensemble TAIKOPROJECT. At Pepperdine University, Smothers Theatre, 24255 Pacific Coast Hwy., Malibu, Sun., March 6, 7:30pm, $20-$40. Pepperdine University.
A Peek at Next Week
(Note: More details next week, but for now, info, tickets, & Covid protocols at websites)
Hamburg Ballet in Bernstein Dances at Music Center Dorothy Chandler Pavilion, 135 N. Grand Ave., downtown; Fri., March 11, 7:30pm, Sun., March 13, 2pm, Sat., March 19, 7:30pm, $39-$138. Music Center.
Hamburg Ballet with LA Opera in St. Matthew Passion at Music Center Dorothy Chandler Pavilion, 135 N. Grand Ave., downtown; Sat., March 12, 7:30pm, Thurs, March 17, 7:30pm, Sun., March 20 & 27, 2pm, Sat., March 26, 7:30pm, $23-$292. LA Opera.
American Ballet Theatre in ABT Forward at Segerstrom Center for the Arts, 600 Town Center Dr., Costa Mesa; Wed.-Fri., March 16-18, 7:30pm, Sat., March 19, 2 & 7:30pm, $39-$129. SCFTA.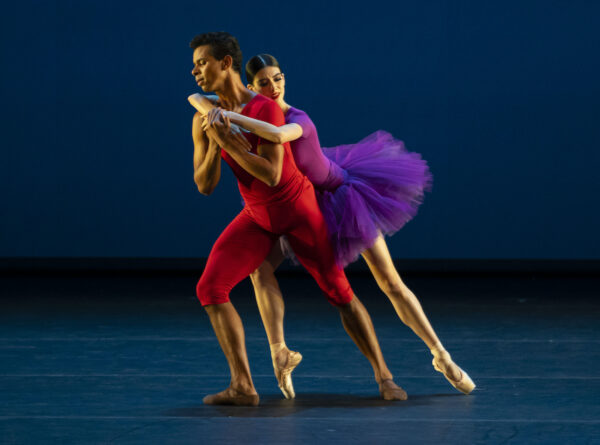 Holland Andres, Elaine Carberry, Jessika Kenney & Andros Zins-Brown in color a body who flees at UCLA Hammer Museum, 10899 Wilshire Blvd., Westwood; Tues. March 15, 7pm, free. Hammer Museum.
Inland Pacific Ballet Studio Company in Trilogy Series-Take 2 – livestream and in person at IPB Studio 7, 9061 Central Ave., Montclair; Fri-Sat., March 11-12, 7:30pm, Sun., March 13, 2pm, $35 (livestream or in person). Inland Pacific Ballet.
Acts of Matter in Forward Looking Back at Stomping Ground LA, 5453 Alhambra Ave., El Sereno; Fri.-Sun., March 11-13, 8pm, $20, 15 students & seniors, $25 at door. Stomping Ground LA.
Dancing with the Stars Live Tour 2022 at Thousand Oaks Civic Arts Plaza, 2100 E. Thousand Oaks Blvd., Thousand Oaks, Sun., March 13, 8pm, $59.95-$374-$59.95. Also at San Diego Balboa Theater, 868 Fourth Ave., San Diego; Tues., March 15, 7:30pm, $44-$123. Also at Fox Performing Arts Center, 3801 Mission Inn Ave., Riverside; Wed., March 16, 7pm, $49-$99; Segerstrom Center for the Arts, 600 Town Center Dr., Costa Mesa; Wed.-Fri., March 16-18, 7:30pm, Sat., March 19, 2 & 7:30pm, $39.
Covid Updates
Postponed but now coming soon
As the Covid public health emergency shuttered theaters for live performance over the past two years, the world of dance film, video and streamed performances has flourished. Long before Covid, filmed dance was the specialty of LA-based Dance Camera West, recognized as one of the premiere dance film showcases. DCW's 20th anniversary edition was to earlier this month with more than 75 films lined up for a dozen programs at two venues. Out of caution and safety concerns with the current surge in Covid cases, DCW postponed the festival to late March. Stay tuned or find details on the new schedule at Dance Camera West.

this is an ad space