Bernstein & Bach trade off downtown, a contemporary ballet triptych in Costa Mesa, indoor/outdoor dance in El Sereno, an unlikely pairing in Culver City, art-related performances in Westwood; ballet-danced film scores, stars dancing around SoCal, all live, plus a peek at next week and more SoCal dance.
Live Dance
Yes, it's a big deal
Germany's master storyteller John Neumeier and his celebrated Hamburg Ballet arrive for three weeks of performances, some with the LA Opera and some on their own. Presented as part of the Music Center's dance series with a live orchestra, Bernstein Dances offers familiar and less familiar music from composer Leonard Bernstein's hits like Westside Story and Candide while considering how the music reflects the composer's life and charisma. With the LA Opera, more than 40 Hamburg Ballet dancers tackle J.S. Bach's St. Matthew Passion with music director James Conlon conducting the singers and orchestra. Both at Music Center Dorothy Chandler Pavilion, 135 N. Grand Ave., downtown; Bernstein Dances-Fri., March 11, 7:30pm, Sun., March 13, 2pm, Sat., March 19, 7:30pm, $39-$138. Music Center. St. Matthew Passion – Sat., March 12, 7:30pm, Thurs, March 17, 7:30pm, Sun., March 20 & 27, 2pm, Sat., March 26, 7:30pm, $23-$292. LA Opera.
No such thing as too much Leonard Bernstein
The mixed bill program ABT Forward from American Ballet Theatre has something for everyone. Fans of crooner Tony Bennett can look forward to choreographer Jessica Lang's Zig Zag set to Bennett recordings including a duet with Lady Gaga. For classical buffs, choreographer Alexei Ratmansky draws on Leonard Bernstein for Bernstein in a Bubble with the composer's Divertimento performed live by the Pacific Symphony. For jazz enthusiasts, a commissioned score from jazz pianist Jason Moran backs Single Eye a new work from choreographer Alonzo King of San Francisco's Lines Ballet. At Segerstrom Center for the Arts, 600 Town Center Dr., Costa Mesa; Wed.-Fri., March 16-18, 7:30pm, Sat., March 19, 2 & 7:30pm, $39-$129. SCFTA.
Looking every which way
For Forward Looking Back, their first live performance in two years, choreographer Rebecca Lemme and her troupe Acts of Matter offer three performances combining live dance and film to consider the new normal as public life emerges with the pandemic subsiding. Ticket holders are encouraged to dress warmly with shoes for standing as the dancing begins outside before heading inside for the rest of the evening at the Stomping Ground LA,  Fri.-Sun., March 11-13, 8pm, $20, $15 students & seniors; $25 at door. Stomping Ground LA.
What brought them together
He is Inksap, 20-something street artist and the son of Vietnamese refugees. She is Linda Lack, a figure in L.A. dance scene since making a mark in the 1980s with her uncanny ability to morph into fantastical creatures and who, in her 70's, remains rubber band flexible. This unlikely pair share the celluloid in Stuart C. Paul's 70-minute documentary Ink & Linda, exploring their collaboration and friendship along with generational perspectives on being an artist in today's world. Under the banner The Chance to Paint Each Other Gold, the film, the accompanying art exhibition, and live performances by Lack and Inksap throughout March operate as a prelude to Dance Camera West's 20th anniversary film festival which launches with the documentary's final screening. At Helms Design Center, Studio A, 8745 Washington Blvd., Culver City; Fri., March 11, Sat., March 12, Sun., March13, Thurs., March  24, all day, free with ticket at  Helms Bakery.
Taking a flyer
Several performance components are included in the current exhibit Lifes where more than 50 individuals from a variety of fields contributed to consideration of interdisciplinary art making. Described as "employing voice and a body in flight," color a body who flees brings together Holland Andres, Elaine Carberry, Jessika Kenney & Andros Zins-Brown. At UCLA Hammer Museum, 10899 Wilshire Blvd., Westwood; Tues. March 15, 7pm, free. Hammer Museum.
That's a take
Film soundtracks past and present are employed in Trilogy Series-Take 2 showcasing dancers from Inland Pacific Ballet's studio company and company apprentices. Viewing options include limited in-person seating and a livestream. In person at IPB Studio 7, 9061 Central Ave., Montclair; Fri-Sat., March 11-12, 7:30pm, Sun., March 13, 2pm, $35 (livestream or in person). IPB.
What's the question?
Provocatively asking what happens when the human body is stripped of all the digital input absorbed over time and "restored to its factory settings," performers Varinia Canto Vila from Chile and LA's own Meg Stuart offer a week-long performance of Confirm Humanity. Described as a "solo for two dancers," the duo move among the "folds" during the hour-long sequence in the current exhibit Lifes. The exhibit is a curatorial assemblage from more than 50 artistic contributors with a line-up of related events and gallery performances. Details and covid protocols at the website. At UCLA Hammer Museum, 10899 Wilshire Blvd., Westwood; Tues.-Sun., March 8-13, free. Hammer Museum.
Grab a gun, take a shot
A motley band of presidential assassins dance across history in Stephen Sondheim and John Weidman's piercing musical Assassins. Choreographers Preston Mui and Jasmine Rafael aided director Snehal Desai with movement direction. East West Players, 1220 Judge John Also St., Little Tokyo; mostly Thurs.-Sat., 8pm, Sat., 2pm, Sun., 5pm, thru March 20, $25-$75. Details & tickets at East West Players.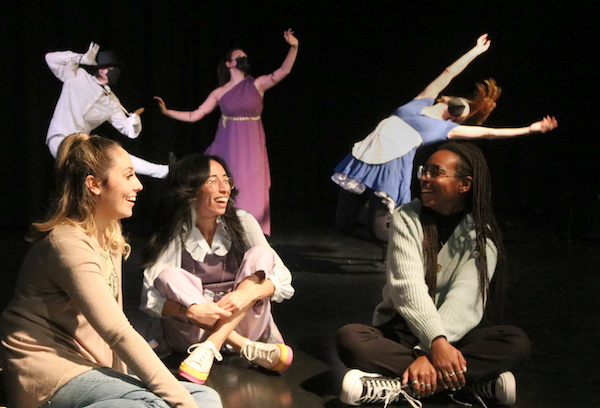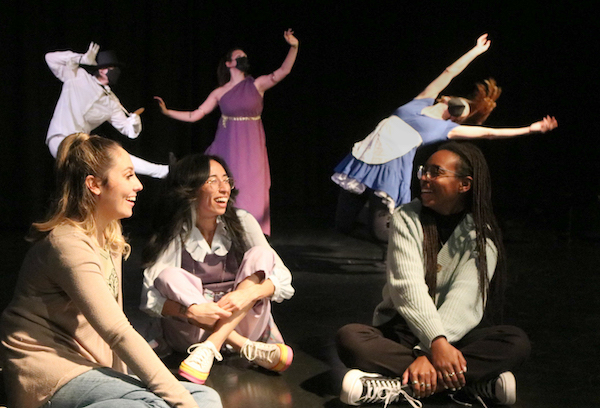 The stories wrap
Dancers from the contemporary company Lineage Dance join actors in Curiosity Tales, a family-friendly retelling of familiar storybook characters and their adventures. At Lineage, 920 E. Mountain St., Glendale; Sun., March 13, 4 p.m., $40, $20 students & seniors. Info, tickets, & Covid protocols at Lineage Dance.
From the screen to the stage
Pros and stars from the hit tv show tour SoCal stages in Dancing with the Stars Live Tour 2022. Check the website for special guests at each venue. At Thousand Oaks Civic Arts Plaza, 2100 E. Thousand Oaks Blvd., Thousand Oaks, Sun., March 13, 8pm, $59.95-$374. Also at San Diego Balboa Theater, 868 Fourth Ave., San Diego; Tues., March 15, 7:30pm, $44-$123. Also at Fox Performing Arts Center, 3801 Mission Inn Ave., Riverside; Wed., March 16, 7pm, $49-$99. Also at Segerstrom Center for the Arts, 600 Town Center Dr., Costa Mesa; Wed.-Fri., March 16-18, 7:30pm, Sat., March 19, 2 & 7:30pm, $39. DWTS.
A Peek at Next Week
Diavolo/Architecture in Motion & the Veterans Project in S.O.S.—Signs of Srength at The Wallis Annenberg Center for the Performing Arts, Bram Goldsmith Theater, 9390 N. Santa Monica Boulevard, Beverly Hills; Fri.-Sat., March 18-19, 7:30pm, $39-$99. The Wallis.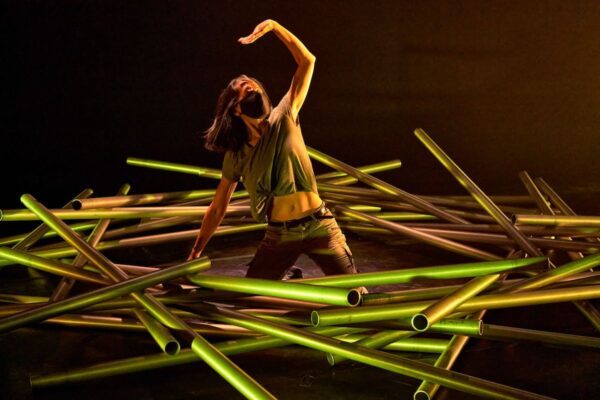 Julie Kim & Lynn Jassem at 29th Annual LA Women's Theatre Festival. Kim on Thurs., March 24, 8pm, Jassem on Fri., March 25, 8pm., $20-$25. Tickets for livestream at Stellar Tickets
Martha Graham Dance Company at The Soraya, Cal State University Northridge, 18111 Nordhoff St., Sat., March 19, 8pm, $41-$86. The Soraya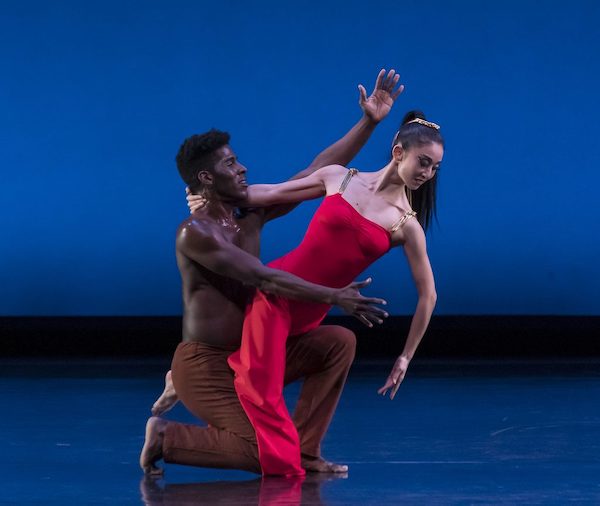 Dahlak Brathwaite in Try/Step/Trip at REDCAT, Thurs., March 24-Sat., March 26, 8:30pm, $25, $20 students. Also livestream on Sat., March 26, 8:30pm, $15, $12 students. REDCAT.
Dance Camera West live film screenings at 2220 Arts & Archives, 2220 Beverly Blvd., Historic Filipino Town; Thurs., March 24, to Sat., March 26, Also at Théâtre Raymond Kabbaz, 10361 W Pico Blvd, West LA; Thurs., March 31 to Sat., April 2. Also virtual festival on Sun., March 27. Film schedule, times at Dance Camera West.
Inesita and Company's Flamenco Alhambra at Sage Granada Park United Methodist Church, 1850 W. Hellman Ave., Alhambra; Sat., March 19, $20. Eventbrite.
Heidi Duckler Dance inCounterIntelligence: Premiere Live Performance at Kings Road Park, 1000 N. Kings Rd., West Hollywood; Sat., March 19, then streamed telenovela on Sundays beginning Sun., March 27. Heidi Duckler Dance.