Legendary war commentary danced downtown, local dance troupes assemble in Lincoln Heights, a dream team in El Sereno, soul dance in Crenshaw, contemporary dance blooms in Corona del Mar, Santa Monica, Glendale, downtown, La Crescenta, and Hancock Park, a peek at next week, plus more SoCal dance this week (April 28 to May 4).
SoCal onstage
The final weekend of this year's LA Dance Festival gather another gaggle of dance companies, more evidence of the vibrant SoCal dance landscape. The festival's final line up includes Re:borN Dance Interactive; Maura Townsend; Hannah Millar's Imprints Dance Company; James MahKween (4/28 only); Bernard Brown's bbMoves; Celeste Lanuza; Charlotte Smith (4/29 only); Mallory Fabian, and festival host Deborah Brockus's BrockusRED. After Sunday's show the next group of dancemakers selected for SHIFT/west Choreography Residents program will be announced. More info at the website. Brockus Project Studios, 618 B Moulton Ave., Lincoln Heights; Fri.-Sun., Fri.-Sat., April 28-29, 8 pm, Sun., April 30, 6:30 pm, $15. LA Dance Festival.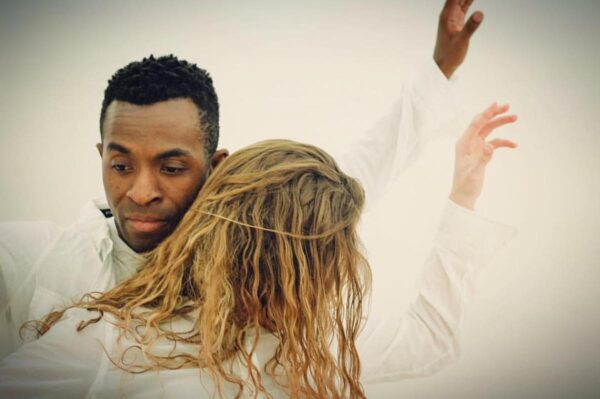 Timeless dances
The legendary Paul Taylor Dance Company opens this venue's dance season with two "not to be missed" modern dance classics and new choreography from former New York City Ballet principal, now PTDC resident choreographer Lauren Lovette. Before his death in 2018, Taylor anointed dancer Michael Novak as artistic director, a post New York reviewers agree he has mastered. SoCal saw the Joffrey Ballet in Kurt Jooss Green Table in the 1980s and its juxtaposition of the human story on the battlefield with diplomatic squabbling across a green table remains as powerful and timeless as the nightly footage from Ukraine, Sudan or (fill in the blank). Taylor's equally evergreen Company B assembles a line-up of Andrews Sisters' greatest hits, evoking their heyday during World War II and the sometimes exuberant, sometimes wistful, sometimes reflective sense of love and loss in wartime. Information on related, free events including a Zocalo panel discussion are at the website. The Music Center, Dorothy Chandler Pavilion, 135 N. Grand Ave., downtown; Fri.-Sat., April 28-29, 7:30 pm, Sun., April 30, 2 pm, $34-$138. The Music Center.
Feeling like home
Now settled into their new studio/performance space, Jacob Jonas/The Company resumes performances with the second weekend of Jonas' choreography blending hip hop and contemporary dance under the banner Blank Canvas at the Water Garden. This week includes the premiere of Getting Through, Going Through along with Mind Cry and In a Rush to Do Nothing. The Water Garden, 1601 Cloverfield Blvd., Suite 1000 North, Santa Monica; Fri.-Sat., April 21-22, Thurs.-Sat., April 27-29, 7:30 pm, $50, $35 under 35 years. Jacob Jonas/The Company.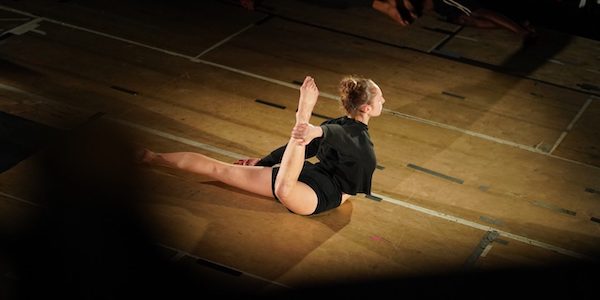 Art making
Curated by Primera Generación Dance Collective, (de) Color-Es assembles artists of color to explore the range of what the organizers describe as "minoritarian" art and art making. Announced participants include Kati Hernandez, Frine Garrey y Jorge Santana, Marina Magalhães, Stephen Tanner and Aisha Bardge, Magnolia Yang Sao Yia, and DJ Tiff Starr. Navel.la, 1611 Hope St., downtown; Sat., April 29, 5 & 8:30 pm, free with timed reservation. Eventbrite.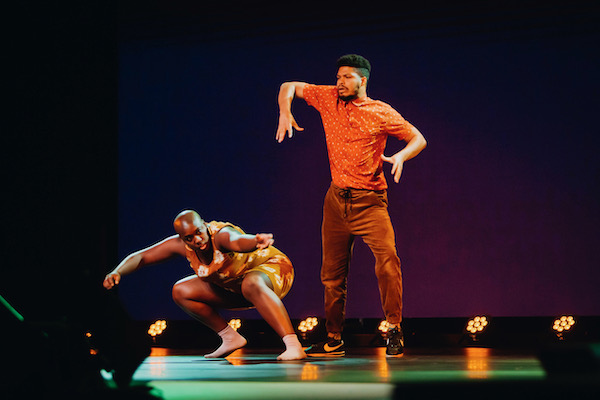 Taking notes
Among the many SoCal contemporary dance troupes, Megill & Company is distinguished by its artistic director/choreographer Beth Megill and all the dancers use of dance notation and theory from conception to documentation of their work. For the opening event of this enduring free dance series, Megill and her dancers brings Odd Birds, a 50 minute family friendly show. This and the other shows in  his series are curated by Jamie Nichols. Brand Library & Art Center, 1601 W. Mountain St., Glendale; Sat., April 29, 5 pm, free. Brand Library.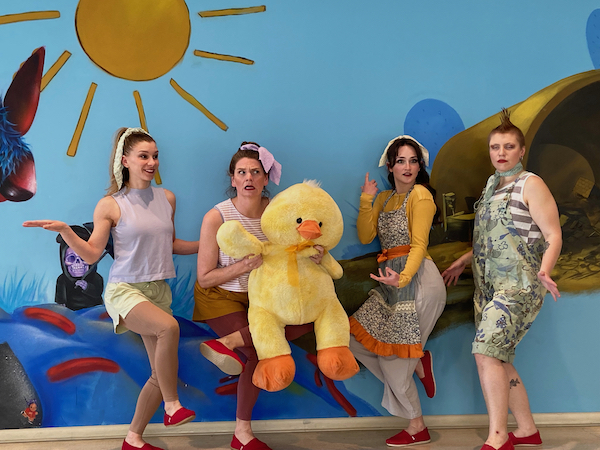 Expecting the unexpected
The evening may be titled No Expectations, but the prospect of the combined creative forces of Kate Hutter Mason and Kevin Williams with a promise that they will "dance, talk, roll around, eat Taco Bell, and contemplate life at 40" is too good to pass up. Since stepping down as founder/artistic director/choreographer for Los Angeles Contemporary Dance Company, Hutter has devoted considerable energy to establishing this venue as a welcoming performance space for SoCal dance. A prolific choreographer and a fierce dancer, Williamson is in demand as a guest dancer and dancemaker while also chairing the Scripps College Dance Department. The Stomping Ground, 5453 Alhambra Ave., El Sereno; Fri.-Sat., April 28-29, 8 pm, $10. Eventbrite.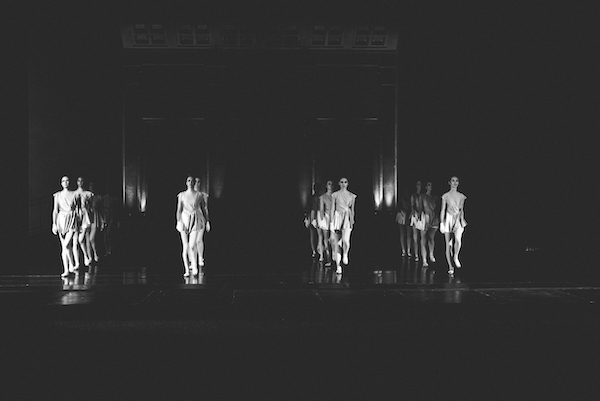 Drill teams in pointe shoes
An earlier version of Homecoming was presented at a fundraising event for American Contemporary Ballet. Now the company offers an expanded homage to the high school drill team—in pointe shoes. ACB Studios, Two California Plaza, 350 S. Grand Ave., 28th Flr., downtown; Thurs.-Sat., April 27-29, Sat.-Sun, May 4-5, 8 pm, $70-$110. American Contemporary Ballet.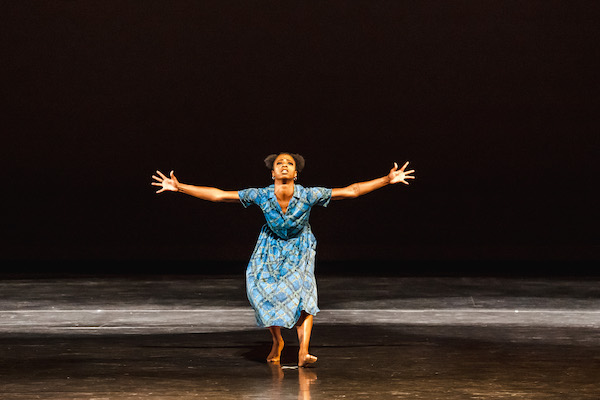 Dance for the soul
Under the banner Dances for the Soul, Lula Washington Dance Theatre offers new choreography, excerpts from LWDT choreographers, excerpts from TODAY considering racial reckoning, and reprise of Washington's historical Pages commemorating the inaugural federal Juneteenth Day of Observance of the end of slavery. Also scheduled is Master Plan paying tribute to saxophonist Pharaoh Sanders. Lula Washington Dance Theatre studios, 3773 Crenshaw Blvd., Crenshaw; Sat., April 29, 7 pm, Sun., April 30, 3 pm, $40, $25 students, $10 children. Brown Paper Tickets and Lula Washington Dance Theatre.
On the road again
The traveling LA-bsed troupe, Benita Bike's DanceArt excels at presenting and explaining dance to dance to audiences in non-traditional settings. La Crescenta Library, 2809 Foothill Blvd., La Crescenta; Sat., April 29, 2 pm, free. DanceArt.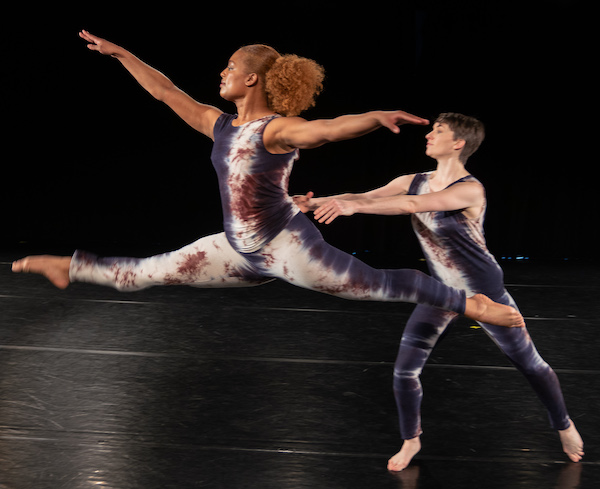 Not quite a solo turn
Usually Heidi Duckler launches the dancers, musicians, and writers of Heidi Duckler Dance to explore unfamiliar locales. This time it's Duckler taking a solo turn and talk back in the dining room of an historic women's philanthropic club in Hancock Park. Founded in 1894 by women for women, The Ebell is the sort of structure one drives past on Wilshire Blvd. and might casual wonder what that clearly vintage structure is doing tucked among the office buildings. Find out at The Ebell of LA, 743 S. Lucerne Blvd., Hancock Park; Mon., May 1, 1 pm, $60, The Ebell of LA.
It's a jungle out there
Drawn from Rudyard Kipling's The Jungle Book, State Street Ballet brings its tales of a young boy and his adventures with monkeys, panthers, and snakes to the stage. Lobero Theatre, 33 E. Canon Perdido St., Santa Barbara; Sat., April 29, 7:30 pm, $38-$58. Lobero Theatre.
Generational change
In its short life, this college dance program has generated more than its share of notable performers and dancemakers. Catch a preview of the next generation from USC Kaufman in works by acclaimed choreographers like Kyle Abraham, Jiří Kylián, and Justin Peck, as well as Artists in Residence Hope Boykin and Tessandra Chavez along with faculty members Tiffany Bong and Jackie Kopcsak. Wallis Annenberg Theater, 9390 N. Santa Monica Blvd., Beverly Hills, Fri.-Sat., April 28-29, 7:30 pm, Sat.-Sun., April 29-30, 2 pm, $25-$55, the Sunday matinee is a "pay what you will starting at $10." The Wallis.
In session
The salon style series Congress Volume VII offers new cross genre work from Danny Axley, Justin Conte, Ryan Heffington, JA Collective, Nina McNeely, Jobel Medina, Jillian Meyers, and Samo. At LA Dance Project Studios, 2245 E. Washington Blvd., Arts District; Fri.-Sun., April 28-30, 8:30 pm, $45. Congress Volume VII Tickets.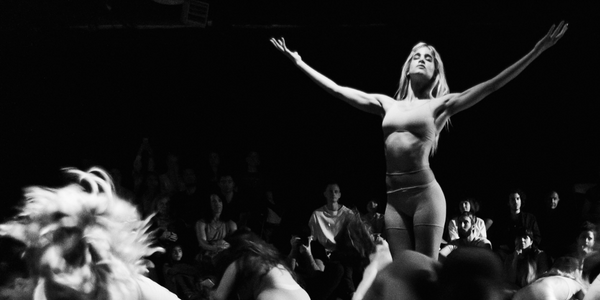 Tip toe through the tulips
The grounds of this lovely garden and library provide the stage for Backhausdance. The company and choreographer/director Jennifer Backhaus have been conducting public classes and open rehearsals in the garden. Now the company is ready to strut their stuff in Garden Flow. Sherman Library and Gardens, 2647 East Coast Hwy., Corona Del Mar; Sat.-Sun., April 29-30, 7:30 pm, $60-$1,500. Backhaus.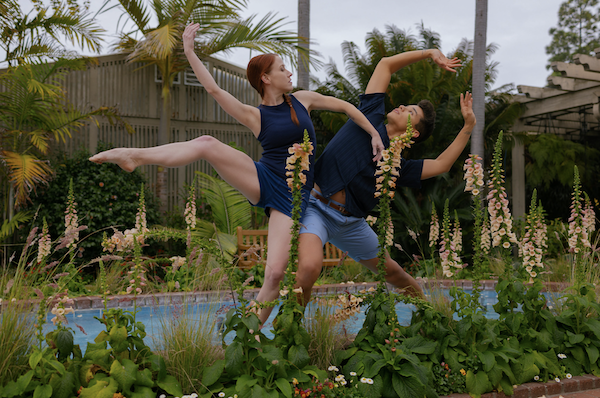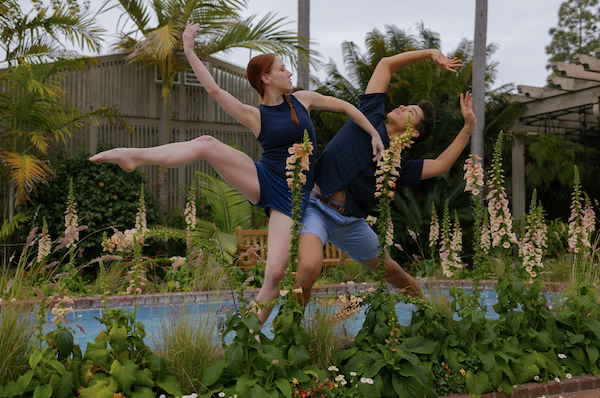 Taking it to the Max
The mostly monthly program Max 10 gives ten performers ten minutes each onstage. Hosted by venue director Joel Shapiro and curated by the staff, the line up of performances often includes dance. A post-show reception gives a chance to chat with the artists. Electric Lodge, Scott Kelman Theater, 1416 Electric Ave., Venice; Mon., May 1, 7:30 pm, $10. Electric Lodge.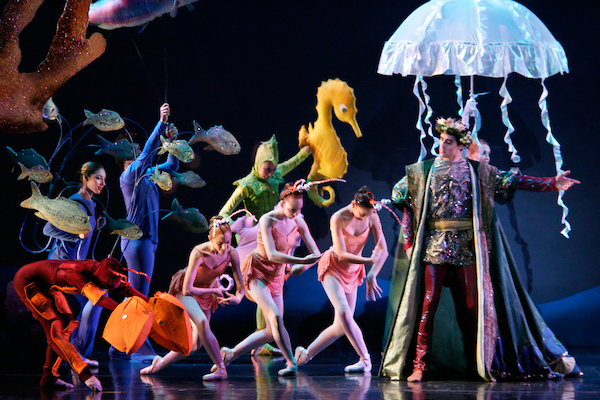 Fins and pointe shoes
Ballet, aerial, and puppetry all come into play as Inland Pacific Ballet reprises its family friendly The Little Mermaid. Lewis Family Playhouse, 12505 Cultural Center Dr., Rancho Cucamonga; Sat.-Sun., April 29-30, 11:30 am & 4 pm, $62-$73, $32 children under 12, $59 seniors. Inland Pacific Ballet.
An art walk dance
Dancer/choreographer Justin Pham is one of the participants in two different shows showcasing Asian American dance opening this year's Laguna Dance Festival as part of the city's Thursday Art Walk. Laguna Art Museum, 307 Cliff Dr., Laguna Beach; Thurs., May 4, 6:30 & 7 p.m., free. Laguna Dance Festival.
An Evening of Dance featuring performances by the pre-professional students from the American Ballet Theatre Gillespie School is a benefit for the ballet school. Judy Morr Theater, Segerstrom Center for the Arts, 600 Town Center Dr., Costa Mesa; Sat., April 29, 5:30 pm. $150, $125 students. ocpasdedeux@gmail.com.
Outside of class
CalArts Dance offers its spring performance, opening this week on campus and next week moving to REDCAT downtown. The dance department event this week is part of Cal Arts golden anniversary celebration, a free three-day festival of dance and music from around the world. Actually, the line up is mostly music groups but several include dance as well. Friday include Balinese Gamelan dance and Sunday has Javanese Gamelan dance along with the music. On Saturday, African dance and music are on the menu. Open studios, immersive performances, and other celebratory events at the website. CalArts Dance at Sharon Lund Disney Theater, Fri.-Sat., April 28-29, 7 pm, $2-$10. CalArts. World Music Festival at Wild Beast Stage, California Institute of the Arts, 24700 McBean Pkway, Santa Clarita; Fri.-Sat., April 28-29, 7:30 pm, Sun., April 30, 5 pm, free. CalArts.
A Peek at Next Week
Lineage Dance After Roe at Lineage Performing Arts Center, 920 E. Mountain St., Pasadena; Sat., May 6, 7 pm, $15-$115. Lineage PAC.
Ballet BC at the Soraya, Cal State Northridge, 18111 Nordhoff St., Northridge; Sat, May 6, 8 pm, $39-$94. Soraya.
So-Cal Dance Invitational at Martha B. Knoebel Theater, Cal State University Long Beach, 6200 Atherton St., Long Beach; Sat., May 6, 8 pm, $35, $25 students. Brown Paper Tickets.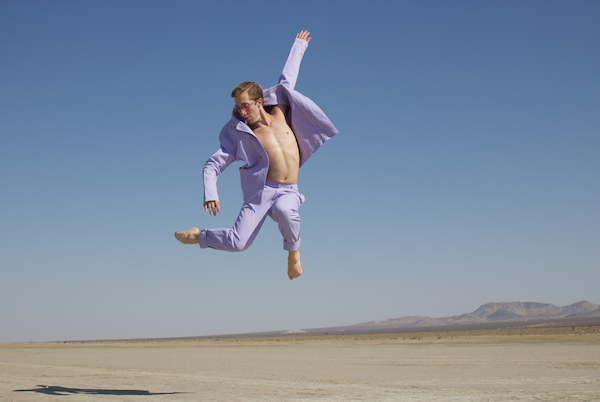 Ligia Lewis A Plot/A Scandal at Warehouse, Geffen Contemporary at MOCA, 152 N. Central Ave., Little Tokyo; Fri.-Sat., May 5-6, 7 pm, $12. MOCA.
Heidi Duckler Dance – Truth or Consequences: A Never Ending Story at the Bender Building 1206 Maple Ave., Suite 1100B, downtown; Sun., May 7, 6 pm, $25-$25. Heidi Duckler Dance.
Psychopomp Dance Theater at Brand Library & Art Center, 1601W. Mountain St., Glendale; Sat., May 6, 5 pm, free. Brand Library.
Tutu Dance Festival–Lipstick, Shoes, and Fancy Moves at James R Armstrong Theater, Torrance Cultural Arts Center, 3330 Civic Center Dr., Torrance; Fri., May 5, 8 pm, $15. Info at Tutu Dance Festival, tickets at Evenbrite.
Riverdance 25th Anniversary Tour at Granada Theatre, 1214 State St., Santa Barbara; Tues., May 9, 7:30 pm, $51-$81. Granada Theatre.
Chapman University Spring Dance Concert at Musco Center for the Arts, 415 N. Glassell, Orange; Fri.-Sat., May 5-6, 7:30 pm, $20, $15 students. Musco Center for the Arts.
Danza Floricanto/USA – 5 de Mayo at ARC Pasadena, 1158 E. Colorado Blvd., Pasadena; Sat., May 6, 8 pm, $20-$25, $10 students & seniors at door. Danza Floricanto.
The Mark Morris Dance Group – The Look of Love-An Evening of Dance to the Music of Burt Bacharach at Granada Theatre, 1214 State St., Santa Barbara; Sat., May 6, 8 pm, $36-$66, Granada Theatre.
CalArts Spring Dance Concert at REDCAT, Disney Hall, 631 W. 2nd St., downtown; Wed.-Thurs., May 10-11, 8:30 pm, $20, $16 students. REDCAT.
High Voltage at Electric Lodge, 1416 Electric Ave., Venice; Fri., May 5, 8 pm, $10. Electric Lodge.