As theaters across the country announce the return of live, post-pandemic performances, the number of Zoom and virtual shows has waned. But there are still companies presenting intriguing and innovative offerings via the Internet. Perhaps this hybrid of theater and technology will become a permanent new media, expanding the possibilities and accessibility of intimate performances. One such computer-broadcast play is Michael Gotch's pleasant and proficient family comedy Tiny House, presented by the Westport Country Playhouse through July 18. Gotch displays an admirable facility for sharp dialogue, free of gotchas (pardon the pun), and the proceedings are smoothly directed for the small screen by Mark Lamos.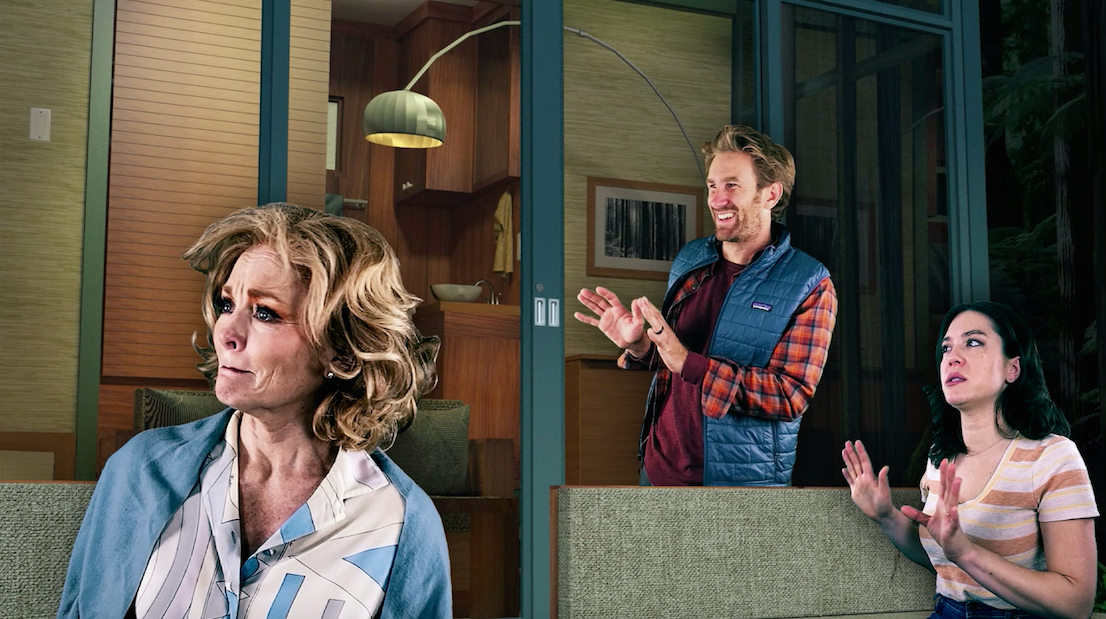 The basic set-up has been done before—the family gathering under tense circumstances. Young marrieds Sam and Nick have chucked their establishment jobs, gone green and off the grid, joining the "tiny house" movement to lessen their carbon footprint and reconnect with each other. They are holding a Fourth-of-July housewarming party for their new diminutive domicile on the side of a remote mountain. (The fascinating setting is realized by set designer Hugh Landwehr and digital designer Charlie Corcoron.) Joining them are Sam's mother Billie and uncle Larry. Sam's father is absent because he is in prison for perpetrating a Bernie Madoff-type Ponzi scheme, which has shattered the family financially and emotionally. Billie, now destitute after her husband's fiduciary crimes, has taken up with her brother-in-law Larry, a good-hearted, befuddled high-school science teacher. Along for comic relief are eccentric neighbors Win and Carol, former hippies with a penchant for cosplay, and Bernard, a scary paramilitary type who may or may not been involved with the CIA.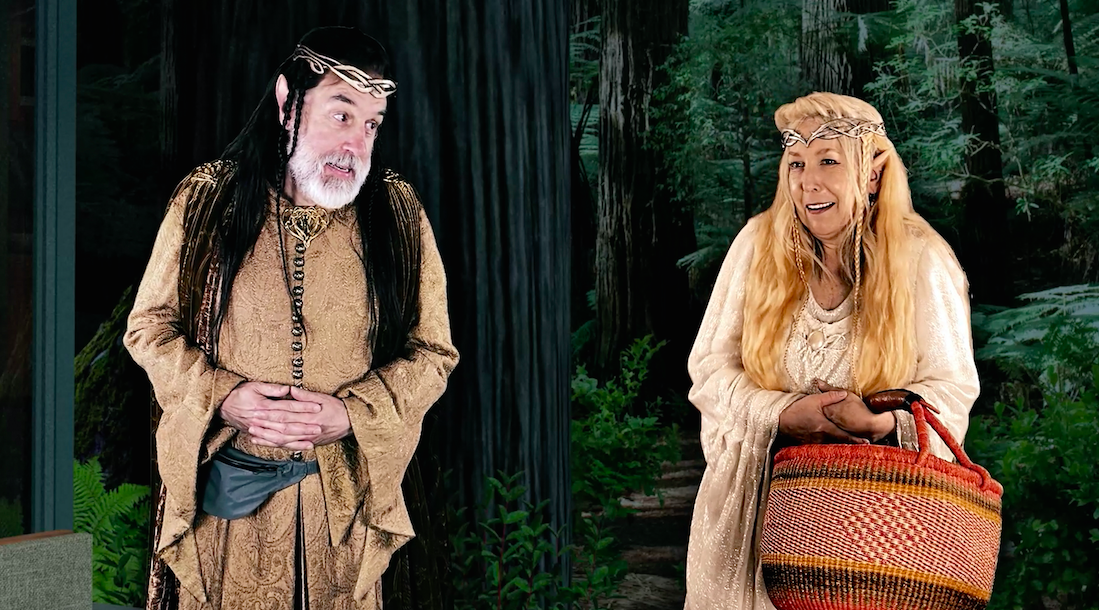 Current issues such as invasive social media, income inequality, and climate change are batted about with verve but the main conflict is between Sam and Billie as each strives to come to terms with the damage done by the absent father. Their confrontation is the core of the play and Sara Bues as Sam and Elizabeth Heflin as Billie dig into it with relish. Both actresses endow these combatants with a yearning to bond, and a ferocious anger at the hand dealt them by a greedy patriarch.
The early dialogue between Sam and Nick also crackles with unspoken resentment and unresolved tension. Plus Gotch wisely avoids obvious exposition. But there are flaws. No sooner have Sam and Nick been established as credible figures than the kooky Bernard drops by, brandishing a freshly killed marmot and conspiracy theories, taking us into sitcom territory. In addition, Nick is an underdeveloped character—we never find out his motive for dropping out or even his occupation—and despite Denver Milord's fiery performance, he comes across as self-righteously smug in touting of his environmental bona fides. Win and Carol are cringeworthy caricatures of off-beat non-conformists, though Stephen Pelinski and Kathleen Pirkl-Tague lend them heart and compassion. They manage to bring off the pair's bizarre fondness for playing dress-up (in Act One, they are adorned as Henry VIII and Anne Boelyn, and in Act Two they reappear as elves from Lord of the Rings. Kudos to Tricia Barsamain's costume design.) Likewise, Hassan El-Amin's quiet dignity keeps the weird Bernard from turning into a cliche and Lee E. Ernst maintains the somewhat goofy Larry's humanity.
Despite the comic excesses and familiar plot tropes (Amanda Peet also profiled a Madoff-like family in her Commons of Pensacola, presented Off-Broadway by Manhattan Theatre Club in 2013), Tiny House is a heartfelt and incisive study of our chaotic, hyper-connected, yet disconnected world.