When a show is absolutely perfect, reviewing it becomes more of a challenge than if it were flawed. It's not difficult to list a production's shortcomings and how they detract from the experience, but enumerating superlatives makes your writing sound like a gushy, repetitive love letter. Well, here goes. With the possible exception of Hamilton, the new revival of Into the Woods, Stephen Sondheim and James Lapine's beloved mature twist on traditional fairy tales, is as close to perfection as any production on or Off-Broadway in the past 30 years (the 1992 Guys and Dolls was the last one to come the closest).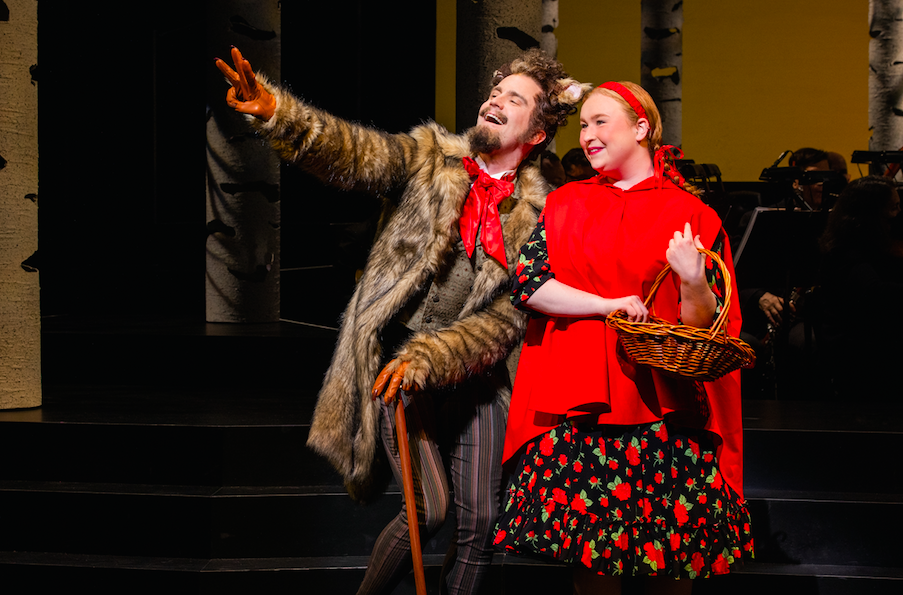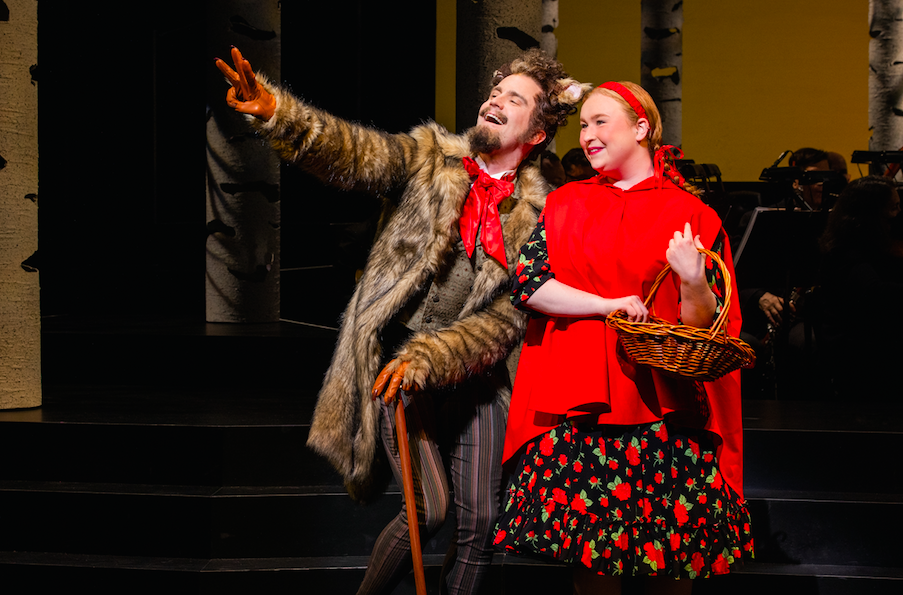 Lapine's book combines such classic stories as Cinderella, Jack and the Beanstalk, Red Riding Hood, and Rapunzel, and throws in a new one, The Baker and His Wife to tell an ageless tale of what you do once all your wishes come true. Originally presented at the Martin Beck (now the Hirschfeld) in 1987, the premiere production of Woods, staged by book-author Lapine, had a magnificent first act with its multiple storybook plots fitting together like an intricate Chinese puzzle box, but the second act dragged a bit, laying on the messages of accepting life's harsh realities a mite too thickly. Then Lapine's 2002 revival at the Broadhurst added material—an additional Wolf and the Three Little Pigs—which cluttered the proceedings.
Don't get me wrong, both productions were exciting, clever and enjoyable evenings in the theater and any show featuring the rich, soul-stirring songs of Sondheim is a cause for celebration. The original should have won the Best Musical Tony over Phantom of the Opera, but did cop the Best Score and Book prizes. (There were also fun Woods productions Off-Broadway in 2012 at the Delacorte and in 2015 from Fiasco Theater at Roundabout's Laura Pels.) But this third Broadway edition, staged by Lear deBessonet at the St. James after a limited Encores run at City Center, has the intimacy and the ingenuity of an Off-Broadway production, the razzle-dazzle of an all-star cast, and a brilliant staging equally hilarious and moving.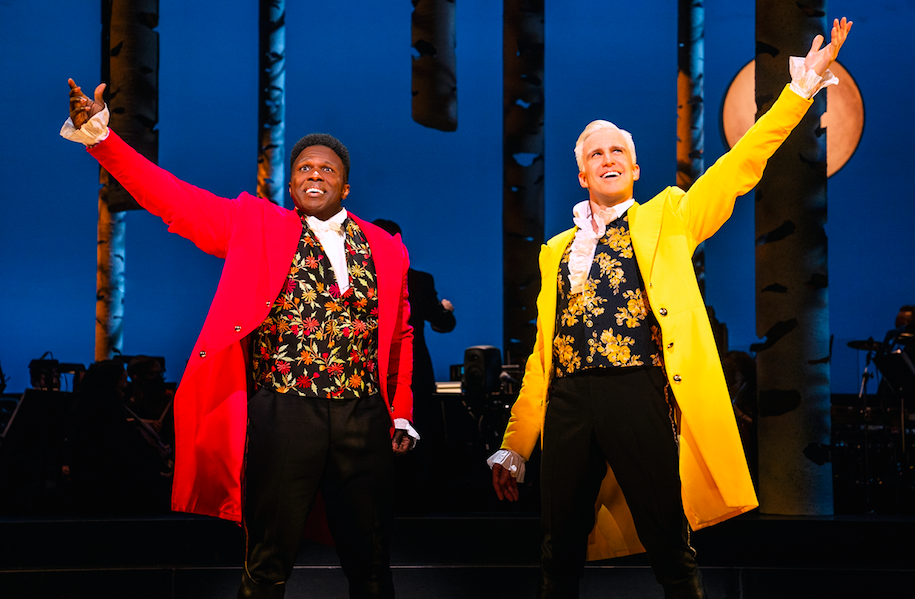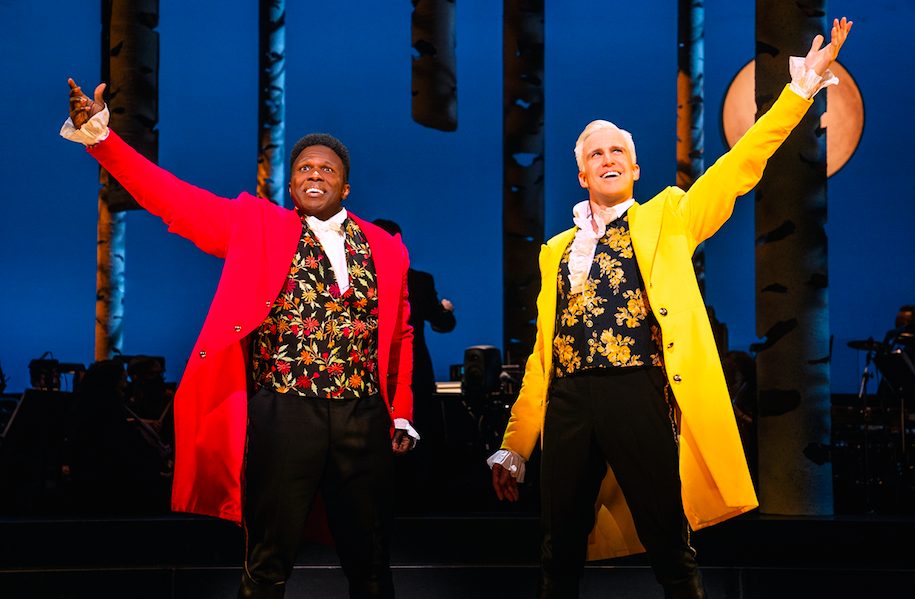 Take for example deBessonet's depiction of the giant who besets the kingdom (and was seen as a metaphor for the AIDS crisis in the late 1980s and could be interpreted as COVID now.) Two actors (the versatile Kennedy Kanagawa and Albert Guerzon) carry on a pair of enormous shoes made of wire, manipulating them around the stage while the rest of the cast looks up and a growling Annie Golden provides the booming voice on an upstage microphone. Kanazawa is also the inspired puppeteer of a cardboard Milky White, the lovable, lopsided cow belonging to Jack, as well as the whistling voice behind Cinderella's bird friends. It's not surprising those puppets are the work of the incredible designer James Ortiz (who also created the delightful dinosaur and snuggly woolly mammoth in the recent Skin of Our Teeth).
deBessonet's pared-down production, set on David Rockwell's simple platform set with the magnificent orchestra led by music director Rob Berman onstage, lacks the elaborate sets and special effects of the original. But it allows the subtext of Lapine and Sondheim's themes of sexual tension, family connections, and community responsibility to come through clearly, though subtly.  Likewise Andrea Hood's costumes define character without being distractingly showy.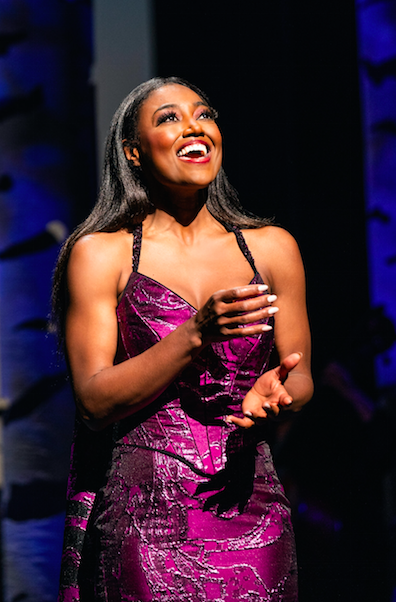 The cast of Tony Award winners and nominees adeptly balances the satiric elements of the script with genuine pathos and portraiture. Philipa Soo lends gorgeous vocals and spunky limning to Cinderella, adding depth to this usually saccharine fairy-tale princess. Patina Miller is a bloodcurdling witch as well as a tenderhearted mother to Rapunzel (tearfully neurotic Alysia Velez). Sara Bareilles is not as dryly witty as Joanna Gleason's original Baker's Wife, but she has warmth and complexity. Her rendition of "Moments in the Woods," the character's internal debate over her obligation to her family in crisis and her giddy dalliance with Cinderella's Prince (Gavin Creel in a spot-on parody of narcissistic Disney royalty), is beautifully sung and plays like a three-act play with conflict and resolution. Creel also makes for a randy Wolf barely hiding the role's carnal implications. Joshua Henry matches Creel in spoof-y splendor as Rapunzel's Prince.
At the performance attended Jason Forbach covered for Brian D'Arcy James as the Baker and delivered a concise and rich account of a family man overwhelmed by supernatural forces and doing his best to cope. Alex Joseph Grayson took over for Cole Thompson and charmed as the naive Jack. (Understudies and standbys coming to the fore on a regular basis is the new normal on Broadway and these performers are to be saluted.) Amyee Garcia was appropriately vinegary as Jack's protective mom. Broadway veterans Nancy Opel, Annie Golden, and David Patrick Kelly add spice to supporting roles.
It's hard to pick a stand-out amongst all these glittering performances, but mine would be newcomer Julia Lester as the warrior-like Little Red Riding Hood. This sharp comedienne is a riot as she ravenously eyes the bread in the baker's shop, shamelessly flirts with the Wolf, and then revels in the cloak made from his skin. But she doesn't forget Red is really a little girl teetering on the edge of adolescence, revealing her insecurities and bringing us to tears when her world is destroyed by the giant. This Red is a multi-dimensional creation, much like this perfect production. Hurry to catch it, you'll want to get lost in these Woods.
Into the Woods: July 10—Aug. 21. St. James Theatre, 246 W. 44th St., NYC. Tue 7pm; Wed 2pm & 8pm; Thu 7pm; Fri 8pm; Sat 2pm & 8pm; Sun 3pm. Running time: two hours and 40 mins. including intermission. $75—$219. www.seatgeek.com.