Aztec rituals considered in the Arts District, intersecting dance and science in Sylmar, a street dance battle in Glendale, Canadian ballet in Northridge, New York visitors in Malibu, a Sondheim musical post-Presidents Day, all live, plus a peek at next week and Covid updates.
Live Dance 
(Note: as of press time, these events are live, but as Omicron still does its thing, theaters may still pivot, postpone or cancel in response. Check with the venue for the latest)
Oh, Canada
The pandemic-fueled demise of Aspen-Santa Fe Ballet also ended its status as this venue's resident dance company. This month, the venue director announced a new resident dance company, again one from out of town, Canada's BALLET BC. The troupe last performance just before the pandemic shutdown in March 2020 was its full-length Romeo & Juliet from company director Medhi Walerski. The visit gained high praise for its highly trained dancers and contemporary repertoire. The announced program brings an encore pas de deux from that Romeo & Juliet along with two works originally created for the Nederlands Dans Theatre, Walerski's GARDEN and The Statement by Crystal Pite. Details, tickets and Covid protocols at The Soraya, Cal State University Northridge, 18111 Nordoff St., Northridge; Sat., Feb. 26, 8pm, $41-$86. The Soraya.
Discovering the cube
As part of the Science of Dance Weekend at this venue, Benita Bike's DanceArt brings a quartet of dances for two free (with ticket) performances. Scheduled works include Benches set in a park, On Beat 3 considering percussive rhythms, a duet from Entrelazadas with music by Rodrigo, and a work-in-progress. At the Discovery Cube Los Angeles, 11800 Foothill Blvd., Sylmar; Sat., Feb. 26 & 27, 2pm, free with registration at DanceArt. Details on the Science of Dance weekend, tickets and Covid protocols at Discovery Cube.
In search of authentic ritual
In New Ghosts, dancer/choreographer/visual artist Lindsay August-Salazar draws on the 16th century Codex Borgia, a book pictographically describing the Aztec divinity calendar. As with most Pieter performances, a donation of food or beverage to free snack bar is welcomed. At the parking lot at the Box, 822 E. 3rd St., downtown Arts District; Sat., Feb. 26, 5pm, free with registration. Details, registration, and Covid protocols at Pieter.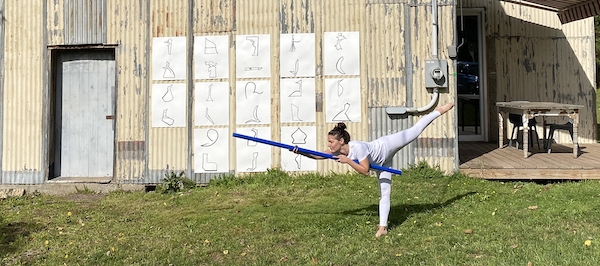 Just don't call them "junior"
Many of the young dancers of Ailey II on this tour will go on to join the senior company, Alvin Ailey American Dance Theatre. Their youth, strong training, and stamina are showcased to the max by the energized demands of the repertoire. Smothers Theatre, Pepperdine University, 24255 Pacific Coast Hwy., Malibu; Thurs., March 3, 8pm, $22.50-$50. Details, tickets and Covid protocols at Pepperdine.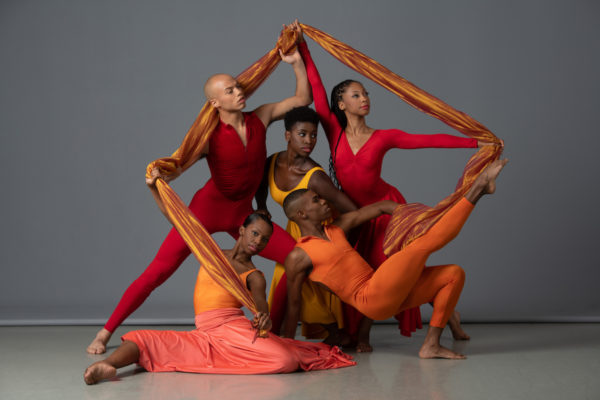 Going toe to toe
In Let the Music Move You Vol.12-Color in Dance, it's an afternoon of 1 vs 1 open styles battles. Among the guest performers, Versa-Style Dance Next Generation and Beast Camp. Register to perform by Fri., Feb. 25, 6pm or come and watch at Verdugo Park, 1621 Canada Blvd., Glendale; Sat., Feb. 26, 1-5pm, free. Details, tickets and Covid protocols at Instagram.
Still kicking
Triple threat Maybin Hewes dancer (tap), singer, and comedienne takes the stage in This Joint Is Jumpin'. The 91 year old announced this will be her final "big" show, but there are a few more performances left to go. Details, tickets and Covid protocols at Theatre West, 3333 Cahuenga Blvd. West, Hollywood; Sat., Feb. 26, & March 5, 7pm, Sun., Feb. 27 & March 6, 2pm, $35. (323) 851-7977. Details, tickets and Covid protocols at Theatre West.
Grab a gun, take a shot
A motley band of presidential assassins dance across history in Stephen Sondheim and John Weidman's piercing musical Assassins. Choreographers Preston Mui and Jasmine Rafael aided director Snehal Desai with movement direction. East West Players, 1220 Judge John Also St., Little Tokyo; mostly Thurs.-Sat., 8pm, Sat., 2pm, Sun., 5pm, $25-$75. Details, tickets and Covid protocols at East West Players.
Dancing the curriculum
This annual showcase for college and K-12 dance companies, CA Dances 2022 offers a live performance in Riverside County, with 15 ensembles performing a range of dance styles. At Heritage High School, 26001 Briggs Rd., Menifee; Feb. 26, 8pm, $20. Details, tickets and Covid protocols through this Google Docs.
So you want to be a producer?
In its latest venture, the Palm Springs Dance Project produced and now presents the world premiere of The Anniversary, Australian director Stephen Agisilaou's full-length film blending art and dance. Populated with local dance personalities, more than 50 dancers, and iconic Palm Spring locales, the film heads for the film festival circuit after this premiere. The evening includes a panel discussion with the director. Details, tickets and Covid protocols at Annenberg Theater, Palm Springs Art Museum, 101 Museum Dr., Palm Springs; Wed., March 2, 6:30pm, $15. Palm Springs Art Museum.
A Peek at Next Week
(Note: Details, tickets, & Covid protocols at websites)
Ronald K Brown/EVIDENCE at UCLA Royce Hall, Sat., March 5, 8pm, $39-$59. CAP UCLA.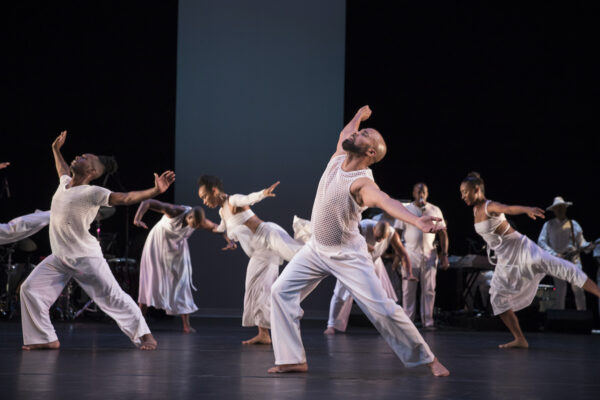 Lineage Dance-Curiosity Tales at Lineage, 920 E. Mountain St., Glendale; Sun., March 6 & 13, 4 p.m., $40, $20 students & seniors. Info, tickets, & Covid protocols at  Lineage Dance
Heidi Duckler Dance–Beholding @ The Bendix at the Bend Building Rooftop, 1206 Maple Ave., downtown; Sun., March 6, 6pm, $35, $25 seniors & students. Heidi Duckler Dance
Varinia Canto Vila & Meg Stuart at the UCLA Hammer Museum, 10899 Wilshire Blvd., Westwood; Tues.-Sun., March 8-13, 11am, free. Hammer Museum
MashUP's International Women's Day Choreographer Showcase at LA Dance Project, 2245 E. Washington Blvd., downtown Arts District; Sat., March 5, 2 & 7pm, $30. Eventbrite.
High Voltage at Electric Lodge, 1416 Electric Ave., Venice; Fri., March 4, 8pm, $10. Info, tickets, & Covid protocols at Eventbrite.
Max 10 at the Electric Lodge, 1416 Electric Ave., Venice; Mon., March 7, 7:30pm, $10. Info, tickets, & Covid protocols at Electric Lodge.
Covid Updates
Postponed to March
As the Covid public health emergency shuttered theaters for live performance over the past two years, the world of dance film, video and streamed performances has flourished. Long before Covid, filmed dance was the specialty of LA-based Dance Camera West, recognized as one of the premiere dance film showcases. DCW's 20th anniversary edition was to earlier this month with more than 75 films lined up for a dozen programs at two venues. Out of caution and safety concerns with the current surge in Covid cases, DCW postponed the festival to late March. Stay tuned or find details on the new schedule at Dance Camera West.

this is an ad space