Australians tackle Stravinsky in Irvine and Santa Monica, a contemporary German goes solo in West LA, the original drag ballet company leaps into Long Beach, tappers hit the hills of Hollywood and Malibu, plus a peek at a busy next week and Covid updates.
Live Dance
(Note: as of press time, these events are live, but as Omicron does its thing, theaters are pivoting, postponing, and cancelling in response. Check with the venue for the latest)
Encore/preview
In June, this venue hosts the official Dance at the Odyssey festival. This weekend, the venue offers a preview performance, Covid-postponed from earlier in January. Berlin-based Shade Théret made a strong impression in the 2019 edition of the dance fest. She brings her latest, Throwaway Line to the Odyssey Theatre, 2055 S. Sepulveda Blvd., West LA; Sat., Jan. 29, 8 pm, $15-$20. Info, tickets, & Covid protocols at Odyssey Theatre.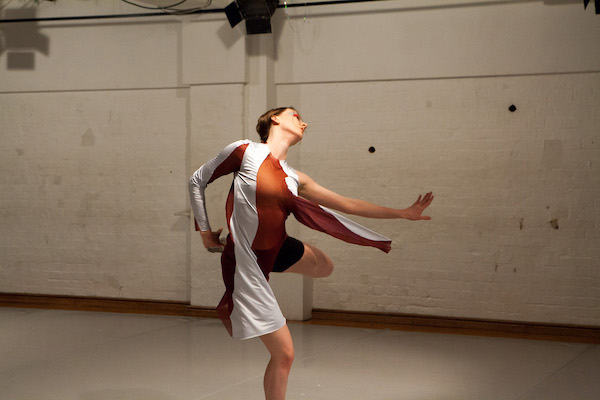 Never a drag
Over the past few years, the growing number of male ballet dancers training and performing in pointe shoes has drawn increased attention. This week, Les Ballets Trockadero de Monte Carlo, the original breakthrough ensemble of men in pointe shoes arrives to show why they have flourished for close to 50 years. While the men on pointe today often are tackling classical ballets seriously, the Trocks, as they are affectionately known, broke down barriers as drag performers skewing popular classical ballets. Brilliantly comic, the dancers donned tutus, pointe shoes, and sly stage names like (please say aloud for full effect) Mikhail Mypansarov, Nina Enimenimynimova, Helen Highwaters, Colette Adae and Tatiana Youbetyabootskya that put the audience on notice that fun will be had. The choreographed prat falls and other hysterical mishaps work in large part because the Trocks are fabulously well-trained ballet dancers who also are fabulously funny. At Carpenter Performing Arts Center, Cal State University, 6200 E. Atherton St., Long Beach, Sat., Jan. 29, 8pm, Sun., Jan. 30, 2pm, $55. Info, tickets & Covid protocols at Carpenter Performing Arts Center & Tix.
Everything sacred
Ever since its 1913 ballet premiere provoked a riot, Igor Stravinsky's Sacra du Printemps has been grist for ballet and contemporary choreographers. Australia's Circa Contemporary Circus claims its Sacra is the first time the masterwork has gone "cirque."  Under the artistic direction of Yaron Lifschitz, the ten dancer/acrobats incorporate new music from Phillipe Bachman to augment the Stravinsky score. At the Irvine Barclay, 4242 Campus Dr., Irvine; Wed.-Thurs., Feb. 2-3, 8pm, $30-$130. Irvine Barclay, OvationTix. Also at The Broad Stage, 1310 11th St., Santa Monica; Fri.-Sat., Feb. 4-5, 7:30pm, $45-$65. The Broad Stage.
Still kicking
Triple threat Maybin Hewes dancer (tap), singer, and comedienne takes the stage in This Joint Is Jumpin'. The 91 year old announced this will be her final "big" show. At Theatre West, 3333 Cahuenga Blvd. West, Hollywood; Sat., Jan 29, 7pm, Sun., Jan. 30, 2pm, $35. (323) 851-7977.
When the feet meet the beat
A tap dancer with quicksilver feet (Aaron Williams) and a juggling beatbox virtuoso (Bronkar Lee) join forces in Collision of Rhythm at Pepperdine University, Smothers Theatre, 24255 Pacific Coast Hwy., Malibu; Sun., Jan. 30, 3pm, $20-$40. Info, tickets & Covid protocols at Pepperdine University.
Not entirely drummed out
All is not lost for fans of the touring Taiko ensemble Yamato—the Drummers of Japan. Last week's scheduled performance in Northridge was cancelled (along with all January shows at that venue). Still the tour continues, with another SoCal show that is going ahead as scheduled at Cerritos Center for the Performing Arts, 18000 Park Plaza Dr., Cerritos; Fri., Feb. 4, 8pm, $50-$70. Cerritos Center for the Performing Arts.
A Peek at Next Week
(Note: Details, tickets, & Covid protocols at websites)
A.I.M. by Kyle Abraham in An Untitled Love at at Carpenter Performing Arts Center, Cal State University 6200 E. Atherton St., Long Beach, Sat., Feb. 5, 8pm, $45. Tix.
Max 10 at the Electric Lodge, 1416 Electric Ave., Venice; Mon., Feb. 7, 7:30pm, $10. Electric Lodge.
High Voltage at the Electric Lodge, 1416 Electric Ave., Venice; Fri., Feb. 4, 8pm, $10. Eventbrite.
Doug Varone & Dancers at USC, Glorya Kaufman International Dance Center, 849 W. 34th St., downtown; Thurs.-Fri., Feb. 10-11, 7:30pm, Sat., Feb. 12, 2:30 & 7:30 pm, free w/reservations. Eventbrite.
Lineage Dance in Curiosity Tales at Lineage, 920 E. Mountain St., Glendale; Sat., Feb. 6 & 13, March 6 & 13, 4 p.m., $40, $20 students & seniors. Lineage Dance.
Loyola Marymount Dance Program in Impulse—A Student Directed Dance Concert at Loyola Marymount Drollinger Family Stage in Lawton Plaza, Loyola University Dr., Westchester; Sat.-Sun., Feb. 5-6, 3pm, free with reservation. Eventbrite.
Esencia Flamenco Dance Company at Warner Grand Theatre, 478 W. 6th St., San Pedro; Sun., Feb. 6, 2pm, $25-$50. Warner Grand.
Covid Updates
Award winner Covid-cancelled
Award-winning dancer/choreographer Faye Driscoll and her latest Thank You for Coming: Space, scheduled for REDCAT, Fri.-Sun., Feb.4-6, has been postponed. New dates to be announced. REDCAT.
US premiere Covid-cancelled
The U.S. premiere of Aakash Odedra Company with Hu Shenyuan in Samsara, scheduled for The Broad Stage on Thurs. & Sun., Feb. 10 & 13, was cancelled due to increased travel restrictions. Info at The Broad Stage.
A festival postponed, but still coming in March
As the Covid public health emergency shuttered theaters for live performance over the past two years, the world of dance film, video and streamed performances has flourished. Long before Covid, filmed dance was the specialty of LA-based Dance Camera West, recognized as one of the premiere dance film showcases. DCW's 20th anniversary edition was to earlier this month with more than 75 films lined up for a dozen programs at two venues. Out of caution and safety concerns with the current surge in Covid cases, DCW postponed the festival to late March. Stay tuned or find details on the new schedule at Dance Camera West.

this is an ad space